Team SoloMid's disapointment, Counter Logic Gaming's restoration, and Team SoloMid's failed attempt at revenge.
19:30, 03 May 2021
The Mid-Season Invitational (MSI) shares one of only two spots as the defacto international tournaments in the League of Legends calendar year. Alongside the World Championships, the tournament comes as a way for regions and teams to test their mettle internationally. One of these regions is the North American region or the League of Legends Championship Series (LCS), a region that, as opposed to its counterparts, has had its fair share of success and downfalls at the tournament.
North America is no foreigner to the international stage, as one of the "four major regions," the LCS has been present at every big-name tournament there is to think of spanning the over ten of League of Legends play. But when it comes to their performances at this stage, the water begins to muddy. Compared to its three counterparts, the region hasn't had much success under its belt at Worlds. One single semifinal visit, a handful of quarterfinals visits, and two years in a row (2018 and 2019) of not getting past the group stage are all that it has to show for itself.
But when it comes to MSI, the region has proven to be able to get past the group stage, past quarterfinals, and semifinals, and get into the finals.
2015 - Team SoloMid's disappointment
In 2015, MSI joined Worlds as one of the two Riot Games hosted international tournaments for teams to compete in each year. At the time, there were other international tournaments for teams to prove their worth — the IEMs come to mind — but MSI and Worlds were the premier tournaments teams wanted to play in. One of these teams was North America's Team SoloMid. For all intents and purposes, this Team SoloMid team was one of the best teams North America has sent out to any international play, at least at the time. An IEM VIII World Championship win at Katowice and a one-sided clear cut victory over long-time rivals, Cloud9, in the finals of the spring split, gave Team SoloMid all the confidence the region and the team needed.
Unfortunately, that confidence was short-lived. In one of the biggest underperformances any team has had internationally, Team SoloMid were only able to get one win. They first faced their European counterparts from the EU LCS, Fnatic. A game with big implications for eventual playoff qualification was turned on its head since minute one. Fnatic threw in an unexpected top lane Cassiopeia pick, this prompted a mid-lane Cho'Gath pick after other key champions were banned; this seemingly threw Team SoloMid for a loop in not just this game, but the rest of the tournament as well.
Starting the tournament 0-1 was not ideal, but they were quickly able to bounce back after a win over IWC representatives; Besiktas Esports evened it to a 1-1. Add another loss that day and Team SoloMid started the tournament at 1-2. Team SoloMid could never adapt, in fact, their failure to adapt this tournament was one of, if not the biggest, flaw this team had. The failure to adapt went past their two losses and into the remainder of the tournament, eventually landing them at 1-3. That 1-3 put them at the mercy of not just having to beat the eventual tournament winners, EDG, but also at the mercy of needing Fnatic to lose to Besiktas Esports. They were quickly disposed of by EDG and finished at 1-4, ending their MSI and touting them as underperformers.
2016 - Counter Logic Gaming's restoration
Once at 2016's MSI, North America's image was briefly restored. A surprise performance by Counter Logic Gaming laid to rest a lot of misconceptions and thoughts people had about the region.
Led by their star support, Zaqueri "aphromoo" Black, the team took the tournament by storm by finishing second place to SK Telecom T1. As opposed to Team SoloMid in the previous year, this was not a "super team"; it was filled with players who didn't have their names compared to the Team SoloMids and Cloud9s of the world. The team housed numerous old-school North American players such as top-laner Darshan "Darshan" Upadhyaya, jungler Jake "Xmithie" Puchero to go alongside aphromoo. But also had new blood in the form of AD Carry, Trevor "Stixxay" Hayes and mid-laner Choi "huhi" Jae-hyun.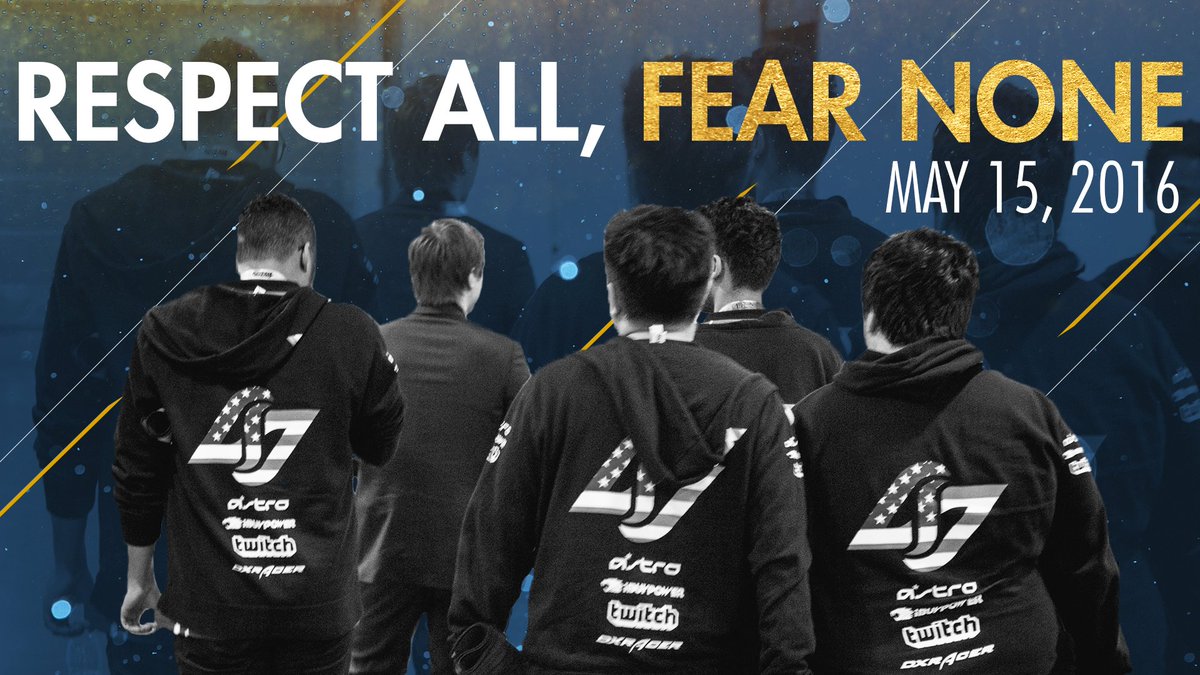 This Counter Logic Gaming performance marked it as the first time North America had made the finals to a Riot Games international event.
2017 - Team SoloMid's failed attempt at revenge
Seeking revenge and wanting to correct their previous 2015 MSI performance and international performances, Team SoloMid were upgraded. This one was one of the best teams Team SoloMid has fielded internationally: Kevin "Hauntzer" Yarnell in the top lane, Dennis "Svenskeren" Johnsen in the jungle and Vincent "Biofrost" Wang as support. They were all new additions to the roster to go alongside the two remaining members of the 2015 squad, star mid-laner, Søren "Bjergsen" Bjerg and long-time AD Carry, Jason "WildTurtle" Tran. WildTurtle was stepping for starter AD Carry, Yiliang "Doublelift" Peng for the first half of the season.
As for their performance at the tournament, although an improvement from their past attempt in 2015, it still ended in disappointment.
The tournament this time around was different; as opposed to just a total of six teams, there were a total of 13. Eight of those teams had to play in a play-in stage; two groups total. Winners of each group would go on to face either Team SoloMid or Flash Wolves for a spot in the main event's group stage. Team SoloMid narrowly took care of business after defeating Group B's GIGABYTE Marines, qualifying them into the main event.
Once in the main event, Team SoloMid reluctantly outperformed their past woes but still failed to make it into the playoffs. Tied at 4-6 with Flash Wolves, the team had to beat them in a tiebreaker for the final playoffs spot. Unfortunately for them, they couldn't quite show up for the big moment and lost, making it yet another disappointing Team SoloMid performance at MSI.
Images via Riot Games