Massive power shifts all across the board will make for an exciting season.
18:00, 08 Nov 2020
This years transfer window in the Rocket League competitive scene has been highly controversial. Top players have left high-ranking teams to form or join other teams, and surprising power moves have been made all across the board. With teams in a huge state of flux, this season is definitely setting up to be an interesting one.
Below is a list of our top three biggest wins and losses for Rocket League teams this season. With so many players coming and going, there might be even crazier exchanges, but this is our definitive list for now.
Biggest Losses
1) FC Barcelona
Although FC Barcelona has rebuilt their team from the ground up since, their October 26 disbandment made waves around the entire Rocket League community. FC Barcelona's esports team is a massive deal in not only the gaming world, but also in sports, as prominent football team FC Barcelona owns and runs the team directly. This is part of the reason why their teams are always so diverse - they have massive global reach and have no problem recruiting anyone from any country.
The Rocket League community was stunned when David "Deevo" Morrow, Aldin "Ronaky" Hodzic, Sebastian "Seeb" Ferrada Falch (sub), and Germán "El General" Miccullo (coach) were released from their contracts, especially so close to the first Winter Split Regional. This disqualified the team from automatic qualification, where Fadeaway promptly took their place. Barcelona has since recruited new players; however, they broke the two-thirds rule meaning the organisation will start the season from scratch. Their new roster includes Ronald "Tahz" Oosting, Fredi "Blurry" Lazarus, Riccardo "Rizex45" Mazzotta, and Wesley "Kairos" Silva (coach). Despite forming such a stellar team in such short notice, Barcelona's temporary disbandment is still considered a huge loss in the Rocket League community, as it has potentially lost them their spot in The Grid too, with a qualification process pending.
2) Team Liquid
Thank you,
@kuxir97
, for supporting us as we took our first steps into Rocket League. We know you have an amazing road still ahead of you, and we wish you all the best on your journey 💙
In a hugely controversial move, prominent Team Liquid removed Francesco "kuxir97" Cinquemani from their roster. This leaves an open spot on the team, stunting their competitive growth for at least the time being as they seek to recruit a new player. This leaves Jack "Speed" Packwood-Clarke and Emil "fruity" Moselund to hold up the fort until a new player is found. Kuxir97, however, had no trouble finding a new team, as he and several other Rocket League veterans forged their own new endeavour, which they dubbed SWAG.
Still, Kuxir97's removal from Team Liquid sent shockwaves across the Rocket League communities, resulting in numerous threads on both Twitter and Reddit. Many players were clueless as to why a top-performing player like Kuxir97 was removed from the team at all. They questioned whether or not the decision was sound, as Kuxir97 was the monster that helped Team Liquid power through tournaments. Despite some unfavourable finishes in events, and the unfortunate accolade of being the highest-ranked team to not make the European Major, many have felt that the departure of Kuxir was a rash decision. The acquisition of former FC Barcelona superstar, Ronaky, is a step in the right direction for TL if they can embed him into a fluid attacking role, although this may not be the answer they needed to their defensive question marks.


3) Rogue
The departure of a legend.
Today, we part ways with Kronovi as a part of our Rogue Rocket League roster. Its been two years we'll never forget, and we wish nothing but the best for his future!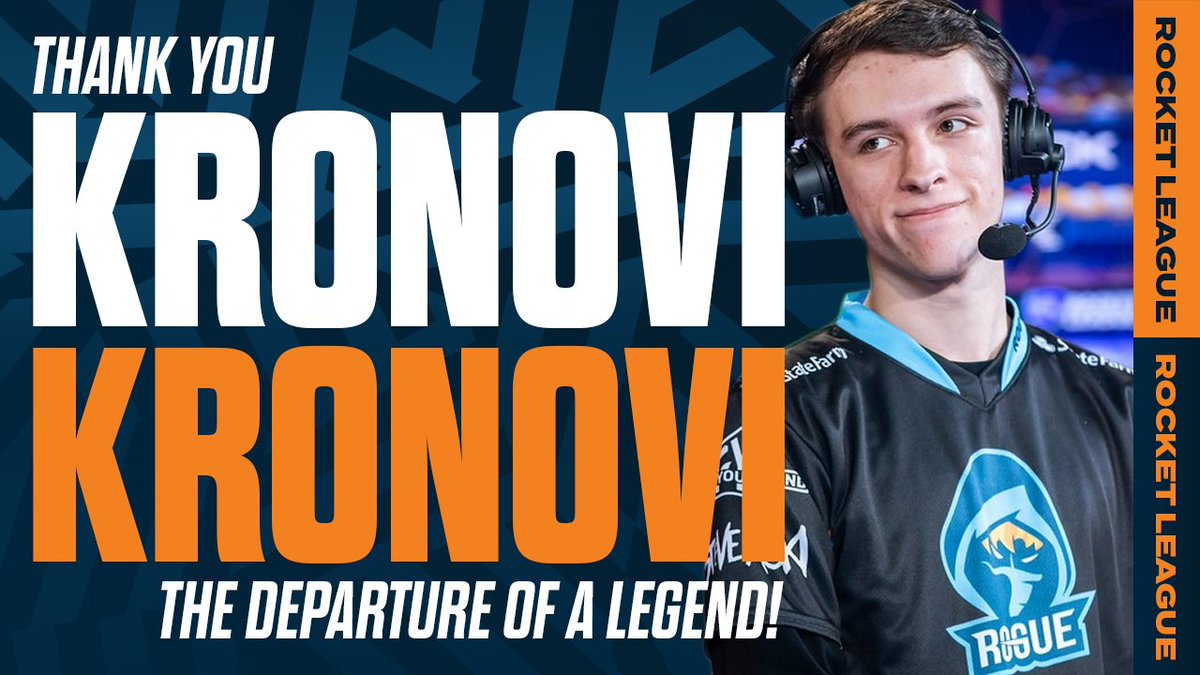 As one of the longest-running Rocket League esports teams in the industry, Rogue is definitely a big deal. The team started on May 9, 2017, and has been dominating ever since. Despite fluctuating a lot in terms of roster, the team has never failed to deliver, placing in the top six in nearly every tournament they've competed in over the years. This is why their choice to remove Cameron "Kronovi" Bills from the team was a shocking decision to most Rocket League fans.
Kronovi is a top-ranking Rocket League player with a lengthy career. Active since 2016, he has dominated tournament after tournament, pulling big wins in both A-and-S-Tier events. He's also got many awards to his name, from Rock, Paper, Scissors Champion to Clutch Playmaker. It's no question that Kronovi is talented, he is a Rocket League veteran who knows the ins and outs of the game- this is obvious from his tournament performance and years of experience.
The decision to remove Kronovi from Rogue was shocking and even devastating to players around the world. Kronovi was a member of the team since 2019 and helped carry the team to many victories. He has still not announced where he will go, however, Rogue was quick to replace him. Alexandre "Taroco" Reis Pedogram took his place the day of his departure. Taroco is a highly-skilled player also, but it is uncertain how the rest of the team will adapt to the change in roster.

Biggest Wins
1) SWAG
I hope the new teams w new orgs do well, kinda scary n risky for orgs to pick up teams that have recently formed imo; but best of luck to them, lets hope it goes well and the orgs dont leave the scene.
How can a team possibly do better in this year's transfer window than SWAG did? This team is an absolute powerhouse, bringing the best from around the world all into one place. Even better is the team was only just formed, giving players a lot to look forward to this tournament season.
SWAG consists of Kuxir97, Hrant "Flakes" Yakoub, Kieran "rehzzy" Hogan, and Nick "Eaze" Ronson (sub). In just a day, the team had a full roster and even a substitute, making them instantly tournament-ready. In addition, SWAG boasts some of the best Rocket League players all in one team. Flakes, especially, is a big deal to the Rocket League community, as he has been around since 2016 and dominated since. He's scored multiple top-five placements in A-Tier Tournaments, such as Dreamhack Pro Circuit Valencia 2019.
Players were curious to see where Flakes would go after he left Barcelona. No one knew for sure who would pick him up, but fans everywhere are happy to see some of their favourite players all working together. Fans never anticipated that both Kuxir97 and Flakes would end up in the same place, and they are extremely excited to see where they will take their new team.


2) Solary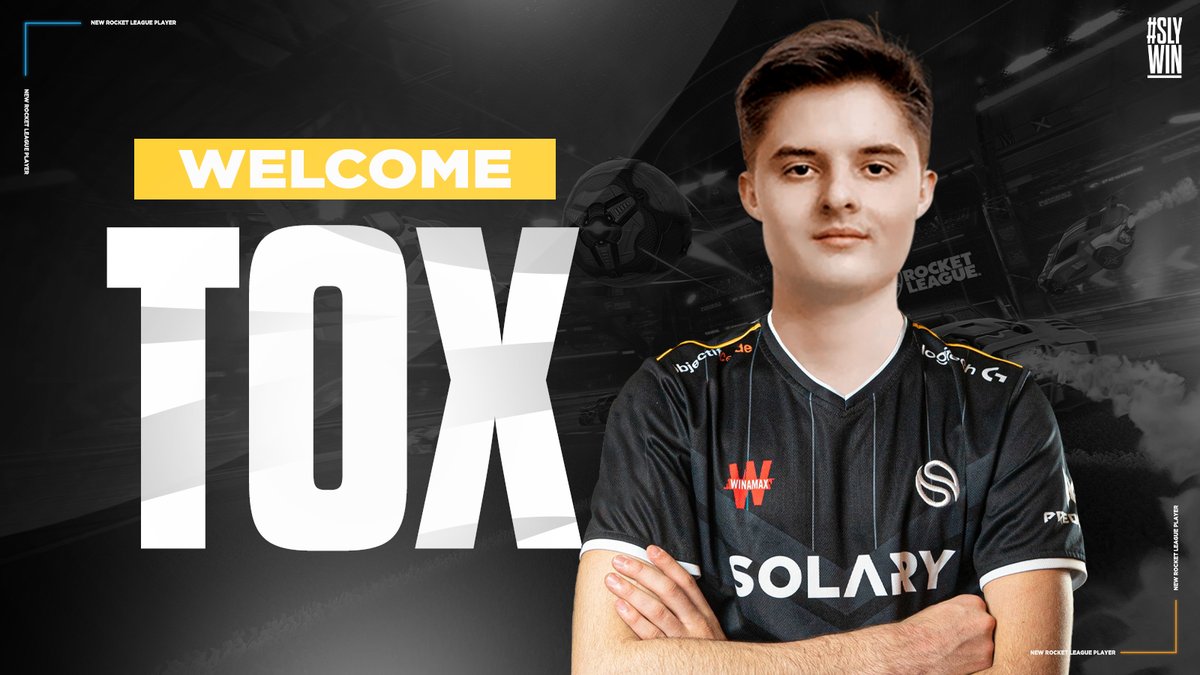 After Damien "Tox" Schäfer was kicked from Vodafone Giants, many were wondering where the legendary player would go next. They kept a close eye on Twitter, hoping for some sort of indication of where Tox would head next. It didn't take long for him to find a new team, Solary. Only one day after he had been removed from the Giants Gaming team, he had already signed with Solary, joining their exciting roster. With the addition of Tox, Solary's roster is fully-stacked, as they not only have a substitute player, but also a coach.
Besides Tox, Solary consists of Kérian "Kérian" Candolfi, Brice "ExoTiiK" Bigeard, Anthony "Porto" Gabriel (sub), and Geoffrey "Finish" Perrot (coach). Most of these players have been with the team for a majority of 2020, which might make it a bit difficult to adjust to their sudden change in roster. Prior to their November 1 addition of Tox, they removed Clement "Yukiss" Pardonche from their ranks, as he had not been performing as well as he had prior to joining Solary.
With multiple first and second place tournament wins to his name, Tox is a well-deserved addition to Solary, making him an extremely valuable asset in Rocket League's newest season.
3) Fadeaway
We totally forgot to inform you, that with the disbanding of the Barcelona roster, we got auto-invited for the Regional
#1
Winter split of
#RLCS
Let's get this!
@FreaKiiRL
@Yukeo
@TigreeeRL
Many people overlook average team Fadeaway, which is completely understandable (up until now). Their performance has been alright at best, landing them in the top ten or twenty of most tournaments. Their rocky history doesn't help much, as they were disbanded several times, absorbed by AS Monaco, and went through numerous roster changes. No one knew that the small team would ever achieve the heights it hoped for- at least until this year.
Not only did they get an incredible transfer this year, but they also got an incredible boost with automatic qualification for the Winter Split Regionals. Maurice "Yukeo" Weihs joined their team, promising excellent team synergy and atmosphere as he did at Dignitas. Shortly after his addition to the team, FC Barcelona's team disbanded, opening a slot in the Winter Split Regionals - a spot that Fadeaway was able to fill. With their new top-tier roster and a shot at a huge tournament, Fadeaway's future is looking up.
After prevailing through such turbulent times, Fadeaway just might be able to power through the Winter Split Regionals. Their roster and morale are strong, with Sandro "FreaKii" Holzwarth, Maik "Tigreee" Hoffmann, Simon "s1moN" Bicking (coach), and now Yukeo diving headfirst in what's shaping up to be an unbelievably exciting tournament.
We are very thankful about the support in the last weeks y'all have given to us. It isn't a matter of course and we appreciate it alot. This means the world to us to play in front of you. We'll try to play our hearts off during the winter split. Fadeaway all the way up! ❤️🤍
With so many exciting transfers starting this month off fresh, players can only wonder what other transfers might occur before the year's end. As tournaments kick-off before the end of the year, Rocket League fans can expect to see if these incredible power shifts will hold any weight in the competitive scene. Until then, players will anxiously await their favourite teams' performance this tournament season.
Images via Psyonix