Four of the best European teams will face of in this Twitch Invitational.
19:00, 10 Sep 2020
Slowly but surely the big tournament organisers are finding their way into the VALORANT scene. After B Site inc., creators of the Counter-Strike: Global Offensive League Flashpoint, hosted an event on the North American side called Popflash, the next major player with RFRSH Entertainment and their BLAST tournaments is coming in. Hosting a Twitch Invitational with arguably the best four teams in Europe (though Bonk is notably absent), the weekend promises to showcase some of the finest VALORANT the continent has to offer.
The four teams will face each other in a double-elimination bracket using a best of three format for all matches but the grand finals.
Team Liquid
Originally looking like the second team in the European rankings behind G2 Esports, Team Liquid, around star player Adil "ScreaM" Benrlitom, seemed to have lost their groove. Suffering from continuous restructuring of roles and agents, Liquid haven't fully found their identity as a team yet. The all-important Operator keeps switching hands, and ScreaM is moved around different agents to find the optimal hard carry setup. The nerfs to Sage, the agent that ScreaM had innovated in beta, have not exactly helped with finding the right fit for him. Judging from esports history, either this team finds a formula to settle into or they will require roster changes soon. Perhaps the observed underperformance could also be in part explained by the string of best of one series that tournament organisers keep pressing onto the European scene, making stability much harder to achieve. Still, with the regularity that Liquid has underperformed now, that excuse quickly becomes quicksand.
To make matters worse, Liquid have to face off against the kings of Europe in G2 first round, and there's little one could field to advocate for an upset victory for Liquid.
G2 Esports
G2 has never seen a tournament that they haven't won and have dropped a total of one map in grand finals. Unarguably the best team in Europe, without a single player that can't take over a game, Oscar "mixwell" Cañellas Colocho has led his team to absolute domination with the only question left to answer being if they are the definitive best team in the world - and not just in Europe. Strategically sound and mechanically excellent, G2 keeps developing their defaults and keep getting it right with their innovations. It wasn't too long ago that mixwell was the last Jett player left among top teams in European pro teams. Now everyone is playing it, and is convinced that it's overpowered, though granted, a couple of balance patches since then have strengthened their approach too.
G2 are the big favourite at the Blast Invitational, and arguably the only team that could force them to break out in a sweat is FunPlus Phoenix.
The time is almost upon us. We cannot wait to get our FIRST
@PlayVALORANT
tournament on track! 💥
Stay tuned for more exciting features that will be a part of the show.
#TwitchInvitational
Sept. 11-13 |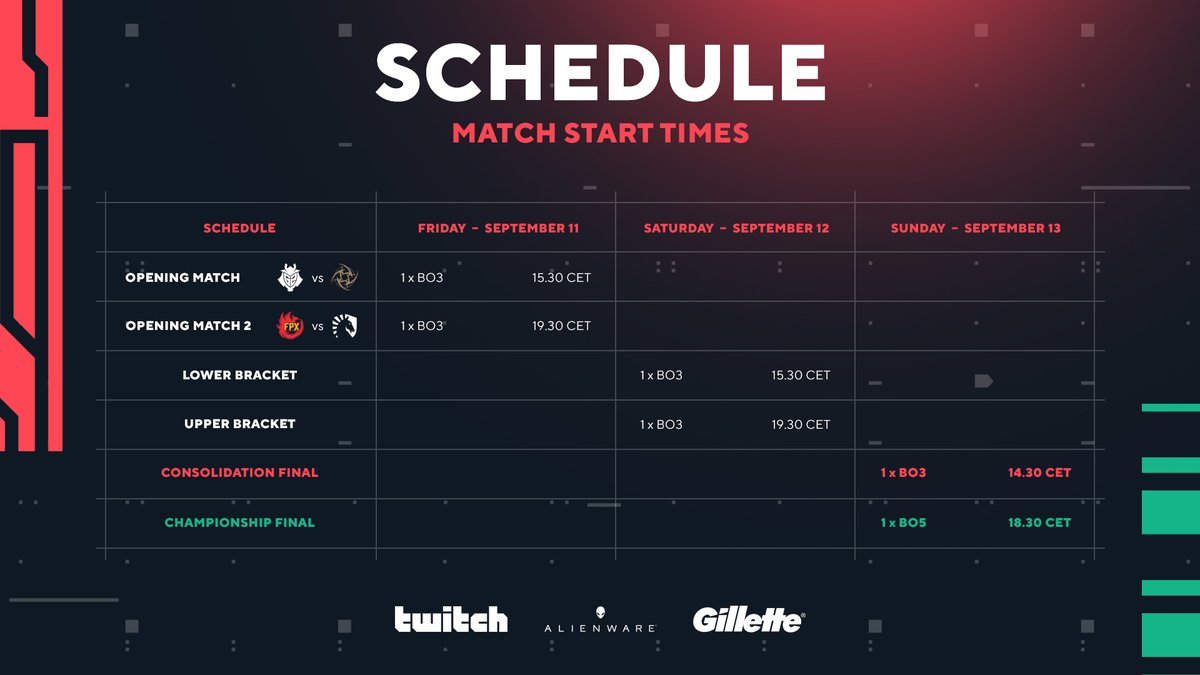 FunPlus Phoenix
In some ways, at the conceptual level, FunPlus Phoenix (FPX) aren't much different than G2 Esports. They are a strategical team made up of some of the best European VALORANT talent, with impeccable firepower, sourcing their members from Sweden and the CIS region. Excitingly, all of their players put up consistent numbers with IGL Kirill "ANGE1" Karasiow still top fragging frequently at the age of 30. Arguably the talent level of this roster is on par with G2, and because they had less time to grow together, we couldn't have expected omit them to be able to bring the fight to the kings from day one.
Perhaps enough time has passed now and FPX has grown together sufficiently to challenge G2. For Europe to prosper and develop, a team that could match up to G2 would be of the utmost importance if they want to keep up with the arms race between Sentinels and TSM. It appears likely that we will get to see two matches between FPX and G2 in this tournament, adding to the creation of a rivalry.
Ninjas In Pyjamas
For fans of outside the box strategy and methodical playstyles, Ninjas In Pyjamas (NiP) are just a delight to watch. They were the first to bring Reyna onto the forefront, were among the first to jump off, and have now incorporated Killjoy into their game having Damien "Hyp" Souville play a refreshing (albeit annoying) lockout style that frags out frequently. Unfortunately, this exciting style hasn't translated into a tournament win in a while, and in a tournament with only four teams, with the usual suspects to eliminate them from a tournament bracket all participating, their chances aren't great.
Nevertheless, watching NiP play rarely leaves you without some idea or concept to chew on, making them a great watch for this tournament too.

You will be able to follow the action this Friday starting at 3pm CEST / 2pm BST / 9am EST / 6am PST over at Blast's Twitch channel with your commentators James "BanKs" Banks and Mitch "MitchMan" McBride.