The best VALORANT tournament yet will happen this weekend
21:00, 25 Jun 2020
VALORANT esports is getting serious. After last week's first Ignition series tournaments in Japan and Europe, it's North America's turn this weekend. With $50,000 on the line, the T1 x Nerd Street Gamers Showdown kicks off on Friday June 26th. 16 teams made up of established top teams, rosters who qualified through the open bracket, as well as the odd team with an influencer. Among T1's very own team, other esports organisations such as Gen.G, Cloud9 and TSM are sending their newly-formed rosters in what may be the most competitive VALORANT tournament to date.

Furthermore, Nerd Street Gamer have announced that "special programming elements such as exclusive interviews with Riot and T1 personnel" will be part of the broadcast.
Why it matters
There are several reasons to believe that this will be the best VALORANT tournament to date. T1 and Nerd Street Gamer invested into casting talent and invited all currently signed VALORANT teams form Tier 1 esports organisations in North America. Sentinels, featuring Overwatch League MVP sinatraa, will debut their roster during this event and will have a lot to prove. TSM had recently given T1 a run for their money and have looked dominant while the host team had selectively chosen to participate in events, though finding great success in every tournament they competed in. Underdog teams like the Immortals roster or even Cloud9, spear-headed by TenZ, are looking to make an impact and justify their pickup. For many players, the outcomes of the event might lead them to a professional contract in this early stage of the game. The stakes are high and the competition promises to be fierce.
The Format
Teams will be split into four groups of four from which only the top two will advance into the bracket stage of the tournament. In the playoff bracket, teams will play against each other in a double-elimination round that will culminate in a Bo5 grand final on Sunday. Winner bracket is played in Bo3 while the loser bracket is Bo1.
The schedule
The tournament sets off on Friday 26th, 2PM EST, 11AM PST & 8PM CEST with the first group matches. Shout casting heavyweights like Goldenboy, Puckett, Pansy and many more will be commentating the event all weekend long. Start times for Saturday and Sunday are the same, and will bring heavy playoff action for the remainder of the weekend.
The competitors
In three different qualifiers, lesser-known teams were able to grab one of the five invite slots the tournament structure had made room for. Eleven of these teams have been directly invited to the tournament. Fortunately, most of the invited teams are legitimate pro teams, adding to the quality of the tournament. Fortnite superstar Ninja also made it in on an invite, playing with a mix of Sonii and other talented players that had shown their abilities during the closed beta.
T1
Brax
Skadoodle
crashies
food
AZK
Gen.G Esports
Effys
gMd
huynh
MkaeL
PLAYER1
Sentinels
ShahZAM
SicK
sinatraa
zombs
dapr
Immortals
Bjor
jcStani
KOLER
Genghsta
Asuna
TSM
reltuC
hazed
Wardell
Subroza
drone

Team Ninja
Ninja
Sonii
Margausse
Grego
LeX

Cloud9
TenZ
Poach
shinobi
mitch
Relyks

Mixup
stellar
aproto
Fiziq
Hoppin
Thi9f

Code7
Tork
Nicolas
rob-wiz
Payen
Pho
Next up, competing in the T1 x
@nerdstgamers
VALORANT Showdown, presented by
@Samsung
Odyssey is
@TeamCode7
!
@torkTJO
@NicolasTJO
@robwiztv
@phoFPS
@pay3n
See you Friday at !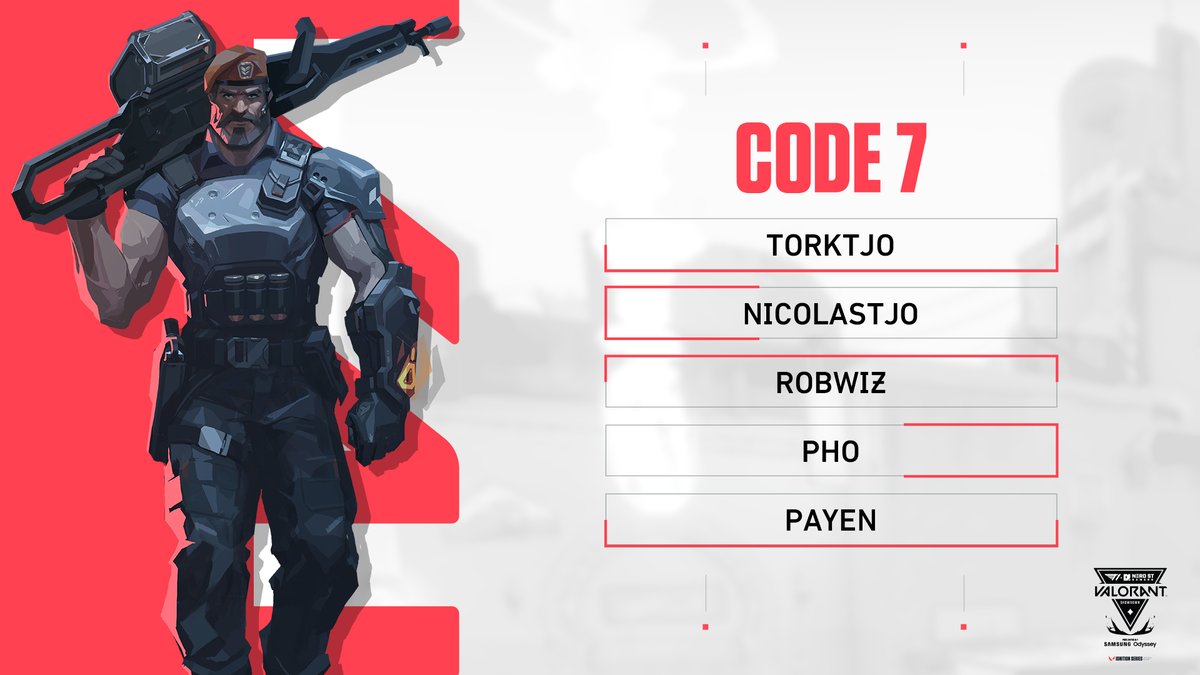 Given the nature of the VALORANT events, open bracket tournaments have rarely happened been part of tournaments during the beta. Perhaps this means that we can expect dark horse performances from some of the new teams being able to bypass the publicity gatekeepers and show the world what they are made of. The teams which got in via the qualifier are:
Together we are terrific
mummAy
aKis
FNS
c4Lypso
Kaboose

Prospects
JoshRT'
vice
diceyzx
Skelly
Babyj

Spot Up
tem
Bunny
Tucker
figment
Khai

Echo8
AYRIN
Brando
Reformed
Req
Supamen
Charlotte Phoenix
anger
Ksiaze
ChurmZz
Sh0ts
Spirit

Two further participants are awaiting an announcement this evening. Teams who had narrowly missed out on directly qualifying, such as Code7, had been part of the invite list too, making it likely that further invitees may come from the open qualifier pool.

Stay tuned for more GGRecon pre & post-event coverage for the T1 x Nerd Street Gamers Showdown.

Images via Riot Games, Nerd Street Gamer & T1