In this week's recap, we saved Mr. Lombardi—and dove back into the seemingly never-ending controversy surrounding Ally.
22:30, 07 Feb 2020
Welcome to the eighth edition of GGIntel's weekly Super Smash Bros. breakdown! Tune in every Friday for a quick-and-dirty recap of all the news worth knowing in the competitive Smash scene.
Mr. Lombardi was saved (again)
Last weekend's biggest tournament was Saving Mr. Lombardi 2, a Southern California Melee regional that drew several big names due to its position as the final qualifying event for Smash Summit 9. When the smoke cleared, it was Shephard "Fiction" Lima who emerged victorious—but since Fiction already scored himself a Summit spot through placing highly at Genesis 7, it was second-place finisher Cody "iBDW" Schwab who got the spot, as the highest-placing player not already qualified for Smash Summit at the event.

Can't believe i actually placed my seed LOL
Won Lombardi 2 from winners :)
Such a crazy stacked event
To win the tournament Fiction had to fight his way through a gauntlet of SoCal's finest, scoring wins over Armand "ARMY" Del Duca and Johnny "S2J" Kim during the event's final bracket. He also defeated his rival Avery "Ginger" Wilson, who had traveled to California from Michigan for the tournament. Other out-of-region interlopers at the event included Europeans Álvaro "Trif" García Moral and Aaron "Professor Pro" Thomas, who both qualified for Top 8. Professor Pro had a head-turning performance at Saving Mr. Lombardi 2, scoring wins over top-level talent such as Griffin "Captain Faceroll" Miller and S2J to make his way to a fourth-place finish.
I wanna complain but it honestly feels good to be in America playing good players lol. Just wish I had more opportunities to do better but 4th at Lombardi isn't too bad.
Ty
@aidencalvin
for everything and helping out EU.
EE interviews an ephebophile
The controversy surrounding disgraced Smash Ultimate pro Elliot "Ally" Carroza-Oyarce plodded on this week with the release of a video by commentator Phil "EE" Visu. In the video, EE interviewed Ally about his exit from competitive play (which occurred after it was revealed that, at age 26, he'd had a consensual romantic relationship with a 16-year-old fellow competitor), using a generous line of questioning that framed Ally's potential return as a cause célèbre.
After EE posted the video, hundreds of fans chimed in on social media to voice their support for Ally. To be honest, I am deeply disturbed by the amount of support Ally has received from some parts of the Smash scene. You will certainly not find me at any tournament that allows him to attend or compete.
While some community figureheads cracked jokes about the interview, others actively promoted it, and very few said the truth: that this shit sucks, man.

Managed to catch a glimpse of
@ThePhenomenalEE
's DMs after yesterday's video drop 👀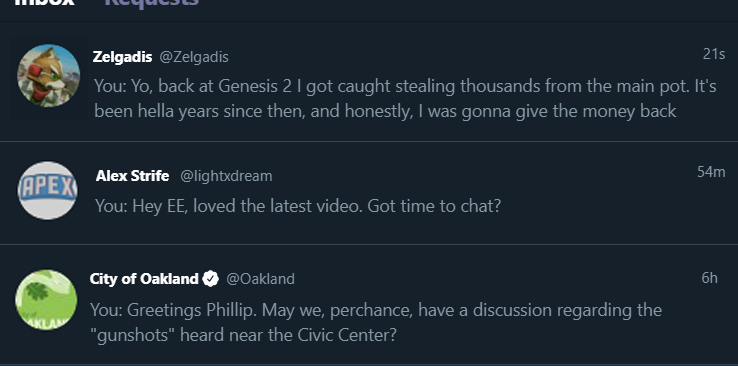 The lineup of Smash Summit 9 has been decided
With the final round of voting wrapping up yesterday afternoon, the full list of players who will be competing in the upcoming Smash Summit invitational has been decided. The players who made it in through voting are: Zaid "Spark" Ali, recently ranked No. 1 in Northern California; Nico "Ryobeat" Rodriguez, the flashy Peach main and prominent Smash Twitter poster who upset Justin "Wizzrobe" Hallett at Genesis 7; Sasha "Magi" Sullivan, the first trans player to qualify for Melee's top 100 (and a player I profiled last year); Bobby Big Ballz, the braggadocious combo video machine originally hailing from Maryland/Virginia; and Tommy "Pricent" Lindås, the Fox main who is Norway's strongest Melee player. You can access the full list of Smash Summit invitees here.
This iteration of Smash Summit, which will be going down between February 13 and 16, is incredibly stacked, with seven players who have won majors in the past and a slew of other top-level contenders. It also has some of the most amusing voting incentives of any Summit event I've spectated: some of the fully funded incentives include "Zain plays twister alone and the footage is looped on a 24 hour stream for the entire event" and "Leffen washes a dog."
Roster moves
There were five roster changes in Smash this week—including one very big pick-up.
On the Melee side, the only roster move was that Zain—who I described as "Melee's hottest free agent" in his #MPGR blurb—joined the Golden Guardians, the official esports team of the NBA's Golden State Warriors. With a well-known League of Legends team, the Golden Guardians are a prominent esports organization—certainly a good fit for the Marth main who recently won NorCal's biggest tournament. Congratulations to Zain for securing this stellar sponsorship!
Thrilled to announce that I am joining
@GoldenGuardians
, the official esports team of the
@warriors
.
So excited for my future with this amazing team!
2020 melee is looking good :)
On the Smash Ultimate side, Gia Long "Longo" Huang joined TKA E-Sports and Robert "Myran" Herrin joined Noble, while Eric "Mr. E" Weber parted ways with Demise and Matt "Elegant" Fitzpatrick left Nevermore eSports.

❗️Neuzugang im TKA
#Smash
Roster ❗️
👀Gestern noch im Power Ranking als die Nr. 5 in Deutschland geranked und heute dürfen wir ihn bei uns begrüßen!
👉Herzlich Willkommen Gia Long
@Longo_SSB
Hoang 👏
#TKAWIN
Our newest
#SSBU
competitor
@MyranSSB
bounces into battle!
With these top tier yoga skills, you might see him switch from Olimar to Wii Fit Trainer.
#StayNoble
👑
We are sad to announce, that we are parting ways with
@MreSSB
He is an incredible
#SmashBrosUltimate
player, and the future holds big things for him! 👊
We wish you the best Mr.E!!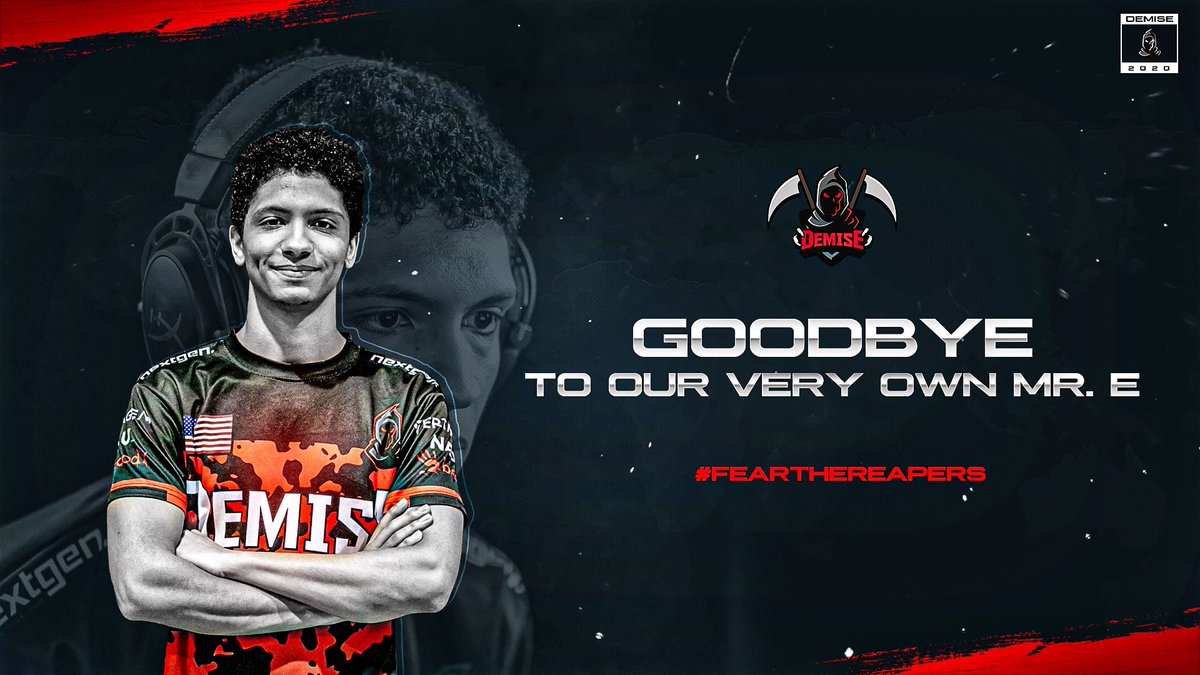 I am now officially a free agent! Nevermore was a really great sponsor for me and they will always be family to me! I'm excited and ready for the future and hopefully I can find a sponsor that'll help me out! Just gonna keep grinding and do my thing :)
Clips of the week
To round out this wrap-up, here are a few of the funniest and flashiest clips of the week for both Melee and Ultimate. Enjoy 'em—and be sure to check in next week for the ninth edition of GGRecon's weekly Smash breakdown!
this is one of the most unfortunate and funniest things ive seen in smash and im so happy i commentated it
I got the holy combo for the first time in my life today (potential volume warning)
Main Image via Twitch/btssmash