Fortnite Season 4 just added the famous Star Wars X-Wing as a brand new glider.
09:46, 15 Sep 2020
We're blasting off to that galaxy far, far away as Fortnite Chapter 2 Season 4 is sprinkling a touch of Star Wars magic over the map - we can hear Darth Vader's rasping breathing from here. When it comes to iconic vehicles in George Lucas' expansive universe, the classic Star Wars X-Wing is up there with the TIE Fighter, Star Destroyer, and Millennium Falcon in terms of iconic status.
Even if we're right in the middle of the Marvel-themed Season 4, that hasn't stopped Epic Games kicking things into hyperspace with the arrival of the X-Wing glider. Of course, the addition of the X-Wing is a tie-in with the upcoming release of Star Wars: Squadrons, which is set to be a major addition to the world of Star Wars games.
📣 PILOTS WANTED 📣
Buy
#StarWarsSquadrons
on the Epic Games Store and receive the Vanguard Squadron X-wing Glider in Fortnite!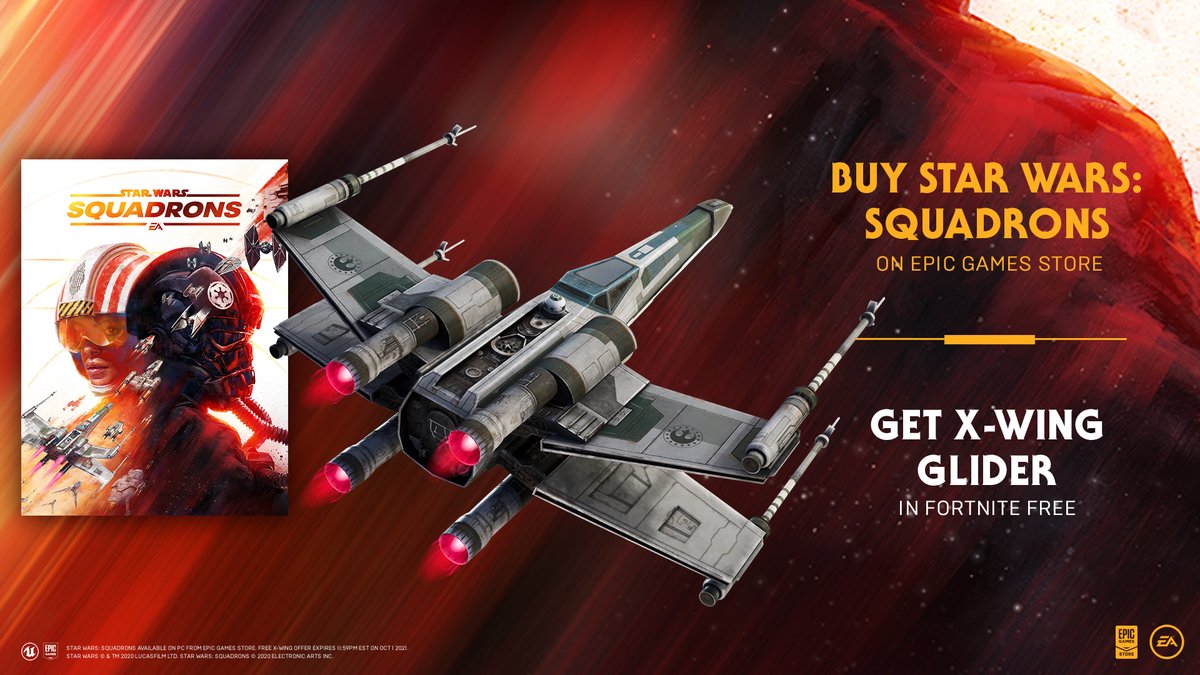 Posting on Twitter, the Epic Games Store account was doing a recruitment drive for pilots wanted and promised that anyone who orders a copy of Squadrons will be awarded the Star Wars X-Wing glider in Fortnite. If you'd already planned on picking up Squadrons, you might as well combine it with some bonus Fortnite content.
For those who don't want to buy Squadrons (erm, why?), the X-Wing glider can also be bought for 1,200 V-Bucks. The latest promo is similar to the Stormtrooper skin that was added back in November for Star Wars Jedi: Fallen Order. Fans who bought Respawn's action-adventure game were gifted the exclusive skin.
Only last year, Fortnite went full Star Wars with a celebration of all things The Rise of Skywalker. As well as Rey and Finn skins, there was a First Order TIE Fighter glider to swoop down on the Resistance. Elsewhere, the Millennium Falcon dropped in as part of the Winterfest Event. Even if the X-Wing glider is only a relatively minor addition, it should be enough to drum up some more interest in the space combat game.
Speaking of EA's marketing campaign, a brand new cinematic trailer showed off a hero of the Empire called Varko Grey. Star Wars has always done a great job of creating anti-heroes, meaning Grey is more than just some generic TIE-Fighter pilot. Being able to play to as either part of the Empire or the New Republic Navy will allow fans to pick which side they want to fly the flag for. Either way, the Star Wars X-Wing glider is sure to start popping up in the skies above Fortnite as we head toward Star Wars: Squadrons' release.
Stay up to date with all the latest esports and gaming news by checking out our social channels here: Twitter | Facebook
Images via Epic Games | Electronic Arts