A whole new generation of fans can enjoy Star Wars: Republic Commando, as the cult classic is finally coming to Nintendo Switch and PlayStation 4 after 16 years.
09:29, 02 Apr 2021
Lucasfilm Games is assembling its own Clone Army as a classic Star Wars game from years gone by is getting some much-needed attention. When Star Wars: Republic Commando first hit Windows PC and the OG Xbox back in 2005, it received middling reviews and was critiqued for its multiplayer. However, as the years have gone on, it's been praised as a cult classic and been called the "best Star Wars game ever" by some. In a galaxy that's populated by the likes of Knights of the Old Republic 2 and Jedi: Fallen Order, that's quite the claim.
With the resurrection of Lucasfilm Games, the classics are getting some more time in the spotlight. Alongside hints that Respawn Entertainment is working on a Fallen Order sequel and confirmation Ubisoft is working on an open-world Star Wars game, let's not forget the former heyday of George Lucas' world of Wookies and Wampas. Despite Republic Commando's legendary status, it's crazy to think it's never managed to make its way onto a Sony or Nintendo console.
What's the latest with Star Wars: Republic Commando?
Relive the Delta Squad's campaign in Star Wars: Republic Commando! We're excited to announce a Limited Run for the legendary Clone Wars first-person shooter for PS4 & Switch. The four-week pre-order window opens Friday, April 16 at 10 am ET on .
@AspyrMedia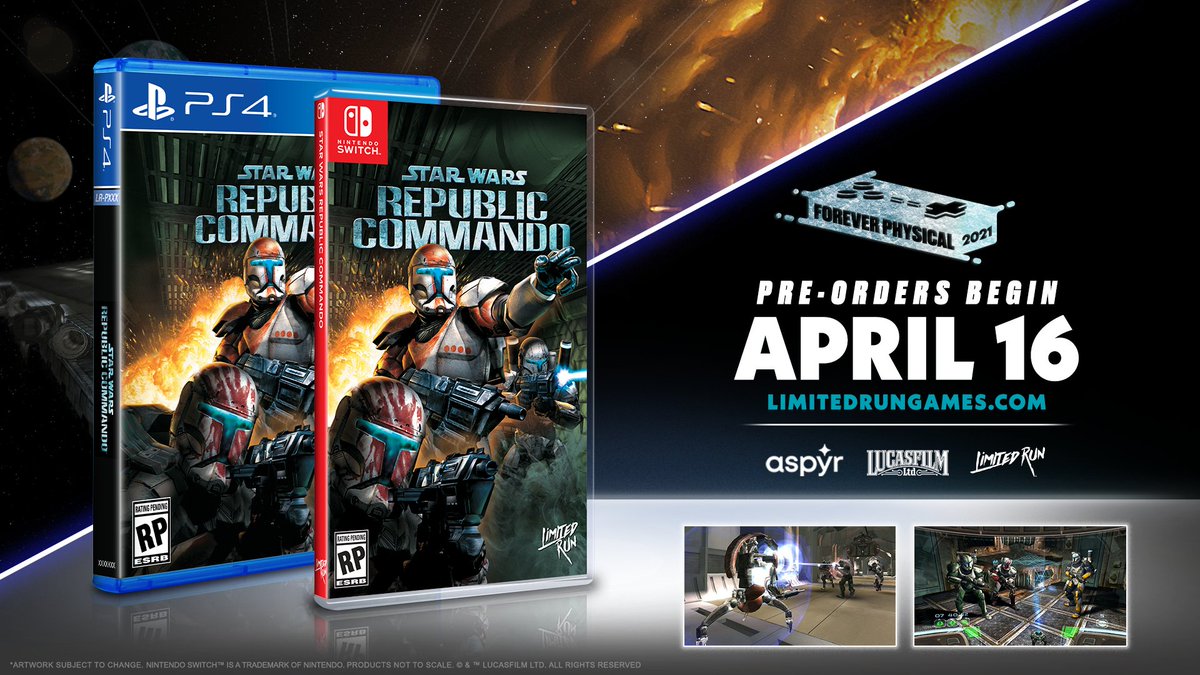 While LucasArts handled the game's original development, Aspyr has taken over to port the game to PlayStation 4 and Nintendo Switch. Aspyr is a dab hand at porting Star Wars games and recently worked on Star Wars: Jedi Knight II: Jedi Outcast and Star Wars: Jedi Knight: Jedi Academy for the PS4 and Switch. Pre-orders will go live on April 16 and last for four weeks. Republic Commando will come in both standard and collector's edition on both consoles.
The standard edition will cost $29.99/£22, while the collector's edition will set you back $89.99/£65.99. If you stump up for the collector's edition, you'll get the base game, a SteelBook case, pin, metal coin, a reversible poster, a pack of art cards, and a numbered certificate of authenticity. Just like other collector's editions, Republic Commando will get a PC release, which comes in an action figure-inspired blister pack. Even though fans are suitably impressed with the offering, Xbox owners are vocal about their disappointment that they won't be able to make the most of the re-release or pick up a collector's edition of Star Wars: Republic Commando.
What is Star Wars: Republic Commando about?
@LimitedRunGames
@AspyrMedia
No physical collectors edition for PC or Xbox?
I know this is a first for PS4 and Switch users - and I'm NOT begrudging them this at all - but it'd be awesome if all platforms got this, as I would happily pay for (another) copy again.
For those new to Republic Commando, the game was set in that lucrative prequel era. Set between the events of Attack of the Clones and Revenge of the Sith, Republic Commando puts boots on the ground as the hardened Delta Squad. Players are inside the helmet of RC-1138, aka Boss, who is an elite clone trooper. The first-person shooter took us on a tour of the galaxy far, far away and put the pieces in place for the future of the franchise.
Although Republic Commando is no longer part of official Star Wars canon, Clone Wars' Dave Filoni said he was heavily influenced by the game. Despite plans for a sequel before Republic Commando was even released, Star Wars: Imperial Commando was scrapped in the concept stage and eventually released as a novelisation. With a new generation ready to enjoy Star Wars: Republic Commando, could we finally see the idea of a sequel charging its way through the rank of the Empire? We can but hope!
Stay up to date with all the latest esports and gaming news by checking out our social channels here: Twitter | Facebook | Discord
Images via Lucasfilm Games