When people say 'they have never looked this good', it's often an exaggeration. But not this time.
20:00, 02 Feb 2021
Every week, GGRecon highlights one team performing well and gives context to their performance. This week, we look at the history, recent results, and expectations of Rogue.
Rogue fans rejoice. After years of ups and downs, their team has finally won something. And not just any tournament, but the RLCS X Games. Jason "firstkiller" Corral, Leonardo "Turinturo" Wilson, and Alexandre "Taroco." Reis Pedrogam have made their fans proud with their captivating battle to win their first major tournament for the organisation in almost four years. But how did they get to this point?
A Roguish History
Rogue's journey in the Rocket League esports began with RLCS Season 3, when they signed Atelier. The first Rocket League players under the Rogue banner were Matt "matt" Dixon, Isaac "Turtle" App, and Emiliano "Sizz" Benny, who is currently NRG's coach. You may know Turtle as a commentator and analyst on the RLCS broadcasts since 2019. This team made it to Worlds in Los Angeles, where they got knocked out by the two eventual finalists.
Rogue tried again in Season 4, with Trevor "Insolences" Carmody instead of Turtle. They just missed out on a spot to Worlds this time. The next year, in 2018, didn't get them much further. Jacob "Jacob" McDowell took matt's place for Season 5, and George "Joro" Kolev came in for Insolences in Season 6, but both times, Rogue fell short of making it to the RLCS World Championships. It didn't seem to matter with what roster they played; they couldn't break through to the top of NA.
At the end of 2018, Rogue released their whole roster, and brought in new talent. Nicholas "Wonder" Blackerby and Austin "AYYJAYY" Aebi were joined by veteran Cameron "Kronovi" Bills to change things for the better. 2019 had a rough start for the brand-new roster, as they didn't make it past Day 1 at DreamHack Leipzig that year. But as the team got used to each other, their results were looking up. Rogue lost more than they won in Season 7, but they clutched a spot at Worlds through the playoffs. They got their chance, and they took it. Rogue went on to win every match until the Semi-Finals against G2 Esports. This top-four finish was the best they had ever done in a major tournament, and it would be the best they could do for quite some time to come.
After missing out on the RLCS Season 8 World Championship at the end of 2019, Rogue saw a frenzy of roster changes in 2020. When AYYJAYY left, Rogue added mechanical mastermind firstkiller to the line-up. He came from Ghost Gaming, but also made a name for himself in the 1v1 arena. Next up was Turinturo, who initially joined as a stand-in for Wonder. Turinturo proved a valuable addition to the team, when they managed to take third place at the Rocket League Spring Series. So valuable even, that he immediately got Wonder's starter role.
The next big event for Rogue was Fusion, a tournament with 1v1, 2v2, and 3v3 competition. There, firstkiller showed his worth as a 1v1 warrior. He won the 1v1 bracket for Rogue, which got the team to second place in the whole tournament. Codename: COVERT and The Brawl 10K were less successful for Rogue, with a top-eight finish in both off-season tournaments. The tension mounted with RLCS X drawing closer. Could the team perform?
The Fall Split didn't satisfy Rogue fans. Unfortunately for Rogue, they had to do it with just a few Semi-Finals in The Grid, and top eight in Regional Event 3 and the Fall Major. But then, a shockwave went through the RLCS scene as Kronovi left the team after two years. Rogue was no longer "Kronovi's team". For the Winter Split, Taroco joined Rogue to complete the roster and bring in fresh talent.
The departure of a legend.
Today, we part ways with Kronovi as a part of our Rogue Rocket League roster. Its been two years we'll never forget, and we wish nothing but the best for his future!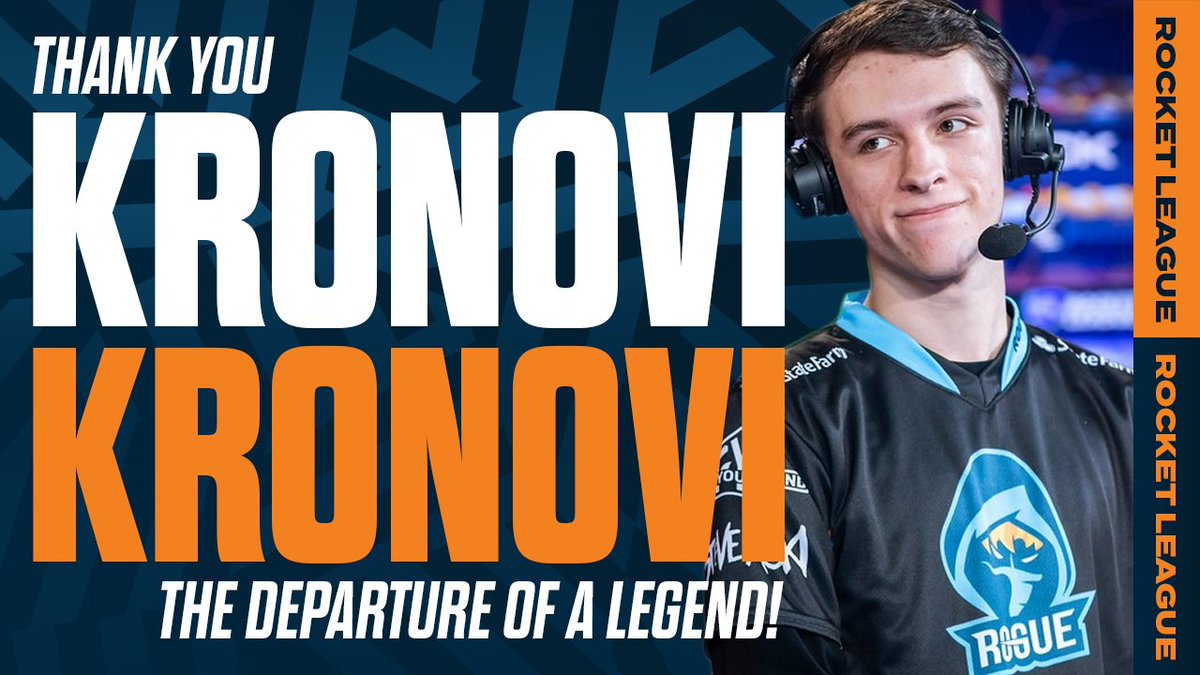 Recent Results
The Winter Split has looked much more promising for Rogue than any time before. Sure, Rogue has been around the top of NA for ages, but never so close to the top that they were considered good enough to beat the top four. The Winter Split is changing that narrative. Regional Event 1 saw Rogue beat G2 Esports, before ending up in third place. In the second Regional, they almost beat Team Envy to go to the Winners' Finals again, but they finished fourth nonetheless. What we saw at the third Regional, though, was something else.
Rogue played phenomenal Rocket League at the RLCS X Games, and fully deserve to be featured in three out of five of Matt Gerrity's top five matches worth watching. To get to the Grand Finals, Rogue had to take on G2 Esports, Team Envy, and NRG, one after the other.
Every match went the distance, but they pulled it out and manoeuvred their way to the Grand Finals, where they met NRG again. Some people stopped believing in them after NRG got the bracket reset, but Rogue was just warming up. They smashed NRG in the second series, and took their first tournament win in all of Rogue's history. The X Games medals they're getting, will be a great way to remember that day.
RLCS
@XGames
CHAMPIONS! 🥇
@Rogue fight off
@NRGgg
to claim their first regional title!
#RLCSX
GG WP.
Expectations
When people say "they have never looked this good", it's often an exaggeration. But not this time. Rogue have never played better. What the future will hold, is unclear, but Rogue certainly don't want to stop here.
The Winter Major is coming up, and Rogue seem to be fully prepared. It's up to them to show the world that the top four of SSG, Envy, NRG, and G2 is no longer relevant, and that they deserve a place among the best in North America.
Images via Liquipedia (WGN)