The latest look at Capcom's Resident Evil Village showcases a host of new features that improve on 2017's Resident Evil 7.
14:15, 05 Apr 2021
Capcom is opening the doors to Castle Dimitrescu, with Resident Evil Village showing off a whole host of features that look like improvements to Resident Evil 7. Back in 2017, the acclaimed developer unleashed Resident Evil 7 onto the world and delivered a game that was praised as a much-needed return to form. Although the game was a huge hit, RE7 was far from a perfect experience. Thankfully, it looks like Capcom has learned with Resident Evil Village and added a few new improvements to refine our player experience.
While Resident Evil has been a staple of our gaming lives since 1996, later entries had been criticised for their cinematic approach and losing the claustrophobia that made the first game so unique. RE7's first-person approach was a big win as we crept around the decaying confines of the Baker House. Village once again picks up the story of RE7's Ethan Winters, but with a move to rural Europe and what looks like a splash of the lauded Resident Evil 4, we could be onto a winner here. With the eighth main entry's May 7 release just around the corner, Capcom is keen to show off what improvements have been made.
What improvements does Resident Evil Village have over RE7?
2 New takeaways from
#ResidentEvilVillage
. The game will have a PHOTO MODE, at least for cut scenes, and you will be able to SKIP cut scenes, something you couldn't do in
#ResidentEvil7
. Yay to the second part.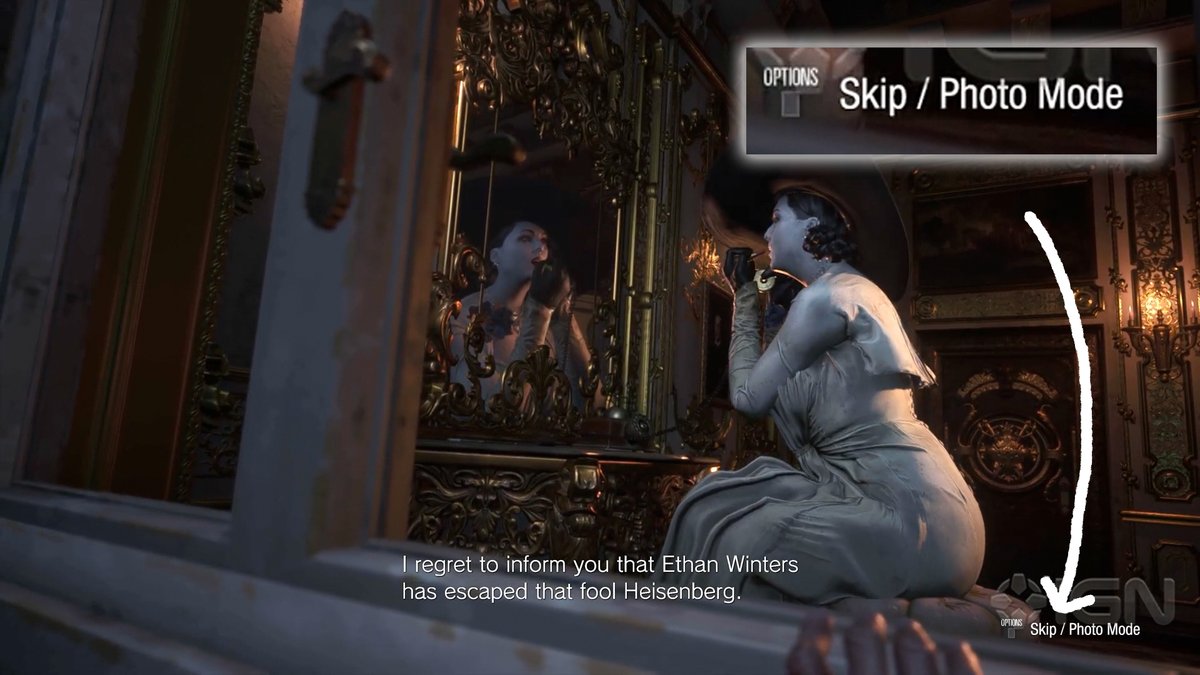 When IGN showed off a first look at the Resident Evil Village gameplay, there was a sneak peek at a some new features. As noted by @WheresBarryB, there's the ability to skip cutscenes and a new Photo Mode. For anyone who tried to replay RE7, they'll know one of the most annoying parts was the inability to skip cutscenes. Despite the well-rounded story adding to the title's haunting atmosphere, the lack of being able to jump ahead seriously affected replayability. Elsewhere, it looks like you'll be able to make the most of your next-gen graphics with Photo Mode.
At the moment, we only know you'll be able to use Photo Mode during cutscenes. It's highly likely Photo Mode could be available throughout the entire game, but for now, at least we know we'll be able to capture those pulse-pounding encounters with Lady Dimitrescu. Our first look at Village came in the form of the Maiden demo, which gave a short (but scary) trip inside Castle Dimitrescu, a quick encounter with one of Lady Dimitrescu's vampiric daughters, and even a glimpse of the woman herself. Even though all the usual Resident Evil puzzle-solving skills were there, there wasn't really a taste of what's new - until now.
What else do we know about Resident Evil Village's improvements?
Considering fans are currently obsessed with Lady Dimitrescu and her imposing presence, we're sure players will be snap-happy capturing her in all her tall terror. Of course, a Photo Mode and chance to skip cutscenes are just the tip of the iceberg in terms of Resident Evil Village improvements. The first teases of the game have explained how a bizarre character called the Duke will be a key player as a merchant you can buy weapons from. Excitingly, IGN's snippet also showed Lady Dimitrescu stalking after players in a mechanic that looks like it will play similarly to Resident Evil 2's Mr X. We can hear our hearts beating out of our chests already.
Capcom hasn't unveiled a full list of features for Resident Evil Village yet, but with promises of another showcase later this month, there shouldn't be long to wait. As the first next-gen game in the franchise, all eyes are on Resident Evil Village and how well the survival horror performs. Following the first look at gameplay, we're also told another demo to follow in the footsteps of Maiden should be on the way. If this is the case, gamers might finally get a taste of combat before stumping up for a full purchase price. Importantly, Photo Mode in Village would mark another first for the franchise. As we get ready to become our own horror shutterbugs, we can't wait to see what else Capcom has up its sleeve with Resident Evil Village.
Stay up to date with all the latest esports and gaming news by checking out our social channels here: Twitter | Facebook | Discord
Images via Capcom