Spacestation, Oxygen, TSM, and DarkZero will fight for the Major trophy.
19:00, 12 Aug 2020
The North American portion of the Rainbow Six: Siege August Major is set to start soon. Four teams will be battling for a share of the $125,000 prize pool in a Double-Elimination bracket.
The August Major, instead of being an international super-event, will now feature a multitude of smaller online competitions. Due to the coronavirus pandemic, it is just not possible to bring all these teams to one location. While restrictions are being lifted all across Europe, Americans are still barred from entering the continent. The North American Major is scheduled to run from August 14-16.
The North American
#SixMajor
kicks off on August 14th!
⬇️ Find out all the details in our Event Guide ⬇️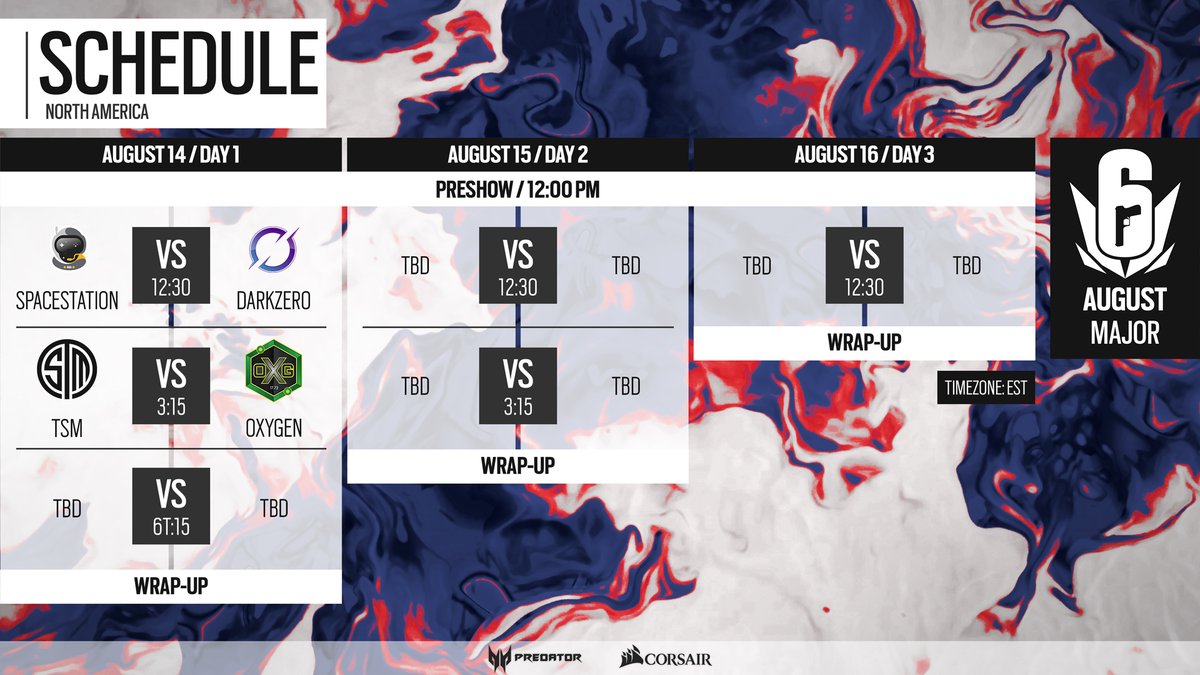 Oxygen Esports, Spacestation Gaming, Team SoloMid, and DarkZero Esports have all qualified through the North American League (NAL) after weeks of tense competition. As the current Six Invitational champions, Spacestation are arguably the team to beat at this Major. At the Invitational, Troy "Canadian" Jaroslawski had finally managed to break his Grand Finals curse. After years of second-place finishes, the player has lifted the trophy of SI, and since then, the team has continued to dominate the domestic scene. But their journey through NAL has not been perfect, and they have shown some weak spots. Oxygen Esports have been able to beat them on Consulate and Oregon narrowly. While this might have been a one-off performance, it goes to show that SSG are not unbeatable.
Oxygen Esports have had a perfect run through the first phase of NAL. Unfortunately, they lost to SSG and TSM in Phase 2. Villa appears to be a weak point of theirs, which doesn't bode well for the Major. Both SSG and TSM like to play the map and have a high winning rate, and only DarkZero really struggle on the map.
Speaking of DarkZero, they're the real underdogs in the competition. While they did top their Group in Phase 1, they got absolutely demolished in the second phase. SSG shut them down on Villa and Kafe, TSM cut them off on Oregon and Coastline. All of these losses were quite decisive and resulted in them being dead last in the second phase of NAL. Because of this, they had to take a detour through the North American Major qualification, where they eventually got their ticket to the event.
The seeding doesn't help them either. DarkZero are set to play versus Spacestation Gaming. Luckily, the nature of the bracket gives them a lifeline. Even if they lose to SSG, which is more than likely, they will have another chance in the lower bracket. The same holds true for the loser between TSM and Oxygen. The former have placed higher in NAL, and their players currently boast higher-rated players. TSM's Jason "Beaulo" Doty, in particular, has been amongst the very best of the league.
But so are many of the opposing players. Gabriel "LaXInG" Mirelez from Oxygen, in particular, has had a stellar NAL season, boasting a 1.19 rating on siege.gg. Overshadowing all of them is Paul "Hyper" Kontopanagiotis, who has achieved a shattering 1.33 rating throughout the event. It is safe to say that the DarkZero player is the most impactful member of his team and unfortunately, his colleagues have not been able to perform on a similar level.
The most-picked maps of the NAL (in order) were Clubhouse, Oregon, Theme Park, and Villa. TSM are most proficient on Villa and Oregon, where they boast a 67% and 100% win rate in the league, respectively. Unfortunately, their performances on Theme Park and Clubhouse tell a different story. While they have lost two-thirds of their matches on the former, they have only played the latter once - and have narrowly lost it to Oxygen Gaming. This doesn't bode too well for them.
DarkZero have proven to be relatively proficient on all maps, sporting a 50% win rate on most. Only Villa remains somewhat of a weakness. Oxygen are strongest on Kafe, but their outings on Villa and Consulate have been underwhelming. There's still work to do, but it is safe to say that, heading into the North American August Major, the teams will have put additional preparations into these maps. Still, there is one clear favourite.
None of these teams have ever made it as far in an international competition as Spacestation Gaming. SSG are a resilient team and are able to perform under intense pressure. In an ideal offline setting, this would give them a massive advantage over the rest of the playing field. Unfortunately for them, we're not dealing with a stadium event. Instead, the players will be competing from the comfort of their home computers. Arguably, this will alleviate a lot of the pressure which, for instance, DarkZero might feel going up against SSG. Still, it's a Major event, and thousands of fans will tune in to watch these teams play.
The Rainbow Six August Major is shaping up to be a tense competition between immensely skilled teams. The online setting may take away some suspense, but for the players in attendance, this is the biggest trophy to win for quite a few months ahead. The teams have had plenty of time to prepare, so they should all be able to deliver their A-game.
Images via Ubisoft | Siege.GG