oNe, Liquid, FaZe, And NiP Qualify For Brazilian Major.
19:00, 05 Aug 2020
Stage 1 of Brasileirão 2020 has come to an end. The four Brazilian teams heading to the upcoming Rainbow Six: Siege Major have been determined and are set to clash in a few days.
The entire August Major has been moved to an online setting, the structure has been remodelled entirely. Instead of one big event featuring teams from all regions, each region and subregion will now host a separate event. Unfortunately, it's just not possible to bring teams from so many different continents together onto one server.
Despite these caveats, the August Major still promises to deliver amazing Rainbow Six matches across the board. The Brazilian section will feature four top teams, which will clash in a Single Elimination bracket. As the best four squads from Brasileirão Stage 1, Team oNe, Team Liquid, FaZe Clan, and Ninjas in Pyjamas are the ones invited to fight for a share of the $100,000 prize pool.
🏆QUE VENHA O MAJOR REGIONAL!🏆
O final do primeiro turno teve emoção até o final, com a classificação sendo definida NO SALDO DE ROUNDS, o terceiro critério de desempates.🔥🔥🔥
Definitivamente, o melhor
#BR6
de todos e ainda tá longe de acabar!😉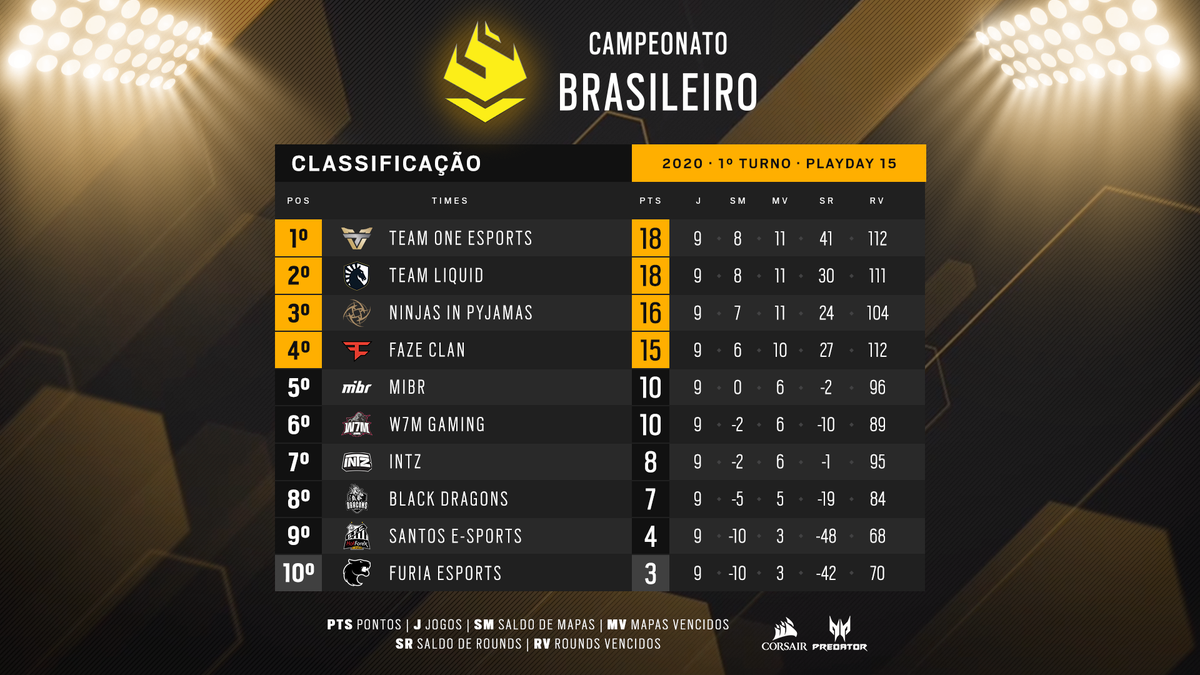 Liquid and FaZe have reached second and third place in Brasileirão respectively. Last year, these two topped the league's standings, only to falter at the Six Invitational 2020 (SI). Ninjas in Pyjamas and MIBR picked up the slack at the mega-event, and the former even made it to the Grand Finals. Unfortunately, their success at SI didn't translate into a similarly excellent performance in Brasileirão. After a bad start to the 2020 season, NiP eventually recovered, and with a convincing win against INTZ on the last play-day, they slid into the top four.
Generally, the playing field is closer than it was a year ago, at least when it comes to the top of the league. A three-point difference separates the best four teams, which means that one Best-of-Three could have completely changed up the final standings.
The perhaps biggest surprise of this season comes in the form of Team oNe eSports. As last year's top performers of the second division, they had earned their place in Brasileirão 2020 and were regarded as a promising team at the start of the season. Still, they weren't expected to make it this far, and their first-place finish proves to be a massive upset over the more established organisations. On the second-to-last play-day, they completely overwhelmed FURIA, and as FaZe and Liquid split maps, Team oNe set themselves on top of the league.
While no one could have predicted this underdog story, Team oNe have now become the team to beat. Their opponents in the playoffs bracket, FaZe Clan, will most certainly spend a lot of time preparing for them - so the pressure is on.
🏆 Vai ser um fim de semana INCRÍVEL para o
#R6LATAM
✅ As 4 melhores equipes do
#BR6
✅ MD3, OT e Lower Bracket
✅ Final Mexicana
✅ R$ 500.000 em jogo
🗓️ Anote para não esquecer: TUDO COMEÇA NA SEXTA-FEIRA e serão três dias de emoção GARANTIDA 🔥🔥🔥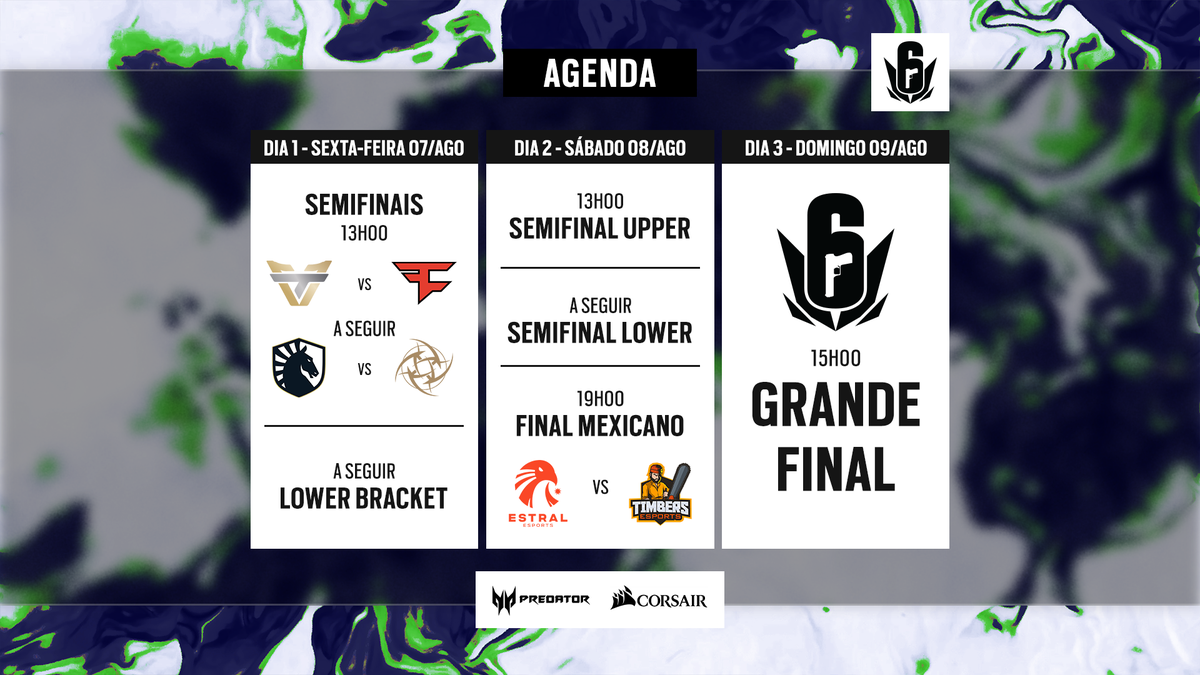 On the other side of the bracket, Liquid and NiP are set to meet. This will be a rematch of the Six Invitational Group Stage, where the Ninjas succeeded with a 2-1 victory. Liquid are certainly looking for revenge, but right now, the two teams appear closer than ever. In the regular season of Brasileirão, they split both maps, which makes it difficult to determine the teams' chances ahead of the Major. In terms of individual performance, Liquid field the two highest-rated players across the competition. Luccas "Paluh" Molina and André "nesk" Oliveira sport a 1.28 and 1.26 rating on Siege.GG, respectively. But the NiP players follow closely.
So which team has got the biggest shot at the Six Major trophy? On the one hand, Liquid and NiP feature the league's most reliable and most consistently performing players, giving them an undeniable edge over the other two teams. On the other hand, judging from Liquid's SI performance, they appear to struggle under pressure, whereas NiP have managed to hold their own reasonably well at the mega-event.
Then again, can we really compare the Six Invitational to an online competition? Arguably, the teams and players will not feel nearly as much pressure playing from their home computers now. With the fans and the arena missing, NiP's magical run through the Invitational playoffs loses quite a lot of meaning, just like Liquid and FaZe's Group Stage exits.
On top of that, the event features only domestic competition. These teams know each other, they're friends, and they have interchanged players over the years. Now, more than ever, they have time to focus on their national rivals. There are no international events coming up, and for the foreseeable future, they are stuck with each other. Perhaps this is the reason why we have seen them group so closely in the regular season of Brasileirão.
The online competition creates a huge advantage for Team oNe eSports. For such a young and upcoming team, offline finals usually prove to be difficult. The players may not have learned how to cope with the pressure just yet. Fortunately for them, they won't have to. From the comfort of their own homes, they can attempt to replicate their success in Brasileirão with a Six Major trophy.
The event kicks off on August 7 at 10pm BST. Team oNe and FaZe Clan will be the first to showcase their talents. The teams have had time to prepare, and with no other events around, this trophy holds special meaning to all the squads involved. So sit back, enjoy the show and witness some amazing Rainbow Six action!

Images via Ubisoft