Sony has revealed everything that's coming to PS Plus in time for the Christmas period with a jam-packed schedule for December 2020.
14:20, 26 Nov 2020
'Tis the season to be gaming as Sony rolls out its plans for the future with the PlayStation 5. The tech giant is rising to the top of the console charts as it eclipses the Xbox Series X's sales and hopes to eclipse the legacy left behind by the PlayStation 4. The PS5 is already off to a flying start with exclusive titles like Demon's Souls and Marvel's Spider-Man Miles Morales, however, let's not forget those coming via PlayStation Plus.
PS Plus offers its members an exclusive run of games to download and play each month, making it a popular alternative to the PS Now cloud streaming service. Although there are hints that it will soon be all-change with Sony's subscription packages - possibly rivalling Microsoft's Xbox Game Pass - the tried-and-tested PlayStation Plus model is carrying on for now. If you want to know what's on offer next month, we've got you covered.
PlayStation Plus December 2020: What games are included?
Grapple hook around and blow up everything. Rocket jump around and blow up everything. Or wriggle around and blow up everything.
Your December PS Plus games:
🐑 Worms Rumble
💥 Just Cause 4
🚀 Rocket Arena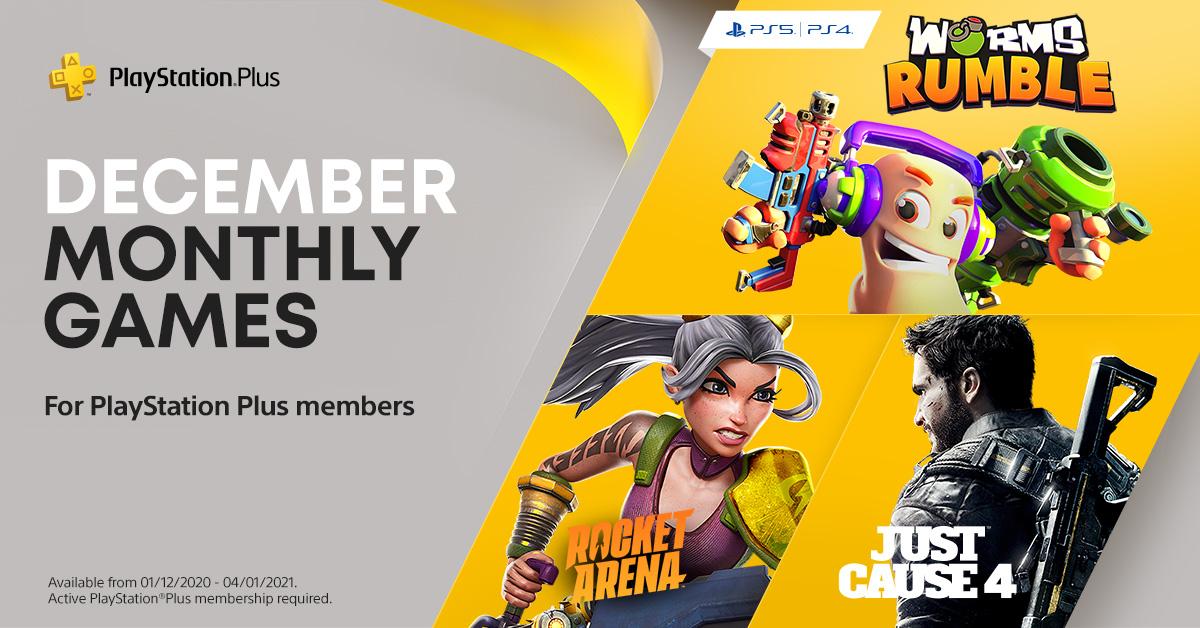 First up, there's something new from the Worms franchise as Worms Rumble takes the tactical video game series into the world of battle royale gaming. Following in the footsteps of previous PS Plus juggernauts including Fall Guys: Ultimate Knockout, Rocket League, and Bugsnax, Team 17's latest entry is letting you jump into the arena for free in December.
Up next, Just Cause 4 continues the series in style. The first-person shooter sees you drop into the fictional world of Solis as the daring Rico Rodriquez. Avalanche Games and Square Enix's title is like a video game version of Action Man as Rodriguez hunts down the shadowy Black Hand. He uses his wingsuit and grappling hook to make his way around, while an impressive arsenal of wild and wacky weapons ensure this one is a high-adrenaline favourite. If you haven't played Just Cause 4 since it first dropped in 2018, maybe now's the time to try it?
Finally, there's Rocket Arena. Final Strike Games' third-person shooter was released earlier this year and flew slightly under the radar. The game is described as "an explosive 3v3 shooter where you're never out of the action". Using your hero's abilities, players have to duke it out and try to conquer the arena with an expanding roster. Season 2 has added a new character, new map, and more LTMs, which should help alleviate its launch criticisms that there wasn't enough content.
Worms Rumble lands on
#PlayStationPlus
for PS5 and PS4 on December 1st 2020!​
Experience the first real-time Worms game with up to 32 players in battle royale or deathmatch modes! ​
​
Learn more 👉
When it comes to November's offerings, PS Plus members got to enjoy Bugsnax as well as PS4 titles Middle Earth: Shadow Of War and Hollow Knight. It was a pretty impressive month, meaning it was always going to be hard to top with PS Plus December 2020. It's clearly Worms Rumble that is the main focus here. For a dose of retro nostalgia, you'd be mad not to see how the series has evolved.
If you're one of the lucky few who got their hands on a PS5 at launch, December's titles should go nicely alongside your PlayStation Plus Collection. Delivering some of the best PS4 titles around, you can check out the likes of The Last of Us, God of War, and Resident Evil 7 on your snazzy new system. So, what do you think? Has Sony delivered a strong end of year lineup to make up for the hardships 2020?
Stay up to date with all the latest esports and gaming news by checking out our social channels here: Twitter | Facebook | Discord
Images via Team 17 | Sony