Here is a comprehensive look at all the free PlayStation Plus games for February.
18:30, 28 Jan 2021
The Sony PlayStation Plus subscription allows players to get free games, access several more exclusive features/rewards, and play multiplayer for many games. This monthly/yearly subscription service has been running for quite some time now, and the console players have loved it. Moreover, getting an opportunity to play free games at a meagre cost is a perfect deal, and it also allows players to experience some exclusive games in multiplayer modes.
These free titles allow the player to enjoy high-tier games which are indeed a delight in the gaming community. While all the players don't have the same taste in games, Sony picks some great titles for its exclusive subscribers and allows them to keep them for life. Therefore, newer players always tend to enjoy these games and catch up on old golden titles to avoid missing the experience of playing them.
This year's no different and PlayStation is back with a spectacular line-up of games for the month of February. If you missed the last month's games, you can still claim them before February 1. January's free games included Maneater (PS5), Shadow of the Tomb Raider, and Greedfall, which was an explosive start to the new year. Well now, it seems like PlayStation is going to take it up a notch and present more exciting games for the upcoming month.
Control: Ultimate Edition, Concrete Genie, and Destruction AllStars are your February PlayStation Plus games.
Details on next month's lineup: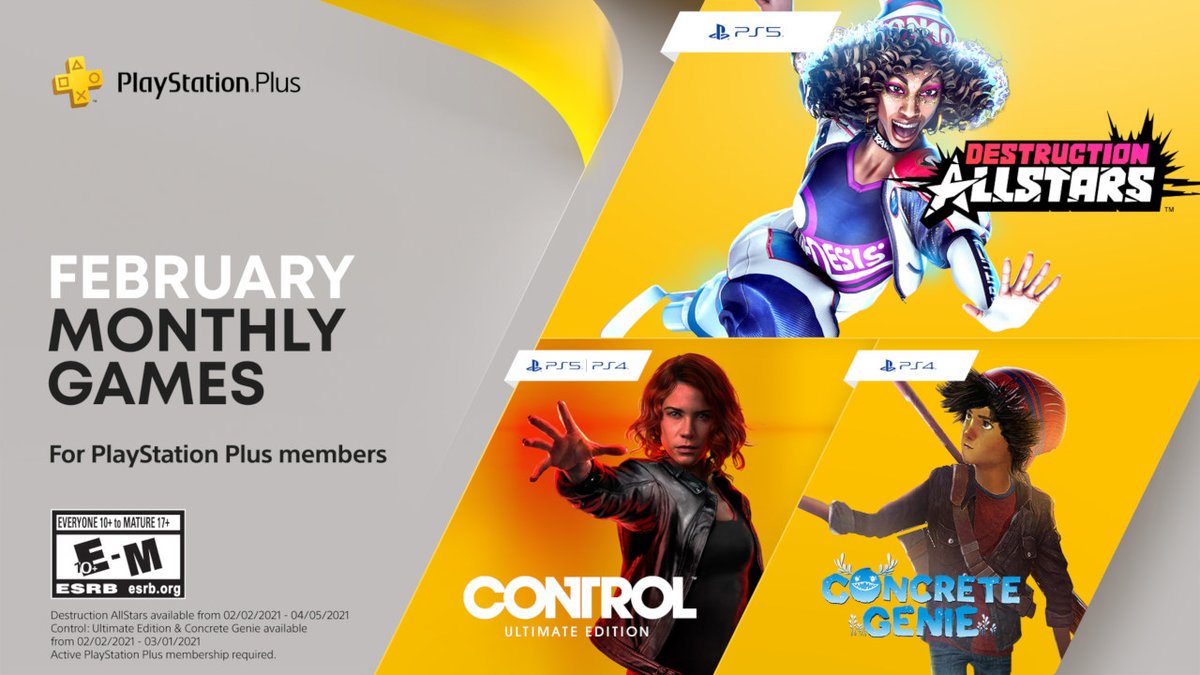 The three free games available for the month of February are Destruction AllStars (PS5), Control: Ultimate Edition (PS4/PS5), and Concrete Genie (PS4). But, if you have a PlayStation and you're confused about purchasing the PlayStation Plus subscription for the upcoming month, then this should help you make the right decision.
ALL THE FREE PLAYSTATION PLUS TITLES FOR FEBRUARY 2021
1. Destruction AllStars (PS5)
Destruction AllStars in the newest entry to the PlayStation 5's line-up and the game looks exhilarating. The game has adrenaline-packed vehicle-based combat where each player has a unique character to choose and use abilities based on their choices. Moreover, after enemy players destroy the vehicles, they can run around and dodge enemy vehicles or hijack them.
The game looks very polished with 16 unique characters to choose from and different vehicles to suit your play style. Even though the game has been focused around a multiplayer experience, players can also try out unique game modes to learn more about the game's mechanics and have casual fun when you're not with your friends.

Destruction AllStars is a PlayStation 5 exclusive title, and it is available for free until April 5, 2021, for all the PlayStation Plus subscribers.

2. Concrete Genie (PS4)
Concrete Genie initially released in 2019, and it was one of the best indie games of the year. This game has an interesting narrative, and the use of the visual medium to paint your paintings is genuinely remarkable. You play as the protagonist, who has been assigned a mission to paint the whole polluted town of Denska and fight it off with the drawings. Players have the ability to shape their artistic creations into reality and fight off the dark monsters.
If you have a love for arts and crafts, then artists shouldn't miss this title. The story encapsulates the player and brings them into a trance state by peacefully painting all around the city as per your will. The game also has different modes that support VR to push your imagination boundaries further and get a whole new perspective.

3. Control: Ultimate Edition (PS4 & PS5)
Control is arguably one of the best games that has ever come into existence in the PS Plus store. The game is an experimental take on psychological horror that has a dark story attached to it. The graphics are mind-bending, and the best part about this game is the protagonist, Jesse. She heads into a building which continually changes its shape due to the corruption. Later, she learns new supernatural powers and Jesse can upgrade her weapon to eliminate the foes in the game. These enemies have different abilities, thus forcing the player to adapt to their strengths and take fights on their terms.
The story is beautiful and slowly reveals the evils hidden inside the walls of the Federal Bureau of Control. The game is famous for his challenging puzzles; therefore, if you have a craving for good quality puzzles, this is it. The Ultimate Edition offers access to all the DLCs and presents the story in a more straightforward fashion. Moreover, being the winner of several game awards, Control is truly a masterpiece and players should try it out.
Images via Sony