Changes to hero pools have also been announced.
20:00, 15 Mar 2020
The Overwatch League has announced parts of their contingency plan to work around the fallout resulting from the global pandemic COVID-19 and their cancelled homestand events in March and April. Starting March 21st, the Overwatch League will broadcast matches that will be played online. Divisions have been broken up into three groups based on their respective homebase location to work around latency issues. The opener will be played between the Seoul Dynasty and the San Francisco Shock at 2PM ET / 11AM PT / 7PM CET on March 21st. The other scheduled matches can be seen below. Fridays will become part of the regular schedule come April to catch up on the previously cancelled matches.
WE'RE BACK! ...ONLINE! 📡
Here is your Week 7 schedule! 📅 Tune in for your
#OWL2020
action!
📺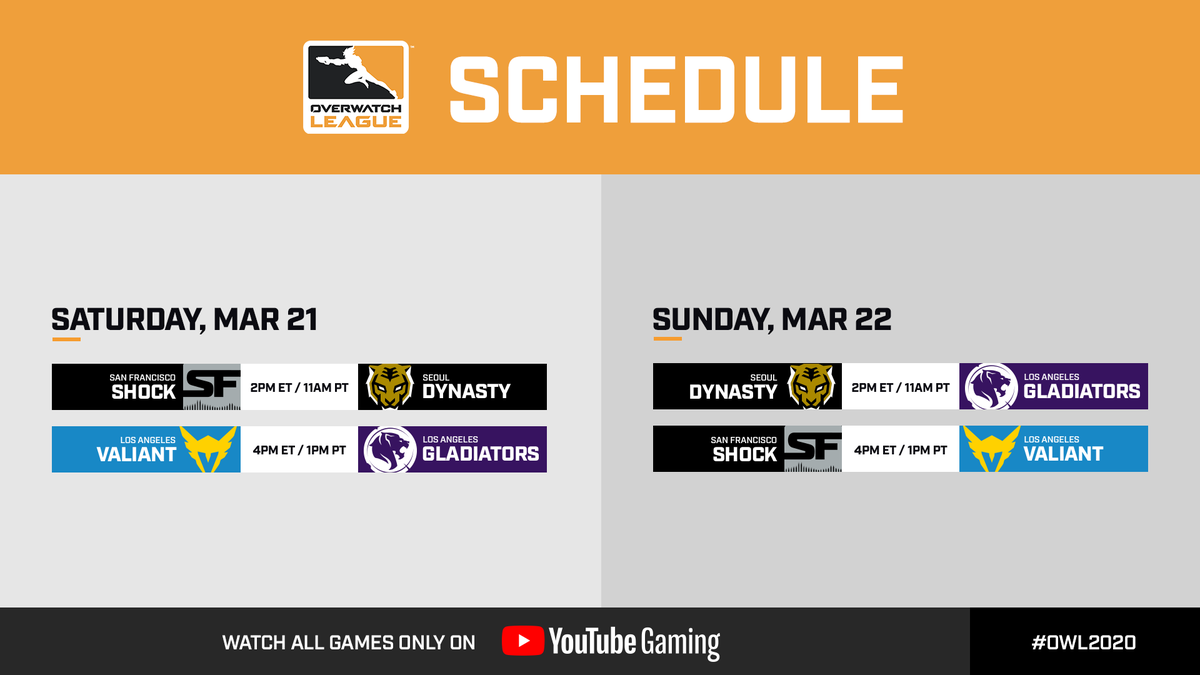 Jon Spector also revealed that the eligibility system for Hero Pools would be seeing a change effective immediately. Heroes with a 10-25% pick rate get 1 ticket entered into the lottery, 25-50% get 2 tickets added, 50-75% get three tickets, and any pick with a 75% pick rate, or higher, gets four tickets added. Previously, all heroes above a 10% threshold were entered into the same draw without the same weighting no matter the play rate they had during the previous two match weekends.
"We like the aspect of introducing some randomness because we think it creates a more diverse set of outcomes, a broader set of metas and strategies that are going to be enabled," Spector said. "I don't think anyone could have predicted that banning both hitscan heroes would have led to seeing Tracer and Soldier comps, but we did! And it was awesome to see that."

Jon Spector also revealed that a new map pool would be rolled out as well. "We're also debuting a new map pool. [...] We played the first six weeks of the season on one map pool, were still planning to run 4 maps pools throughout the course of the season so it's time to switch to the next set of maps which should be exciting as well to help change things up." All the Control maps remain the same. Hanamura remains for Assualt while Volskaya Industries and Paris are rotated in for Horizon: Lunar Colony and Temple of Anubis. For Hybrid, Eichenwalde is staying while Hollywood and Numbani are replacing Blizzard World and King's Row. And for Escort, Dorado is remaining while Junkertown and Havanna will be replaced by Route 66 and Rialto.
Spector also said that the league had no plans on extending the season as of now. The updated schedule, per Watchpoint, should be released early next week, but the commissioner seemed confident in their plan to catch-up on matches for all teams through March and April and by, May everything should return to normal. In April, the Overwatch League will also roll out a Friday show coming in April to help facilitate these goals of giving teams a chance to play their make-up matches.
Images courtesy of Blizzard Entertainment