A reprinted line of the original Pokemon cards is a nostalgic treat from the Pokemon Company to celebrate its 25th anniversary.
15:31, 14 Jan 2021
Who could forget those days of running out on the playground in the '90s and wanting to be the very best, like no one ever was? Some might remember hearing their mum calling Pokemon a fad that will die out by next summer. Look who's laughing now mother, look who's laughing now.
Back in the day, Pokemon cards were all the rage as the original 150 were brought to life from the Game Boy to TV screens, cinemas, and even our pockets in the form of the Pokemon Trading Card Game.
Many a row broke out in schools as you'd try and argue why your Fossil Magmar was worth swapping for a Shiny Mr. Mime. Also, there was always that one kid that had a binder full of perfectly preserved Pokemon cards and would lord it over you with their shiny Charizard. Amidst an influx of fake cards and thefts, most schools ended up banning them, but still, their legacy lives on.
As Pokemon approaches its 25th anniversary, the little kid inside us all is squealing with excitement because the OG cards are being printed for a whole new generation and in a whole new way.
What's going on with the original Pokemon cards?
Gotta love that new booster pack feeling.
Hope your binders are ready for the special 25th anniversary-themed collections coming to the
#PokemonTCG
this year, Trainers!
#Pokemon25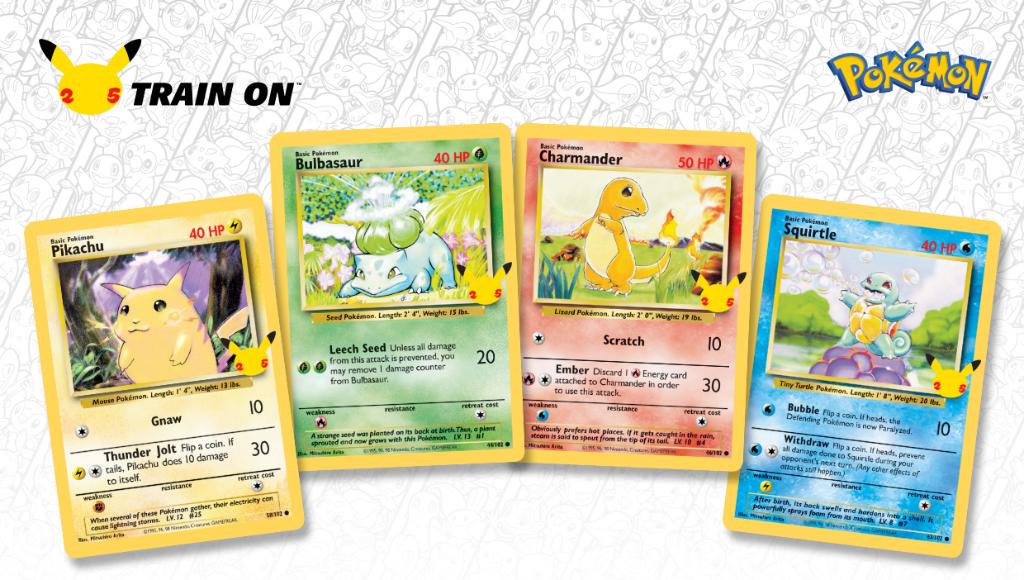 According to PokeGuardians, 2021's anniversary celebrations will mark this major milestone with a re-release of each base set from PTCG. The site explains that eight special edition First Partner Packs will be rolled out over the year AND include a collector's binder to make sure those corners aren't creased. Each card includes the original artwork they were released with and will be oversized - meaning they might not quite fit in your pockets any more.
You'll be able to pick up the 25 cards on a monthly basis from February 6, 2021 until October 8, 2021. The packs will start in reverse from the Galar Region and retrace our journey all the way back to Kanto. Each of the promo packs includes the three Starter Pokemon from that region, as well as two regular booster packs. If you want to know when you'll be able to pick up those pint-sized starters, the full release schedule is as follows:
Feb. 26 - First Partner Collector's Binder
March 5 - Galar First Partner Pack
April 2 - Alola First Partner Pack
May 7 - Kalos First Partner Pack
June 4 - Unova First Partner Pack
July 9 - Sinnoh First Partner Pack
August 6 - Hoenn First Partner Pack
September 3 - Johto First Partner Pack
October 8 - Kanto First Partner Pack
Original Pokemon cards reprint: What else do we know?
Interestingly, the site speculates that the October 8 end, and the fact it rounds off in Kanto, could be teasing something new. 25 years of Pokemon is a big deal, so do the re-released cards tie into a massive next-gen remastering of the original games too? It's all wild speculation for now, but still, it's something to keep in mind. Trading cards aren't the only merchandise to mark in your diaries for 2021. The Pokemon Company has already revealed collaborations with everything from Funko to Levis, McDonald's to Katy Perry. Well, you don't turn 25 every day.
There's a clear emphasis on the collectability of the card reprints, which makes sense given how prices have gone through the roof in recent years. A lot of us have undoubtedly had our collections thrown away, but for those who've kept rare ones in mint-condition, they can fetch a pretty penny. In another 25 years, who knows what the oversized reprint cards will be worth?
There's something about those adorable Pocket Monsters that have seen them stand the test of time - thanks mainly to the chubby-cheeked Pikachu being the company's mascot. The reprinted cards are sure to bring the memories flooding back, and even though there's currently no pricing for TCG's 25th anniversary packs, you'd better start saving your Pokecoins for these must-have additions to your collection.
Stay up to date with all the latest esports and gaming news by checking out our social channels here: Twitter | Facebook | Discord
Images via The Pokemon Company