NAVI places first at BLAST.
18:00, 26 Jan 2021
When fans tuned in to watch the BLAST Premier Global Finals, viewers were surprised by the sight of NAVI against Astralis. They had somehow managed to bounce back from their loss against Team Liquid by winning five sets in a row. The one and only Oleksandr "s1mple" Kostyliev led his team to victory with an emotional finish.
Even though they were seen as potential champions, Team Vitality fell short to NAVI before the finals. During their path to a first-place finish, NAVI definitely had a handful of memorable moments throughout the BLAST Global Finals. From tense, heart-pounding clutches to high stake rounds, NAVI began dominating the highlight reel.

Here's our video on Na'Vi's historic win:
EUROPE VS NORTH AMERICA
In the quarter-finals, NAVI were locked in the bullpen alongside North American favourites Team Liquid. Seeing the year NAVI had compared to their opponents in 2020; the match was an easy prediction. That's what everyone thought - up until Team Liquid took both maps including Inferno and NAVI's very own Nuke. Team Liquid proceeded to slam the European legends after the introduction of Valerii "B1T" Vakhovskyi, an up and coming amateur player who spent his rookie years learning the trade with NAVI Junior.
B1T's performance on map one was underwhelming, following a total of nine kills and seventeen deaths. After losing both matches in a row, NAVI knew they had to step up their game and come out on top.
ANOTHER NA TEAM IN THE WAY OF VICTORY
Next up was Complexity, a team that was considered one of the lowest seeds in the tournament. They had an inconsistent roster and a flustered staff that were being pressured to find the next best lineup. NAVI made a pounce on the team and put game one into overtime. A total of two clutches were made that match, but it wasn't enough to take the win.
Kirill "Boombl4" Mikhailov responded to Team Liquid's win on Mirage by beaming them on Nuke. He went all out, and was able to secure an ace helping his team get one step closer to the finals. B1T joined in on map three with the same minimalist and substandard results. Even though his score began to suffer, playing in such a well-known event really helped B1T take some baby steps towards the top.
G2 FALLS FLAT
After a close set with complexity, NAVI proceeded to bump heads with G2 Esports, a team that was looking to debut their million-dollar player and hopefully take home the massive grand prize. NAVI stopped G2 in their tracks by winning back to back matches on both Train and Mirage. After looking through map one, it didn't even seem like a competition between two top tier orgs, but instead, a killing spree from NAVI.
S1mple was able to secure another forty kills by humiliating his opponents on both maps in the set. Every time s1mple acquires the AWP, it seems like he's an impossible target to kill. On Mirage he was able to prove his worthiness of wielding the AWP by getting a massive three-piece. Plays like that prove that s1mple is both a great attacker and defender across all maps in Counter-Strike: Global Offensive (CS:GO).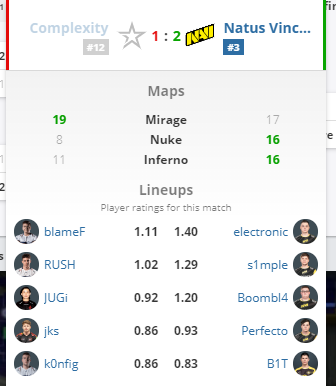 LONG TIME NO SEE
Once NAVI finally made it to round three of the losers bracket, it was time for some good old fashion redemption. Team Liquid had just lost to Team Vitality and were looking for another easy win against NAVI. While the matches were super close, NAVI won back to back matches along with B1T who made a faint appearance.
Team Liquid lost by just three rounds on Inferno and only two on Nuke. It seemed like NAVI were still pocketing victories but were extremely tired due to their run in the losers bracket. Fans, viewers, and casters were leaning into their monitors waiting for NAVI's next move.
TEAM VITALITY LOSES CONTROL
As expected, NAVI went into overtime on Nuke while Nabil "Nivera" Benrlitom stood in for Kevin "misutaaa" Rabier. Nivera racked up a few highlights, but NAVI had the upper hand when it came to comparing rosters. They were simply prepared for Nuke and couldn't wait to execute a handful of plays from previous matches. NAVI ended off with a win on Dust II and finally made it to the grand finals against Major champions Astralis.
AN UNEXPECTED VICTORY
With endless days of competing against the best teams in the world, NAVI was left with one last opponent. Due to a series of players being tired and showing a lack of performance, Lucas "Bubzkji" Andersen subbed in for the clutch minister. Even though his numbers weren't anything to talk about, they weren't bad for a rookie.
NAVI, on the other hand, used their substitute on map two, which they took complete control of. Finally, NAVI were crowned champions at the BLAST Premier Global Finals earning s1mple a title he deserved.
Everyone knew it was about time that NAVI climbed their way to the top; they just didn't know it would be at BLAST.
Images via NAVI