High highs and low lows, a Subliners season review as told by their head coach.
20:00, 16 Nov 2020
New York City, centre of the universe.
- Angel Dumott Schunard
"If I can make it here, I can make it anywhere", the city that never sleeps, and a whole host of other quotes and monikers that paint NYC as the ultimate place for any dream to come true. It's sappy, it's a little overdone, but even so, you can't deny that there's still some magic invocation that resonates from the five-borough hotbed of culture. That feeling permeates through everything related to New York; through the arts, technological innovation, its historic sports franchises, and most recently, through its upstart esports teams.
Currently, New York City has two franchises in Activision Blizzard's Call of Duty League (CDL) and Overwatch League (OWL), and a team competing in Riot Games' VALORANT. The city's Overwatch franchise, the New York Excelsior (NYXL), formed in 2018, has had three years worth of accolades and achievements that have left a lasting legacy in the history of the game. Andbox, which only debuted to onto the VALORANT competitive scene back in September, has been making waves across the community, as one of the game's most upstart and promising teams. The Call of Duty franchise, the New York Subliners (NYSL), was also only announced last year in 2019, and since then has been a rising force in the inaugural season of the CDL, landing everywhere, from the bottom of the standings to tournament champions. By 2020's end, the Subliners were certainly one of the most rollercoaster franchises to follow.
After such a tumultuous regular season that ended with a successful home series defence, the Subliners, of course, had nothing but high hopes for Champs, as their head coach, John "Revan" Boble indicated in a July interview with GGRecon. This time around though, he speaks to GGRecon again after that playoff run, which ended up being a bit less successful than many had hoped. Coming off the back of those results, and a highlight-filled off-season, Revan returns with reflections and a sneak-peek at the Subliners' runback for 2021.
"I think overall, it was a strong season for us. A great debut, not only by us but also the league, considering that we were able to complete the season through a pandemic, faced a lot of obstacles there. Overall, I only have positive takeaways… I'm always a guy that likes to turn negatives into positives, obviously negative things throughout the season; they're learning experiences. You can only grow from them."
Again, the highs of the Subliners were pretty impressive, a home series win that included two back-to-back sweeps, one against series favourites, the Chicago Huntsmen (now OpTic Chicago). They snagged Makenzie "Mack" Kelley in the mid-season; a standout rookie that helped elevate the team to a new level, and who made headlines during the CDL regular season as a rising star. Among other strong performances, when the Subliners clicked, they looked good, and it felt like they could take on any team in the world.
However, the lows of the Subliners also stood out too. Their Champs run fell short incredibly quickly, they claimed a win against the Minnesota RØKKR, but two heart-breaking game 5 losses to the Huntsmen and London Ravens ended their once-promising season on a sour note. Revan reveals that they went all in for a win against the Huntsmen and just didn't have enough left to overcome the Ravens.
"We knew that we were a tough matchup against them [the Huntsmen]. We beat them in the finals of our own Home Series, so we knew that they were definitely a team we could takedown. Looking ahead, we knew that if we took down the Huntsmen, we could build some serious momentum behind us that could carry us through the winner's bracket. We put a lot of stock into that first match.
"After we lost that, we went after London, and man those guys just had our number the whole season it feels like. I'm not putting the full loss off of the Huntsmen match, but London made a hell of a run."
Was it a lack of strategic resources, or did the New Yorkers simply lose hope?
"It definitely wasn't a hope thing. As we've seen in previous tournaments of Call of Duty, anything is possible. We felt like we were confident in the maps that were going to come out in the Huntsmen match, and they were the exact maps we predicted. We prepped hard, but we fell short, and unfortunately, we couldn't turn it around after that."
Our season has come to an end.
From a rough start to winning our Home Series and even the bitter end of Champs - we cannot begin to express our gratitude for the fans that stuck with us and supported the
#NYSL
squad and staff.
Onto
#ColdWar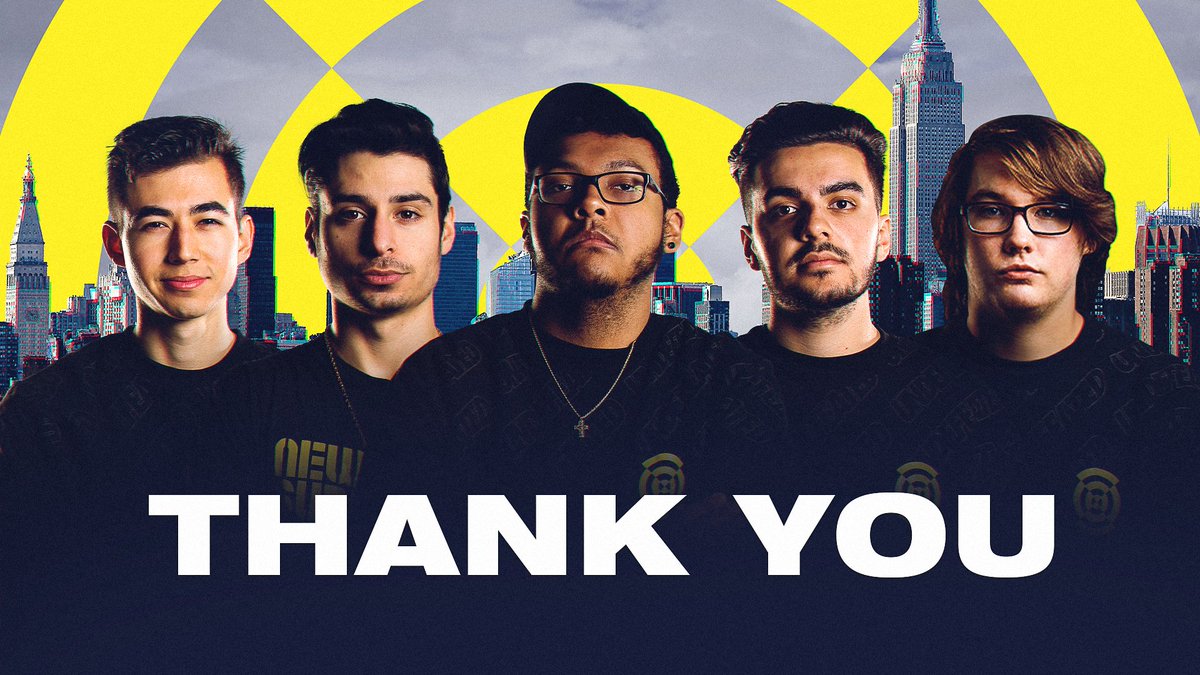 Looking back on the Champs run, what was the key problem for the Subliners? What just wasn't clicking?
"It was definitely those game fives; they haunted us all season long. It certainly wasn't that we were absolutely terrible in Search and Destroy, we were solid in our game twos, and we had a really good round eleven record. I think we only lost one round eleven all season. It would've been fun to see a game five go to round eleven to see which of those curses came out on top, but I think for us, it was tough to break that momentum all season long when it came to search and destroy. Making some adjustments mid-round and trying to catch on to the tendencies of other teams, was something that hurt us. When they would throw out their standard strategies, we were good at that, when the other teams started to adjust that's when we fell apart."

"[Against the Ravens] I felt in the respawns, we had good opportunities to close it out, especially in that first Hardpoint. Hardpoint was out best game mode throughout the whole year, so if we dropped a map one, it was hurtful to the team. Just winning map one, building momentum early was big for us as a team."
Once the season was done and dusted, and the return to competitive 4v4 was announced, the CDL off-season was primed and ready for teams to make big decisions regarding their lineups. Obviously, the biggest shocker had to be the Dallas Empire dropping James "Clayster" Eubanks, a mere two days after the team had just won the whole season. It was one of the biggest pieces of news in all of esports, and Clayster instantly became one of the hottest free agents in the whole industry, one that was seemingly a perfect fit for New York.
"When we were evaluating a player like Clayster, obviously his history speaks for itself. I've competed against him, and I've been watching him play for a long time. Even though he's older than me, he's a grandpa in the scene; the guy is still able to perform. What really shined out in Clayster's side is that he's a really good leader and he works really well with young talent. We're a little bit different than most teams; we'll take the risk on young talent. Now, that we have Clayster here, it only makes sense to bring more young guys into the fray. He has a storied history of it working out for him. Obviously, it helps that the guy is good in front of the camera, loveable guy, big fanbase, which only helps us in the long run. "
I would agree that Clayster is going to be a key part of our team. We're going to have to rely on his leadership in and out of game, and he's going to play a massive part.
- John "Revan" Boble
"We have Mack and Hydra; he's going to play a big part in mentoring them and having them learn the game. Plus having him here makes my job easier… One thing I will also be mandating is that he's got to grow his ponytail back."
Along with Clayster, the Subliners also committed to signing another rookie, European Challengers star, Paco "HyDra" Rusiewiez. HyDra, who's been playing Call of Duty at a professional level since he was 14 years old, is a widely anticipated pickup for anyone paying attention to the scene's underbelly. Considered the best player in France at the moment, he's a player who Clayster himself has been highlighting as far back as September of this year.
"Hydra as a standout challenger and performer, he was on our radar since mid-season. He kind of checked a lot of the boxes on young talent we were looking for. This is a guy we've had an eye on for a while. He's been doing really well in the Challenger tournaments and through word of mouth people only have good things to say about him."
Another pro asked me who I thought was the best AM rn and I said Hydra, they didn't even know who I was talking about. Peoples don't even know talent man! Heard he doesn't speak much English unfortunately.
With Clayster, Mack, HyDra, and Thomas "ZooMaa" Paparatto rounding out the roster, the Subliners have committed to a unique mentor/mentee approach to their starting lineup, one that could evolve into an unstoppable powerhouse by season's end. Two world champions leading to charge alongside two hungry and highly regarded rookies smells like a great recipe for success. Especially considering the splash that Mack made in his debut, and what HyDra is anticipated to bring, it only seems all the more likely that this New York team is going to have some firepower.
Every addition seems to build upon a perceived issue for the Subliners. Did they win only two of the nine game-fives they played in last season? Bring in a player like Clayster, who's known for his vocality and leadership, as well his as proven success with rookies in the past, and his former history with ZooMa as a teammate. He can be the commanding voice the team needs to stay in and close out a series. Need more consistent x-factor performances? Mack and HyDra seem like the perfect rookie duo to compete with some of the league's most aggressive players. Mack was consistently a top fragger in their latter half of the season matches, and if the Cold War highlights from HyDra are anything to go by, he's going to be scary to go up against. The pieces are lining up perfectly for New York moving into 2021, and a lot of eyes are looking for them to perform very well.
"I hope this year is our year." Coach Revan admits.
An all-new game, a fresh new team, and a second chance to prove themselves, this is New York's time to shine and to make a serious run, from start to finish, to take the top spot in the world of Call of Duty esports. Can Clayster be the first to become the first 4x world champion? Can ZooMa bring New York the title he was so hotly anticipated to help claim during the league's beginnings? Can Mack and HyDra leave lasting legacies on the game's history as some of the hottest rookies in the scene? All of these storylines and questions will be answered in the upcoming season of the Call of Duty League in the game's newest title, where hopefully, things will go exceedingly well for the New York Subliners.
Images via Andbox