The North American organisation is eyeing a re-entry into the scene.
12:50, 11 Sep 2020
Unprecedented viewership numbers, developer support, contract volumes and a pop-cultural phenomenon for a decade - League of Legends (LoL) has pulled away from every other esport. Those who got in early are reaping the benefits of their labour as the scene is booming. One team owner who has come to regret their exit from the scene is Andy Miller, CEO of NRG Esports, an esports organisation with representation in both Activision Blizzard franchise leagues and several other esports, fielding top tier teams in most of them.
"We screwed up LoL. Would like to still be in there. A lot of it comes down to publisher support for the esport and community" he said in a recent Ask Me Anything on the official NRG subreddit. The undertone of scepticism of the scene likely comes at the hand of how Riot Games had been handling revenue streams within their franchise systems. Other owners, both in and outside of the scene had occasionally pointed out that they were moving cautiously around the scene for similar reasons.
Nostalgically, Miller responded to a question of a fan when NRG was going to re-enter the League scene: "Can I borrow 35M? I am always scheming for this one. Bring back the glory year of NRG LoL." NRG had been part of the LCS in 2016 and 2017, never finishing in a position to qualify for the prestigious World Championship. The alleged buy-in number Miller mentions here is interesting, signalling an increase in the price of a franchise slot over the years.
ever have a question you wanted to ask our CEO
@amiller
?
join us tomorrow at the
@NRGReddit
as he'll start answering at 2p CT!
ask away 👉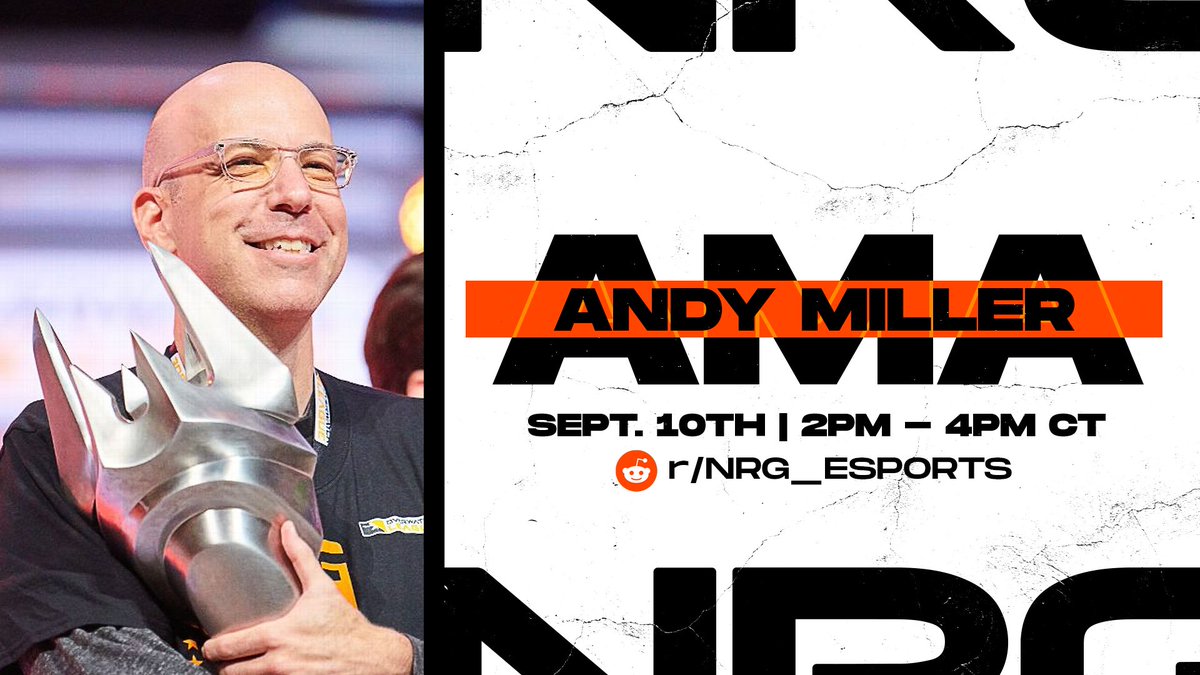 Miller went more into the topic of buying into a regionalised league as a franchise when a fan asked him why NRG didn't come to an agreement to acquire a slot for the South Korean LCK. "Other options on [the] table. Tough to make the investment work with the NRG brand. We [are] still looking [at] all things LoL." As a North American esports brand, Miller raised the issue of trying to tie an LCK franchise in with NRG. In the same thread, Miller had talked about their goal of meaningfully connecting all their brands such as the San Francisco Shock and the Chicago Huntsmen under the NRG umbrella.
He said: "We got three brands. People don't even know that the world championship SF Shock are part of NRG or sometimes why H3CZ is in an NRG video. Lots of work there to bring all the groups under one roof. If you add up the socials of all of our brands (NRG, Huntsmen, Shock) there aren't too many orgs [..] that are bigger now. Need to do a better job to get that story out and bring everyone under one roof so to speak."
Throughout the AMA, Miller communicated a clear desire to spread out into more esports of which the current king of esports viewership League of Legends is likely to be a part of. Riot Games had started franchising their regionalised leagues over the last couple of years with the LCS in North America, the LPL in China, the LEC in Europe, and now the LCK in South Korea.

Stay up to date with all the latest esports and gaming news by checking out our social channels here: Twitter | Facebook

Image via Riot Games