Get ready for the new NiP.
18:30, 06 Feb 2021
The well-renowned team known as Ninjas in Pyjamas have finally followed through with their plans for 2021. They made a brand new logo, signed new players, and even hired an ex-Olympic rower as their new performance coach. NiP has also shocked the competitive Counter-Strike: Global Offensive (CS:GO) community by beating Astralis at the BLAST Spring Event.
It looks like everything is going according to plan with the new ninjas. Sometimes all a team needs is change and to focus on a bright future ahead of them. NiP has clearly followed this routine by completely dominating everything in their path.
They're currently crushing it at events and are regaining the fan base they had back in 2014. This is definitely a great year to be a committed fan of the legendary players over at NiP.
ZTR'S DEBUT
Young Ninjas rifler and IGL Erik "ztr" Gustafsson received a chance to play with the best alongside NiP's main roster. The young and talented academy player pulled out all the stops and destroyed Astralis at BLAST. The seventeen-year-old had the most kills on map one and even led his team to the top.
Ztr even made the highlight reel on Inferno by getting a total of four kills on round ten. The clip has received over a thousand views on Twitch which is well deserved. It's not every day that an academy player beams one of the best teams in the world during their debut. While it was a great day to be a fan of NiP, Astralis fans were left feeling both shocked and confused.
A NEW ASSISTANT COACH
It seems like ztr isn't the only player being promoted from the academy roster this year. Young Ninjas head coach Fredrik "JAEGARN" Andersson is now an assistant coach for NiP. JAEGARN has been in the competitive industry since 2004 but made his return as a coach in 2020.
While he's only coached a total of three events, NiP is confident with their latest hire. They should be considering the years of experience that JAEGARN has in the Counter-Strike series. JAEGARN has played in over fifty offline events, so he definitely has a good understanding of what it's like to play at such a young age.
His talents should shine through the NiP roster this year as they continue to dominate in the competitive circuit. Hopefully, he can keep up with the young minds NiP has acquired for 2021.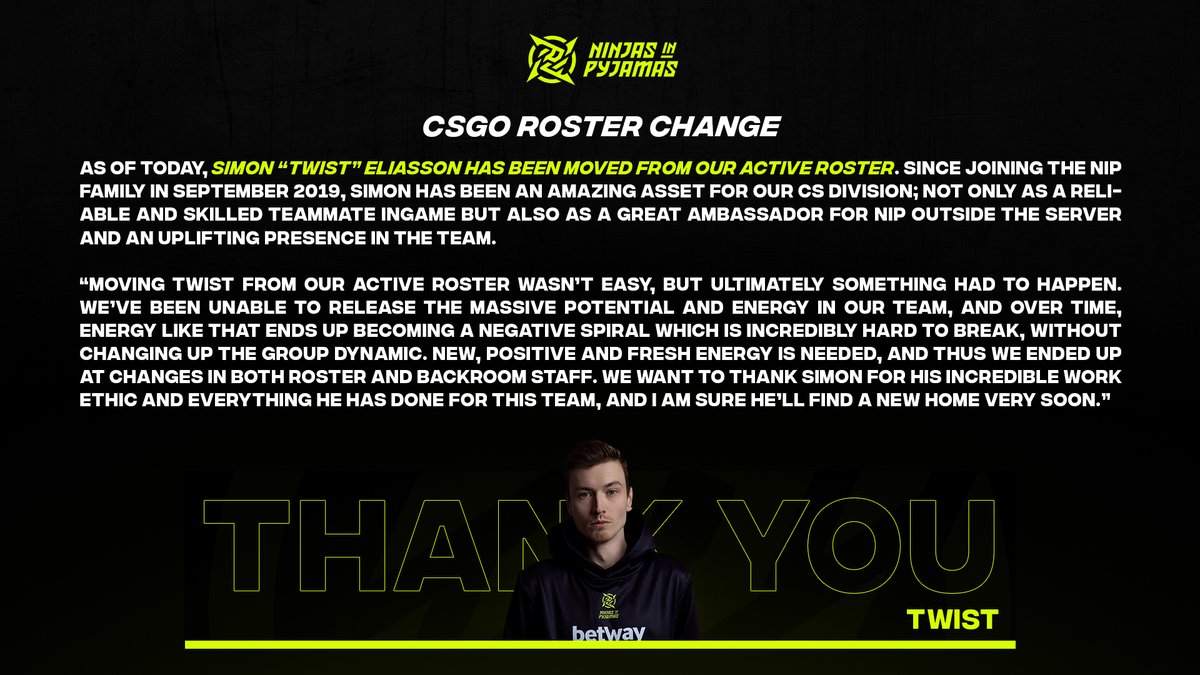 THE REMOVAL OF TWIST
It doesn't look like Simon "twist" Eliasson will be a part of NiP's marvellous journey this year due to his current position being on the bench. NiP made it clear on Twitter that the team has a lot of potential; they just have issues releasing it within events. They felt that a change of players would provide a sense of fresh air and produce a positive impact on their players.
Twist has been with the team since 2019 and has been struggling ever since. He's a great support player and can even make use of the AWP when needed. NiP is a great team while Twist is a great player, but two pros don't always work well together. Twist can definitely pick himself up for 2021 and find a team worth competing with.
WHO IS DAVID MCGOWAN?
Now for the newest staff that is ready to form the young minds at NiP this year. Even though David McGowan has spent the majority of his career as a rower, it seems like his next chapter in life will lead to the virtual world. NiP hired the Australian athlete to take control of their performance sector.
Knowing McGowan's background, it looks like he'll be responsible for keeping the players at NiP in shape. This is extremely forward-thinking of NiP, and it really shows that they care about their team. The connection between a healthy lifestyle and competing online is quite simple. With proper rest and time away from the screen, players often feel full of energy which is great for events.
REBRAND AFTER REBRAND
NiP changing their entire brand is a big deal considering they haven't made a comeback since 2012. They originally shutdown in 2007 but felt that their name held a lot of potential. The latest revamp for NiP even comes with a brand new office which will house their hard-working staff.
On top of that, NiP already has their virtual memorabilia figured out on the Steam market along with a series of stickers. NiP has put a lot of work into this rebrand, and their current roster is clearly grateful for it. The squadron of ninjas have been on the bottom since 2017, which has only created time for practice and preparation.
2021 is looking like NiP's year to take over and earn back their title as one of the best teams in Europe. They have a roster that wants to make their way to a Major and win back to back events. There's nothing more exciting than a competitive comeback in CS:GO.
Images via Ninjas in Pyjamas | Twitter