The big streamers are in for a treat, because there's a new Rust map on the way as part of the OfflineTV server Season 3.
10:07, 05 Feb 2021
Facepunch Studios is proving things aren't rusty in Rust, as the online survival game is going full Among Us and finding a new lease of life thanks to Twitch streamers and content creators. If you weren't already addicted to watching the Rust OfflineTV server and what is effectively Reality TV 2.0, you've got a whole new reason to be tuning in for Season.
While Rust was first released in 2013, it's had a resurgence online thanks to major content creators like Felix "xQc" Lengyel and Imane "Pokimane" Anys hopping into the online multiplayer. As we watch some of the biggest names in video games tour the various maps, the shining star of Rust is arguably the map itself. Exploring the map, building on the map, and just generally surviving the map. While there are already the two fixed maps of Hapis Island and Savas Island, a big part of rust is the custom maps. Apparently, the OfflineTV server is about to get a new one.
What is the new Rust map?
New Map on Thursday 2PM PST | The Divide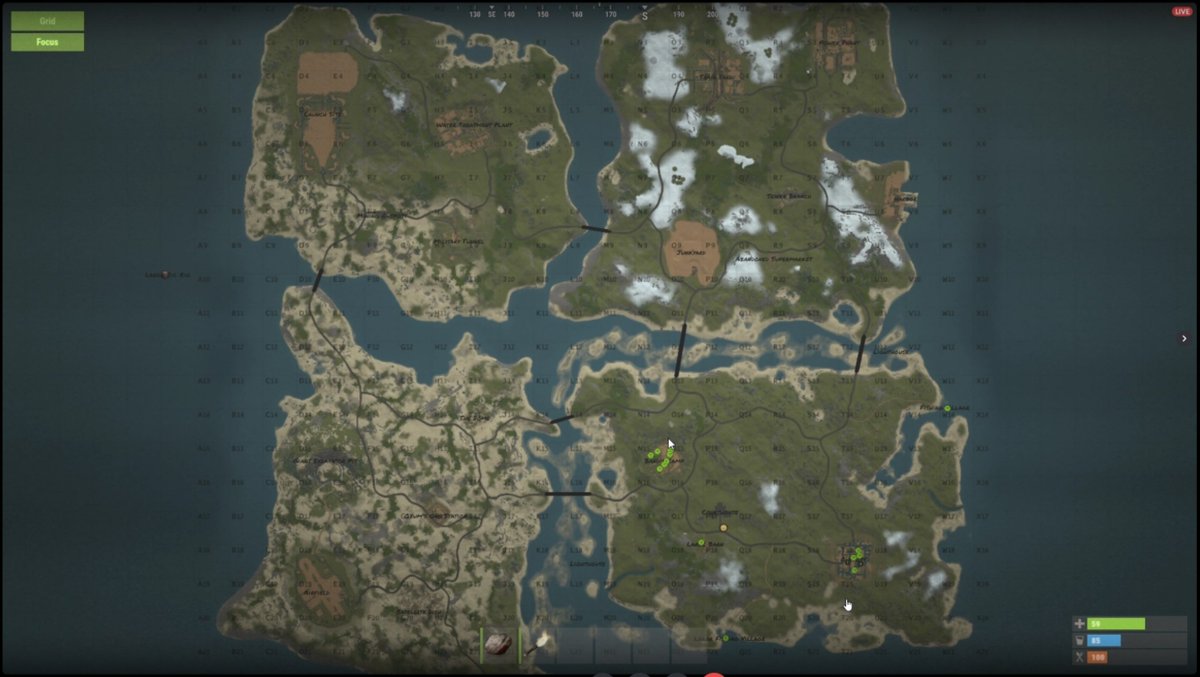 Discussing what's on the way with the upcoming Season 3 reset, Rust OfflineTV server creator Abe "BaboAbe" Chunghas promised an exciting development. The server known as "The Divide" (70% Person vs. Player and 30% Roleplay) is still as popular as ever, and by the looks of the latest map, it will definitely be living up to its name. A bit like how Epic Games tweaks and sometimes overhauls its map with each season of Fortnite, BaboAbe does the same with The Divide's Rust map. Similar to how everything from Call of Duty to VALORANT, Apex Legends to Fortnite does it, this helps catapult the story forward. So, what's new out there in the barren lands of OfflineTV's Rust?
By the looks of it, the map will be split into four distinct islands that are connected by a series of bridges. There are sure to be other tweaks, but given the fact BaboAbe has only provided a quick aerial glance, it's unclear what they are right now. All in all, Season 3 is part of BaboAbe's plan to provide a short server reset while also hyping OfflineTV's future. There are plans for a monthly server reset schedule, which involve a two-to-three week cycle of players taking part in PvP, followed by a wind-down period. The aim is to give regular updates.
What else do we know about the new Rust map?
Only last week, BaboAbe revealed his ambitious plans for Season 3, in short video. As well as hyping the "big changes", he gave a glimpse of a safe zone surrounded by smaller islands. Looking at the bigger pictures, it's a little clearer about what the new map will look like. BaboApe has also discussed removing gambling from the safe zone and putting it in a PvP hot zone for a more dangerous addition. In general, he's teased that the safe zone will become a lot less safe - forcing players out into the wilds of Rust.
Will a Season 3 reset work though? While the Rust OfflineTV server is all the rage right now, how many games have we seen rise and fall during lockdown? Even Among Us has accusations its becoming a "dead game" and will follow in the footsteps of Fall Guys. Michael "shroud" Grzesiek tipped the GTA V No Pixel server as one to watch. Speaking during hJune's January 31 stream, shroud warned that Rust Season 3 is dangerously close to the No Pixel 3.0 update. "The only downside is that the wipe is so soon to No Pixel 3.0, that I worry people won't play Rust as they'll wanna play No Pixel", said shroud
For the time being, things are peaceful on the Rust OfflineTV servers. However, with the servers going live, a brand-new map, and so much hype surrounding Season 3, can the game live up to its own benchmark? Only time will tell whether Rust OfflineTV needs some oiling.
Stay up to date with all the latest esports and gaming news by checking out our social channels here: Twitter | Facebook | Discord
Images via OfflineTV | Facepunch Studios