Big changes are coming to League of Legends as Riot Games has confirmed Mythic Items are on the way.
11:37, 10 Sep 2020
In one of the biggest changes to ever face League of Legends (LoL), Riot Games has confirmed Mythic Items are on their way with the supersized Season 11 update. While the first 10 seasons have seen Legendary Items sit on the throne as the most powerful, Mythic Items are here to topple Legendary from the top.
Riot Games' showcased an impressive video of its 2021 preseason alterations and confirmed the addition of a brand new mechanic in the form of Mythic Items. In the video, Riot explained how Mythic Items will become "the cornerstone of your builds, with big effects that define your playstyle from game to game". The previous presentation focused on Elemental drakes and Rift updates, but with Season 11, it's Mythic Items hogging the limelight.
Speaking during Riot Pls, Jessica "Safelocked" Nam explained how Mythic Items will work. She reiterated that Mythic Items will massively impact your gamestyle. Instead of replacing Legendary Items, Mythics will have their own stat bonuses but not be superior to the legendary tier. For anyone worried that Mythic Items will be an overpowered mechanic destined to ruin gameplay, you'll be confined to only having one in your inventory.
Riot gave examples of some mythic items, with a highlight being Crimson Shieldbow. Looking closer at the latest addition, Crimson Shieldbow deals 50 attack damage, 15% attack speed, 20% critical chance, and 12% lifesteal. If that wasn't enough, Crimson Shieldbow is also an anti-burst item that procs a shield similar to Maw of Malmortius, while also granting 20% lifesteal for eight seconds. Other mythic items on the roster include Behemoth Slayer and Galeforce, with Riot dev Mark Yetter giving further insight to how they work, their stats, and passives.
And the current WIP Mythics for the marksmen class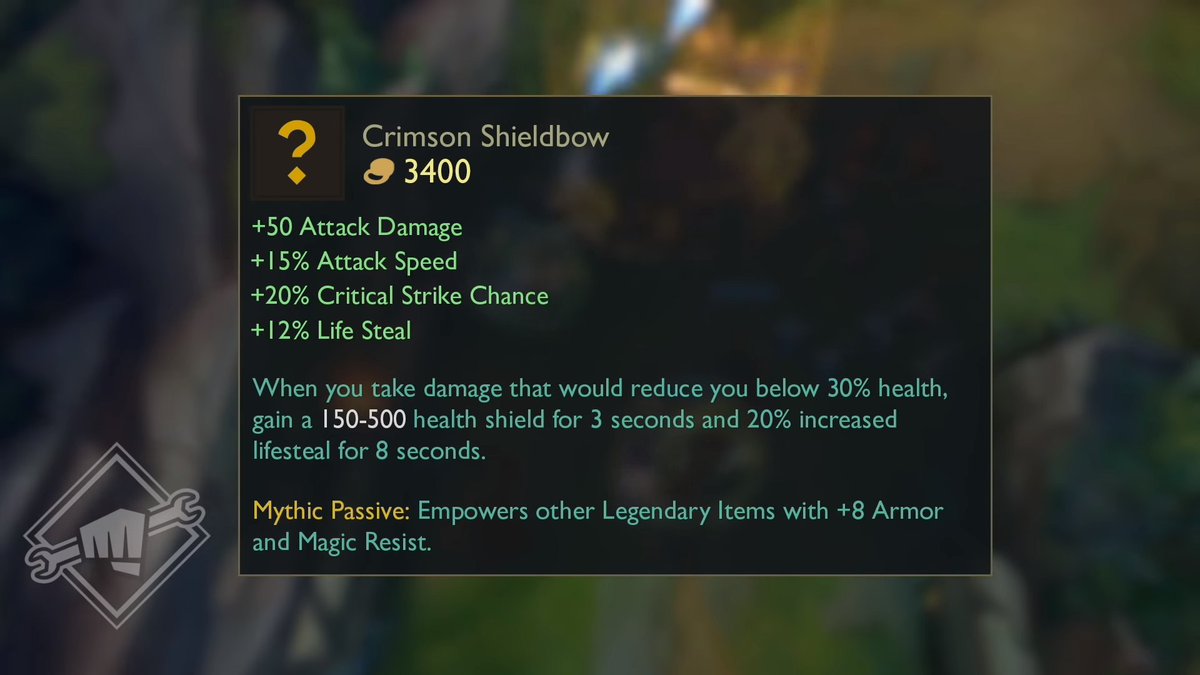 Yetter added that some items currently in-game could also be upgraded to Mythic. However, it's important to remember that with Mythic Items being early in development, the stats could be tweaked ahead of their full reveal. Either way, we're expecting more info on Mythic Items to come out when Worlds 2020 has finally wrapped.
As it stands, the three Mythic reveals are set to cost 3400 gold, so you'd better start saving. With the addition of Seraphine and all eyes on Worlds, Mythic Items are a relatively small fish in an ever-growing League of Legends pond. Still, they give us another reason to be excited for Season 11.
Stay up to date with all the latest esports and gaming news by checking out our social channels here: Twitter | Facebook
Images Riot Games