Be your own hero.
13:00, 10 Sep 2020
With every patch or update implemented into Fortnite: Battle Royale, comes a plethora of new, unreleased cosmetics. It has become a tradition that leakers enter the game files following each patch in search of new skins and items. This is called "data mining".
Most of these cosmetics will be released in the shop for purchase via V-Bucks. However, sometimes these cosmetics are available through non-traditional methods. For example, the Galaxy skin was only obtainable for a limited time with the purchase of certain Samsung Galaxy devices. We have seen this sort of promotion with items such as the Minty Pickaxe, the Honor Guard skin, and the Ikonik bundle. Fortnite has also started releasing cosmetics only available through competitive play, such as the Komplex skin and the Axe of Champions.
Remember, these are just the skins and cosmetics found in the most recent patch. Check out the links below if you are looking for more unreleased skins along with gameplay footage. Also, we compiled a list of Fortnite cosmetics that have been sent to the vault, never to be released.

Leaked Skins/Outfits
Patch v14.10 is all about being your own hero. Fortnite is allowing players to create their very own, one-of-a-kind superhero.
For the likely price of 2,000 V-Bucks, players can purchase one of the base heroes pictured above. From there, the customisation is endless. Players can equip masks, change colours, and alter other unique features. Design your own hero and join the Marvel superheroes in their fight against Galactus.
Additionally, it appears that we'll be getting another skin bundle. The Web of Corruption set features three new variants of Arachne, Insight, and Shogun.
New Customization!
Hair color, Hair Style, All Costume Colos, Logo, ect..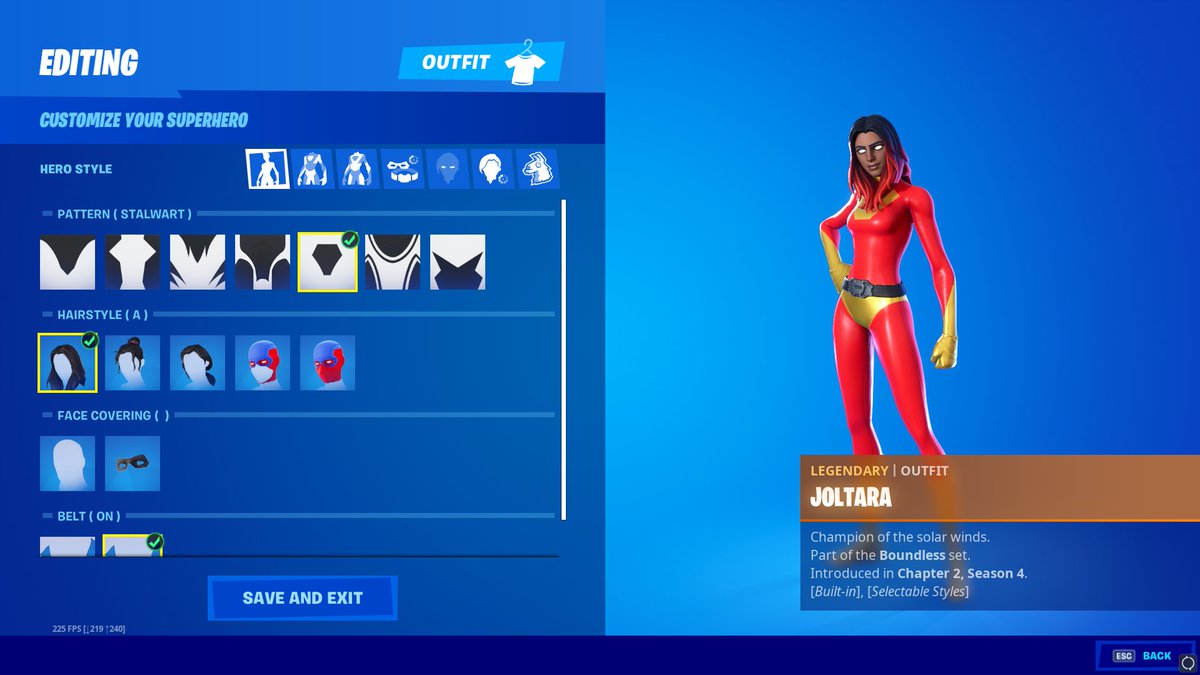 Leaked Back Blings
Emoticons are finally getting put to use. Previously, Emoticons were essentially useless cosmetics aside from the occasional meme. Now, players can choose any Emoticon in their collection and stick it on the back of the Emoticape.
Holo-Back works similar to the Emoticape. Holo-Back can be transformed into any Emoticon in a player's collection. The Emoticon will appear as a back-bling in holographic form. The rest of the back blings pictured will pair with the Web of Corruption set.

Leaked Styles and Variants
Oblivion gets the Midas touch. Owners of this skin can now equip an all gold style.

Leaked Pickaxes and Gliders
A very limited update in terms of gliders and pickaxes. Patch v14.10 comes with just two pickaxes and zero gliders. However, it's always quality over quantity.
The Phantasmic Pulse pickaxe looks similar to some of the other one-handed sword pickaxe we've seen recently. It comes with selectable styles, so players will be able to choose from a variety of energy-filled options.
The Perfect Point is a promotional pickaxe. It'll be interesting to see if it's part of an exclusive bundle for Xbox, PS4, or Nintendo Switch or if it's for something else entirely.

Leaked Emotes, Sprays, and Emoticons
What's a superhero without a signal device? Similar to Batman's Bat-Signal, players with the custom hero skins will be able to emit their own Hero Beacon. Use the Hero's Beacon emote to shoot a distress-signal into the sky.
Last Forever is another TikTok dance. Use the emote in sync with a buddy for full effect. The rest of this category is loaded with Emoticons. Perfect for placing on your new Emoticape.
Check out the video below for exclusive in-game footage of the "Last Forever" emote:
New Tik Tok dance i guess?
Leaked Wraps, Music Packs, and Loading Screens
Nothing in this category to really catch your eye. Just some original, clean wraps to "wrap" up a set or collection.
There you have it—every single cosmetic found in the Patch v14.10 game files. There are no further details on these items. They could enter the shop tonight, in a week, or many months from now. Regardless, make sure you have your V-Bucks on deck for when these fresh new items finally hit the shop.

Stay tuned here @GGReconEsports for updates on all things Fortnite — including all of the new cosmetics found in future patches.
Images via Epic Games | @Lucas7yoshi | @HYPEX