Riot Games is celebrating October with League of Legends Halloween skins and the Harrowing Halloween event.
11:24, 07 Oct 2020
Start carving those pumpkins and get ready for some tricks and treats as League of Legends Halloween skins are officially on their way. Despite Riot's multiplayer online battle arena video game being hit hard by the coronavirus pandemic, the loyal fanbase has stuck with LoL as developers have continued to churn out updates and celebrate the success of this gaming giant.
The latest patch notes have confirmed Riot is honouring all things Halloween with a new line of suitably spooky skins. The 10.21 patch is now live on the PBE, and get ready, it's a big one. The Harrowing Halloween event was no secret, and while League of Legends Halloween skins were previously teased online, that doesn't make their official reveal any less impressive.
PBE Preview: Tales from the Rift
😈 Little Devil Fizz
🎃 Pumpkin Prince Amumu
🕷️ Bewitching Elise
Riot has outlined what's new in its patch notes. First up, Amumu and Elise are getting a macabre makeover with the Bewitching Elise and Pumpkin Prince Amumu Champion skins. They were already unveiled in some impressive splash art, so aren't exactly surprising additions. Elsewhere, the space-age Odyssey line has added new looks for Aatrox, Karma, Kha'Zix, Sivir, and Twisted Fate. Finally, Fizz and Kassadin will be gifted an outfit change with Little Devil and Hextech skins.
Lead Gameplay Mark Yetter went on to tweet which Champions will be getting nerfs and buffs in the 10.21 patch. The likes of Aphelios and Corki will be buffed, while Hecarim and Samira are among those being nerfed.
10.21 Patch Preview -
This won't change worlds in any way but we're keeping things as balanced as we can for end of the ranked season.
Long term we're shifting Pantheon away from support and back into solo lanes.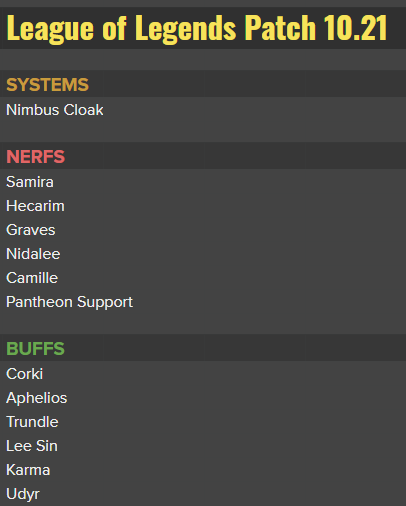 There are also big changes coming as part of the Preseason 2021, which means devs are having to tweak their usual way of running things. Yetter added that Preseason content will be road-tested on the PBE for "an extended period of time". This will alternate with normal patches in the following format:
Week one Preseason
Week two: Patch 10.21
Week three: Preseason
Week four: Patch 10.22
Week five/six: Preseason
Harrowing Halloween is the latest in LoL's fan-favourite spooktacular and looks to be rolling out some creepy content before October 31. Although there's a lot to take in with the patch notes, horror hounds are undoubtedly drawn in by the League of Legends Halloween skins. As games like Fortnite and Apex Legends also tease their Halloween offerings, it's a case of something wicked this way comes in the professional scene.
Stay up to date with all the latest esports and gaming news by checking out our social channels here: Twitter | Facebook
Images via Riot Games