Our LCS Spring Split 2021 Week 2 Power Rankings going into Week 3.
19:00, 18 Feb 2021
Cloud9 and 100 Thieves still remain tied atop the League of Legends Championship Series (LCS) tables with a 5-1 record — both taking a loss this week, but unexpected developments have started to arise between the teams below them.
Team SoloMid and Dignitas have swapped places with Team Liquid and Evil Geniuses, respectively, taking a tie for third place at 4-2. Other teams like Immortals and FlyQuest added another game to their win column while both Counter Logic Gaming and Golden Guardians have remained at the bottom.
With all of that in mind, here are our power rankings for the second week of the LCS Spring Split's regular season.
#1 100 Thieves (+1)
The Thieves had a struggle of a Week 1, their dominant early game presence was gone, but their late-game became strong. Teams began to catch on to their aggressive dives in the bottom lane, decisive early games, and their laning began to diminish. Once in Week 2, 100 Thieves showed more colours, demonstrating that they aren't just a one tone team.
Tanner "Damonte" Damonte has begun to show other champions apart from the Twisted Fate and Galio. While their bottom lane keeps punching themselves as the best bottom lane in the league. The only loss that 100 Thieves have so far is against the team below them, not a big cause for concern.
THERE IT IS BOYS!
#100WIN
A strong showing by the squad with the W coming just shy of the 31 minute mark. Feels great to close out Week 2 on a high note. 💪
In their match versus FlyQuest, Victor "FBI" Huang was winning what was essentially a one versus two in the bottom lane — his Senna had 25 souls at six minutes. FlyQuest built themselves a big lead in the top lane, but it was immediately nullified due to FBI's play.

#2 Cloud9 (-1)
If it wasn't for their loss versus Evil Geniuses, they would've remained at the top spot over 100 Thieves in our power rankings. They got semi crushed in this game even though they had their moments of comeback potential. Once they faced off against 100 Thieves, the sparks really flew. A closely contested game that demonstrated Robert "Blaber" Huang immense champion pool, he had five champions banned against him, and a Taliyah picked away from him — clear frontrunner for MVP. The way he messed up 100 Thieves' team fighting, not allowing them to have a clear front to back, was crucial to their win. Other than that, they took care of business as usual versus FlyQuest.
Cloud9 still look relatively the same as the first week, but they are steadily improving and making sure they don't waver.
#3 Team SoloMid (+7)
Surprising, to say the least, as they were last in last week's list. It was almost as if this was a completely different team from the one seen in the previous weeks. The huge seven-spot jump was mainly in part by their 3-0 week for Week 2. Team SoloMid is looking like they finally have some sense of direction. Heo "Huni" Seung-hoon is left on the weak side, while they focus on the bottom lane and Tristan "PowerOfEvil" Scharge takes over the late game — a clear and concise gameplan. Lawrence "Lost" Hui's performance was much improved, and it was shown with strong Ezreal and Kai'Sa play.
TSM ONLINE!
Nice to see a strong performance from them after a rough start to the split. Probably the best game from them all year!
Survived some rough early lanes to out skirmish & teamfight TL in a very controlled game!
#LCS
Throughout the whole week, PowerOfEvil's teleports were fantastic; they were focused on helping his team members, side lanes or covered for people. His teleport to lane as Orianna in the third game to immediately make a play alongside his team on the top side was a treat to watch.
#4 Dignitas (+3)
Like Team SoloMid, they are a surprise to us being up here, but it won't last. The clear factor here is Joshua "Dardoch" Hartnett's seemingly A-Z jungle picks as well as their improvement in the bottom lane. Yet again, does Zaqueri "Aphromoo" Black takes a young AD Carry under his wing and makes him shine.
.@Dardoch has played nine unique champions so far this season, who do you think he is going to pick next? 🤔
#LCS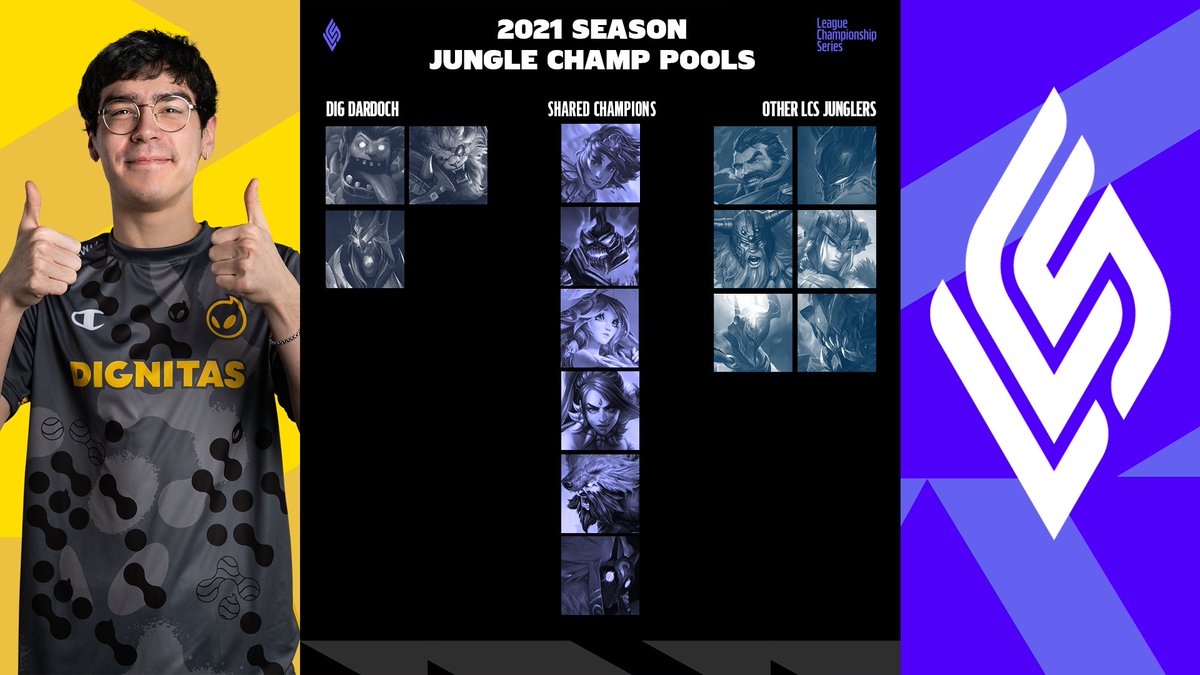 They had a flawless Week 2 like Team SoloMid — not dropping a single game — but this was also against a softer strength of schedule. Come next week; they will face off against Cloud9, Team SoloMid, and FlyQuest; will they keep it up? Probably not
#5 Team Liquid (-2)
Nothing much to say here; this team looks like a team that is just not performing as well. Their playstyle remains the same as well as the compositions they are trying to run. Barney "Alphari" Morris is slowly coming back down to earth while their bottom lane has slowed down significantly. Add some poor drafting versus Team SoloMid in which they could've punished their double-blind solo lane picks but didn't, and that'll do it.
#6 Evil Geniuses (-2)
Alongside Team Liquid, there isn't much to say. They had a strong win versus Cloud9, but even then, Cloud9 had ample opportunities to climb themselves into a comeback win. They tried their hand at slowing down Dardoch's momentum, but that wasn't enough.
#8 FlyQuest (-2)
You could look at this team in that it was similar to Immortals last week; both only gained one win and had two losses. When you compare the two, they are both pretty similar in performance, but there's a key difference in that, Immortals defeated Evil Geniuses while FlyQuest just slapped around an underperforming, failing to close out games, Counter Logic Gaming.
#9 Counter Logic Gaming (+0)
They still suffer from the same problems as Week 1, good early game, horrible mid to late game. Their early games are solid without a doubt; they are legit. They just need to be able to translate that to rest of the game.
#10 Golden Guardians (-2)
Still looking like an inexperienced team which is to be expected. Having all losses in Week 2 of the LCS bumps them down to last on our list as they didn't have much to offer nor much to show during the week. They built themselves a solid early lead with good teleport plays, but when push came to shove, they couldn't close it out. They allowed Team SoloMid to be assertive and to take control of the game.