Our LCS Lock In Week 1 Power Rankings going into Week 2.
18:00, 21 Jan 2021
The League of Legends Championship Series' (LCS) Lock In Week 1 is done. Evil Geniuses is alone at the top without a single loss to their record while Team SoloMid, Team Liquid, 100 Thieves, and Cloud9 share a similar 2-1. This leaves a number of teams with only one victory - and one single soul alone at the bottom without any at all.
Although many teams weren't at full strength — having multiple subs in some cases — here are our power rankings after Week 1 of the LCS Lock In.
#1 Evil Geniuses (3-0)
There is so much to say about this roster, first of all, Jeong "Impact" Eon-young was immaculate. During this first week of the Lock In, he was above all others in his role and very well could be the best player going into Week 2. His flanks, his positioning — all of the things a veteran should know were shown. Most of the positives of this roster going into the season showed up. Daniele "Jiizuke" di Mauro performed great in all three games — barring the odd death he had due to an overstay in game two on the Zoe. Both Lee "IgNar" Dong-geun and Dennis "Svenskeren" Johnsen were as solid as ever. Many had cast their doubts on Matthew "Deftly" Chen seeing the Evil Geniuses roster as a whole but he did a solid job showing he deserves his LCS spot.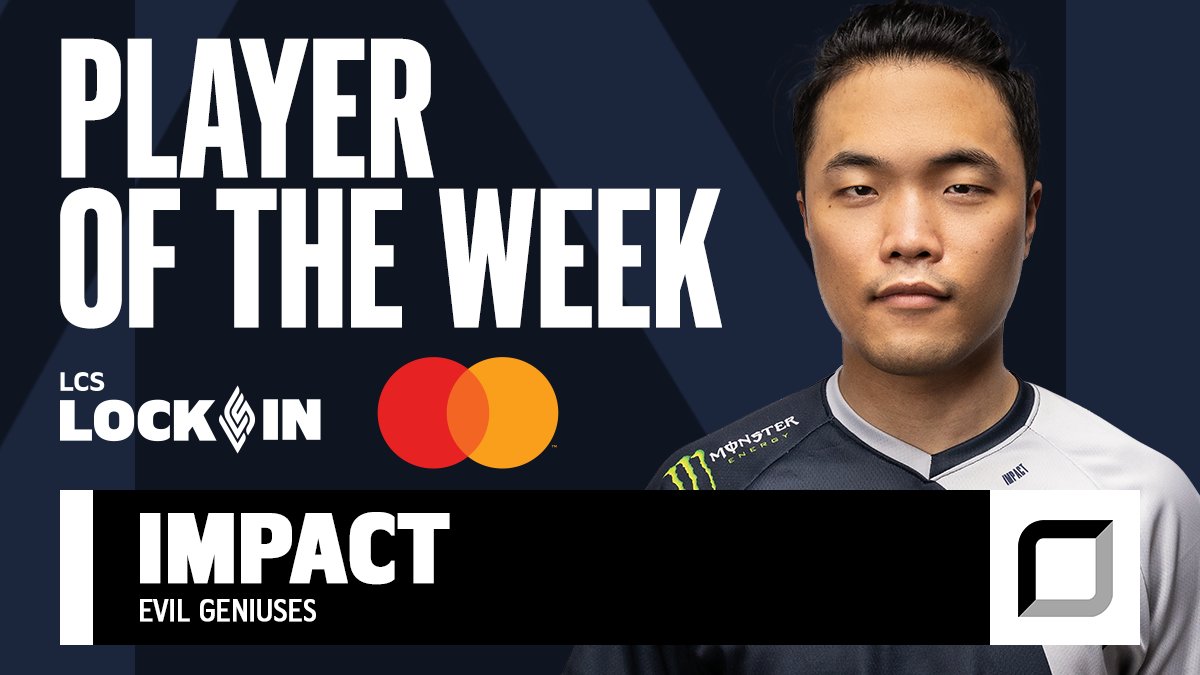 #2 100 Thieves (2-1)
Outside of Evil Geniuses, this was the team with most cohesiveness — not a surprise seeing as how four of their members were on the same team prior to the 2021 season. They could've very well taken the #1 spot over Evil Geniuses if it wasn't for their only loss. They were the only team to hand over a win to Counter Logic Gaming, and it wasn't pretty. They didn't get dominated, in fact, they had a solid lead like the other two games, but when it came to Baron and objective time, they couldn't quite make the right decision or any decision at all. They take this spot over the other 2-1 teams due to them having beaten two of them — Team SoloMid and Team Liquid.
#3 Team Liquid (2-1)
Despite their only loss to 100 Thieves, they looked good with Jonathan "Armao" Armao subbing in for Lucas "Santorin" Larsen. Team Liquid even started amazingly killing 100 Thieves' bot lane of Victor "FBI" Huang and Choi "huhi" Jae-hyun, but 100 Thieves had an even greater response. Barney "Alphari" Morris already showed why Team Liquid picked him up from the League of Legends European Championship (LEC). He created and extended his own leads even in their match against 100 Thieves. He got a lead versus Kim "Ssumday" Chan-ho — which is no easy feat. This roster could very well overtake the two above them once Santorin plays in Week 2.
#4 Cloud9 (2-1)
Although they are 2-1 as the two teams above them, those two wins came off Dignitas and Immortals. Ibrahim "Fudge" Allami couldn't back up his trash talk and Luka "Perkz" Perkovic's game one versus Evil Geniuses was a head-scratcher. Cloud9 seemingly needed to get that bad game out of their system because they dominated the next two, Perkz didn't have to do anything. Cloud9, as a team took control. The bot lane played solid, and it'll be fun to see how they stack up versus Team Liquid's and 100 Thieves' in the future. One also begs to question: How would they have stacked up in Group A instead of Group B?
okay I've decided
I'm gonna go whole LCS opening tournament without dying
#5 Team SoloMid (2-1)
The worst out of the 2-1 teams could quite possibly be even lower on the list if it wasn't for their two wincing wins over a last-place Counter Logic Gaming — putting them out of playoffs — and a Golden Guardians who is full of collegiate and academy players. A Mingyi "Spica" Lu Baron steal helped them propel themselves out of an early lead. If it wasn't for his heroics, they could've well been at 1-2.
#6 Golden Guardians (1-2)
A surprise to many seeing the calibre of players on their team, they should've been 2-1 alongside the other teams above them, but their lack of experience showed. Golden Guardians had a good game over Counter Logic Gaming but so did most everyone else. Their drafts were well focused, and they went through with the gameplans that were set up for the drafts — kudos to their coaching staff. Not bad for a team of Academy and Collegiate players.
#7 Dignitas (1-2)
Both Max "Soligo" and Aaron "FakeGod" Lee showed that their hard work down in Academy is starting to pay off. Solid performances by both of them, especially Soligo. His lack of experience showed in the Evil Geniuses match as he — credit to #1 team on this list — was punished at the beginning of every team fight. Joshua "Dardoch" Hartnett looked as solid as can be and Zaqueri "Aphromoo" Black did what he needed to do. They have a solid foundation moving forward.
#8 Immortals (1-2)
Their only win came off of an immensely dominant performance over Dignitas — they nearly averaged more than a kill a minute. They were always together in every play, no matter if it was the right call or not; something that can be built upon. They outclassed Dignitas, but when it came to their losses, they didn't stand a chance.
#9 Counter Logic Gaming (1-3)
One of the teams to be affected the most in not having their main roster — no Finn "Finn" Wiestal and no Mads "Broxah" Brock-Pedersen — this team should've and could've performed better. Each player on this roster has had LCS experience. Although rough to compare their four games to everyone else's three, it's still not looking pretty for one of the old guards of the league.
.@clgaming (1-1) find the team fight they were looking for as they take down
@100Thieves
(1-1) for their first win of the 2021
#LCS
Lock In Group Stage!
#CLGWIN
#10 FlyQuest (0-2)
As the only team to go winless, they are also the only team to play two games. FlyQuest couldn't quite get anything going in both of those losses. Eric "Licorice" Ritchie — a player you'd expect to show up, didn't. The Cloud9 Academy guys they picked up also were underwhelming; perhaps they still need a bit more time to acclimate. Hopefully once Brandon Joel "Josedeodo" Villegas is in the lineup they can begin to turn it around.
Images via Riot Games