A Lara Croft skin has been teased as Fortnite's latest addition to the hunter-packed Chapter 2 Season 5.
10:01, 19 Jan 2021
It looks like Lara Croft will be drawing back her bow and jumping off the Battle Bus in Fortnite Chapter 2 Season 5. The next of the season's hardened hunters has seemingly been revealed ahead of time. If you thought God of War's Kratos and Halo's Master Chief weren't enough, another gaming icon is seemingly putting her hunting skills to the test and ready to make her mark on the battle royale behemoth.
Following in the footsteps of the Marvel-themed Chapter 2 Season 4, Season 5's "Zero Point" storyline wasted no time in hitting the ground running with the welcome return of Agent Jonesy. Just like Season 4 had an immersive story about Galactus trying to swallow the map, Season 5's narrative involves Jonesy tracking down various characters trying to escape their own "loop" - teasing Fortnite's very own multiverse. The runaway characters have attracted the attention of Jonesy and the mysterious agency he's working for, with Kratos and Master Chief being recruited alongside the Mandalorian and the imminent arrival of the Predator.
Lara Croft skin: What's the tease?
。
o
○
╭◜◝ ͡ ◜ ͡ ◜◝ ◜ ͡ ◝ ◜ ╮
( ⛏️🏃🏻‍♀️🏹 )
╰◟◞ ͜ ◟◞◟◞ ͜ ◟◞ ͜ ◞ ╯
For once in the wide world of Fortnite, we aren't going off a datamine leak for this piece of news. Instead, the official Tomb Raider Twitter account shared a cryptic message that depicted a dream bubble featuring a pickaxe, a woman running, and a bow and arrow. It might just be that those behind Lara would love to see her dropped into Fortnite, however, others have taken it to mean she's on her way soon. There's no denying Lara would fit the theme of Chapter 2 Season 5. Also, considering we've had a Sony exclusive (Kratos) and a Microsoft exclusive (Master Chief), Lara is a character that bridges both worlds.
Although Lara Croft was born as a PlayStation icon back in 1996, she's since found a way off the PS and onto a variety of systems. In particular, Crystal Dynamics' 2013 reboot found a whole new fanbase for Lara and was a million miles away from her square-breasted debut all those years ago. The Tomb Raider name is currently lying dormant after Square Enix rounded off the reboot trilogy with Shadow of the Tomb Raider in 2018, however, you can bet your V-bucks she'll be getting another outing apart from the mobile Tomb Raider Reloaded.
Fortnite Lara Croft skin: What else do we know?
A new crossover skin, "Typhoon" will arrive soon.
Info:
- The skin will be female
- The skin might have reactive styles
- It's portal seems to have a custom "flicker" effect
Portal Image via
@ximton
<3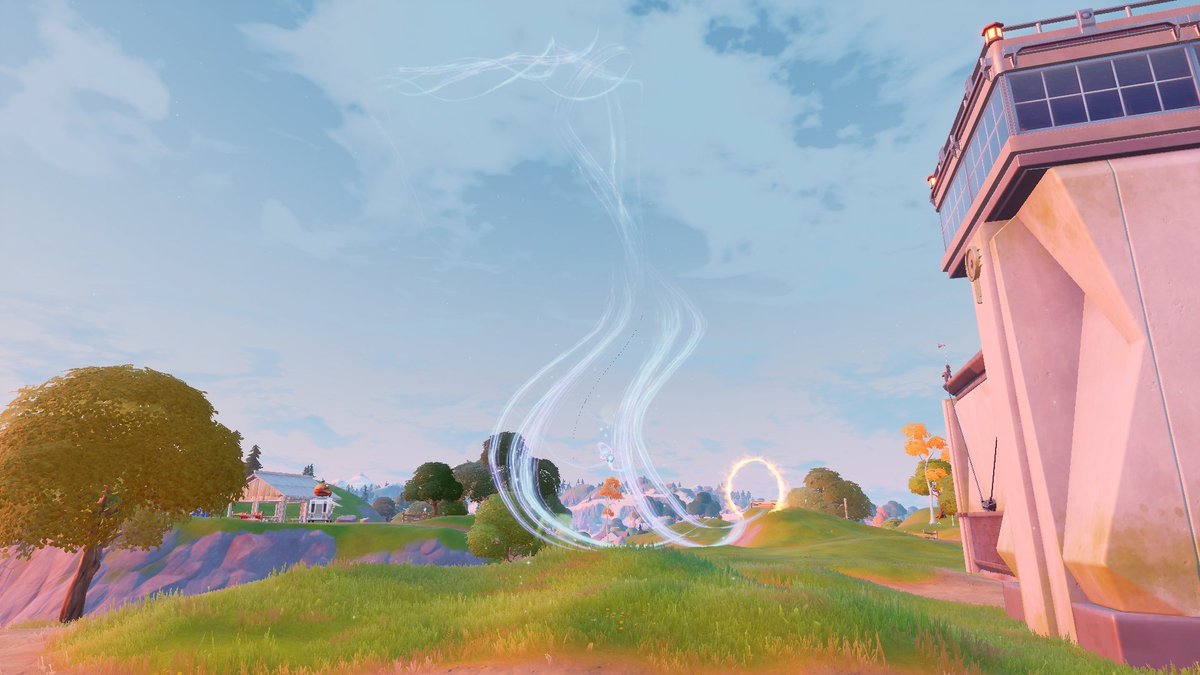 More than just wild speculation, Fortnite leaker Mang0e has also pointed to the arrival of a reactive skin called "Typhoon". As well as it being a female skin, Typhoon will also have a "flicker" effect, which could represent Lara taking damage and becoming a more bloodied version of herself like she does in Crystal Dynamics' trilogy. Finally, Typhoon might be a reference to the opening of 2013's Tomb Raider where Lara is caught in a storm and washed up on an island.
It's also important to remember Lara's big anniversary. Although Square Enix hasn't announced any plans for her 25th anniversary, a Lara Croft skin would be a great way to kick-start the celebrations. The big question is, would it be a remodelled version based off her new look or a more classic take with blocky Lara? Seeing how the anime-styled Lexa sticks out from the crowd in Chapter 2 Season 5, it would be interesting to see a Fortnite Lara Croft skin in her pixelated form from 1996. Epic could also introduce an adaptive version of the skin that cycles through Lara's many looks from over the years.
The Lara Croft skin tease comes just after dataminers claim three classic vaulted vehicles will be making their return. Hidden in the code of the game, it sounds like Hoverboards, Ballers, and Golf Carts are being tweaked - suggesting they're on their way back. Players might remember the divisive arrival of the Jurassic World-inspired Ballers in Chapter One Season 8. Interestingly, the constant reference to Universal's dinosaur series could tease the arrival of a Jurassic-themed skin. Could we see Sam Neill's Dr Alan Grant, Chris Pratt's Own Grady, or even a bare-chested version of Jeff Goldblum's Dr Ian Malcolm? We can but hope.
As usual, we'll keep our ears close to the ground and the idea of a Lara Croft skin firmly in our crosshairs with any potential updates.
Stay up to date with all the latest esports and gaming news by checking out our social channels here: Twitter | Facebook| Discord
Images via Epic Games