After a four-year hiatus, Krope is returning to the desk.
11:07, 18 Jan 2021
After a four-year hiatus away from the scene, Mitch "Krepo" Voorspoels has announced that he is returning to League of Legends by streaming the game alongside personally discussing the ins and outs of what will be a hugely entertaining LEC season.
Krepo, best known for his witty dad jokes alongside insightful analysis during his time on the LEC casting desk, stepped away from the scene in 2017 after explicit images around his personal life were leaked. He made his last appearance at the Mid-Season Invitational 2017, having previously cast at three world championships.
Since, the 30-year-old Belgian dived into coaching, enduring spells at FC Shalke 04, G2 Esports, and most recently Team Vitality, with the latter role ending in May 2020. Having erased himself off social media following his statement to leave the casting desk and stop streaming, fans were pleasantly surprised on January 17 2021, when he appeared on Twitter unexpectedly.
Krepo announced his return to League, and dove into how he has found solace in his personal life alongside his partner Ellie and "an absolute chiller of a cat, Leo".
Hello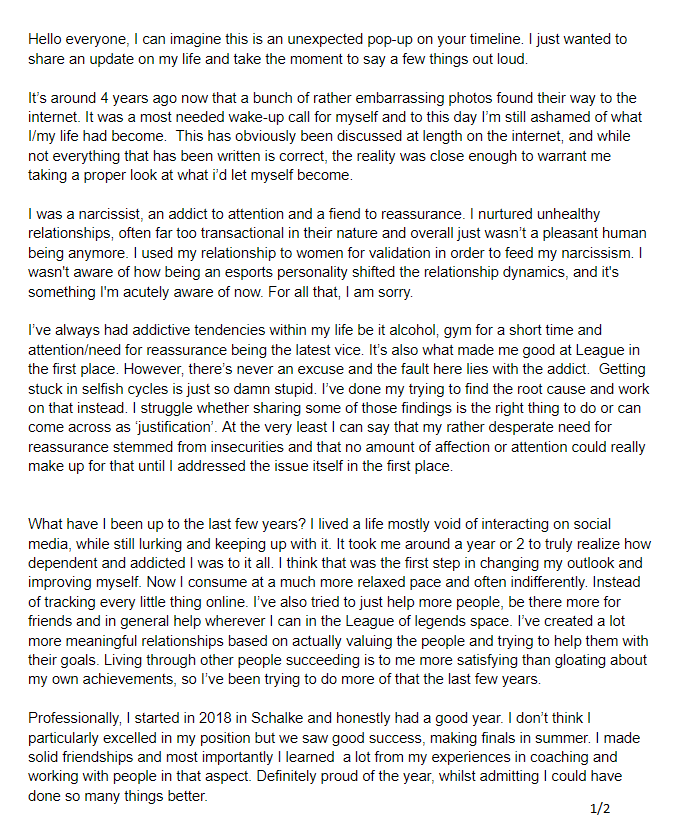 The caster revealed that the controversy surrounding his departure "was a most needed wake-up call for myself and to this day I'm still ashamed of what I/my life had become".
After continuing to discuss troubles he faced surrounding narcissism, unhealthy relationships, and various addictions, Krepo outlined that there was no excuse for his behaviour.
Now, after a huge period away from the limelight, Krepo will now return to the scene starting with a return to the screens on his own stream.
"I still want to work in the League space long term mostly behind the scenes and help teams develop in everything League related, but for now, I just wanna share my passion for the upcoming season by streaming, playing, and mostly discussing LEC".
Replies quickly flooded in from the likes of G2 Esports and Cloud9's Luka "Perkz" Perković supporting his return, showing that his lasting impact in the community has earned him enough respect to make a gallant return to the scene.
Stay up to date with all the latest esports and gaming news by checking out our social channels here: Twitter | Facebook | Discord
Image via Riot Games | Krepo | Facebook