One of Overwatch's most promising players finally has been crowned
21:00, 26 May 2020
Kim "Fleta" Byung-sun was a prospect in 2017 on a frankly terrible team. Now, he and the Shanghai Dragons stand tall. With what will become an iconic performance at the May Melee, Fleta finally has won a major title. The journey to his coronation at the May Melee all started with a team attempting to swim with cement shoes.
Flash Lux와 APEX 시즌2부터 함께 해 온
#Fleta
김병선 선수가 타 팀으로 이적하게 되었습니다.
그 동안 힘든 팀에서 불평 한번 없이 함께해줘서 정말 고마웠고 행복했습니다.
새로운 팀에서 활약 할 플레타 선수에게 많은 응원 부탁드립니다.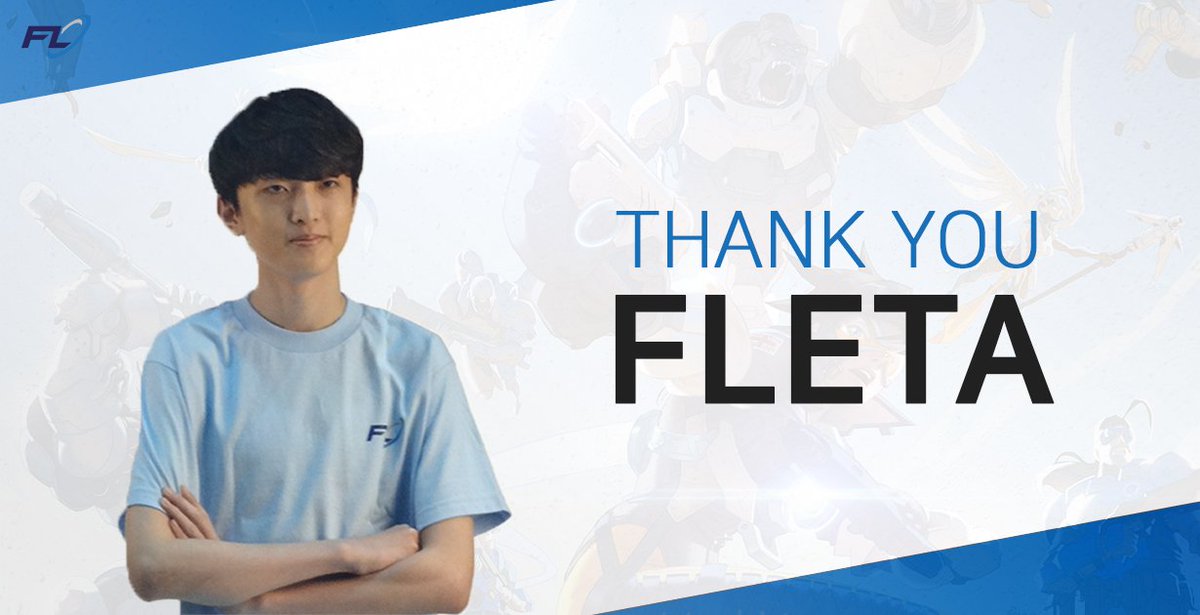 Debuting on the global stage with Flash Lux, a team that is best known for never winning, Fleta was a diamond in the rough. Flash Lux rarely won the odd map and they were frankly a bye-week for most teams. However, this never took away from the impact and promise he showed in those matches.
Fleta's former teammate, Kim "Weeso" Sang-woo, spoke highly of the talented rookie during his debut season. "I think our key player is Fleta," he said. "He has a wide hero pool, communicates well, and thinks in a creative way. Watch out for Fleta's superplays later on." Fleta would play in every match the following season, becoming the spearhead to Flash Lux's gatekeeper status.
He would also be the impetus to the famous "Fleta Deadlift," a term coined by Sascha "Yiska" Heinisch after Fleta's herculean efforts against Afreeca Freecs Red and MVP Space where he managed to secure over 50% of his teams kills. With how good he was on a terribly bad team, we could only speculate on how he would perform on a good team.

However, a great team came calling.
Fleta received his call up to the legendary South Korean team, Lunatic-Hai. His potential was supposed to be unlocked as he and the team travelled to the United States to compete in the Overwatch League as the Seoul Dynasty. Unfortunately, the Seoul Dynasty failed to meet expectations.
Living up to their namesake, the 2018 Seoul Dynasty team was set to be a dynasty. With such a legendary core, a coaching staff that was touted as one of the greats, and a player that was supposed to tie it all together, this was supposed to be a truly great team. That never happened. Instead, Seoul started strong and as time went on their signs of inconsistencies manifested into real, tangible problems.
First, it was properly setting Fleta up to succeed. Seoul then floundered when it came to their impact at flex support, which seems heretical to say, but it was true. Legendary Ana ace Ryu "ryujehong" Jehong was falling behind for the first time in his career. Then came the departure of Gong "Miro" Jin-hyuk which put the team in a role swapping spiral deep into the season. Fleta's team of saviours was now a dysfunctional mess.

Was he really cursed? Was he always going to be the best player nowhere near title contention? Was he a man truly walking among the dead?
2019 saw a breath of fresh air wash over the Seoul Dynasty's shoulders. The newly added tanks and support repaired the shaky foundation the previous roster succumbed to and putting someone like Kim "FITS" Dong-eon next to Fleta was set to be a terrifyingly talented DPS duo. But some things take longer to change and lay underneath the surface that the camera can show. The Dynasty crashed and burned out of the playoffs after having an incredibly promising run through the play-in tournament.
On November 13th, 2019, Fleta would be transferred to his new home. He was set to take his talents to Shanghai, China.
While the season has been asterisked by the COVID-19 pandemic, for all intents and purposes Fleta and the 2020 Shanghai Dragons have matched and even exceeded expectations. With a stacked roster from head to toe, the Dragons were the talk of the town in the pre-season. Consensus power rankings had them confidently within the top teams, but people questioned their staying power. They were a team with massive potential, but could they unlock it? That was the million-dollar question.
Standing atop the Pacific Conference with a 14-2 match record and a 35-9 map record, it is safe to say that Fleta and the Dragons are a top team in the world. This leads us to the May Melee, where they cemented this as a fact.
With no Hero Pools and 3 regular-season wins on the line, the May Melee was the reinvention of the Stage format. Teams would compete for seeding which would be flanked by a regionalized tournament. In Asia, the Dragons roared out to an early lead as favorites to win it all, so it wasn't shocking to see them advance to the grand finals. However, on the opposite side of the bracket, ironically enough, the Seoul Dynasty was making a massive underdog run. Fleta was set to meet his former team in the grand finals.
It was poetic justice to see Fleta battle the man who replaced him on the Seoul Dynasty. Born gnawing on a silver spoon, Profit has truly done it all. Ever since his debut in APEX Season 4, his talents have been met with lavish praise and awards and for good reason. Profit is the type of generational talent that has the magic touch. He is someone who constantly overcomes. In any given situation, Profit can reach levels and do things rarely seen. Fleta showed glimpses of that in South Korea and even in his early days in the Overwatch League, but Profit was different. While Fleta was toiling away in Flash Lux, struggling to find maps wins, Profit walked the royal road with GC Busan and never looked back.
Fleta and the Dragons pulled a Profit-esque comeback against the Dynasty to win the May Melee.
After playing 10 straight maps, after going down 0-3, after beating Seoul at every single one of their map picks, the Dragons had done it. Fleta had done it. They were the May Melee champions.
To all the fans who never stopped believing, this win was for you
계속 우리 팀를 믿어주셨던 팬들에게 이 승리를 드립니다
Hit this with a like, RT and a reply with what your favorite part of the series was and we'll be giving out a massive amount of OWL tokens and sprays!
As the Dragons shared happy tears and relief-filled embraces, they thanked their fans who never stopped believing in them. In a strange way, this is incredibly poignant to Fleta's journey to the Overwatch League and, more importantly, to the May Melee. He believed in himself, stayed the course, and fate has finally rewarded him with both realized potential and a special team to boot.
A player who overperformed for the consistently worst-performing team in APEX era history and a team that fought the odds and managed an 0-40 season in 2018 have both fully bloomed. It only took them uniting under one banner.
The captain of the red lantern is no more. The sleeping tyrant is awake. The deadlift is complete. Fleta has finally arrived at the apex of Mt. Overwatch with his wits about him, with a special team alongside him, and his demons exorcised.

Fleta has finally reached the back row. He has jumped, ducked, and dove his way to the end of the checkerboard and can now finally put something tangible in his trophy case. If there is anyone that should be allowed to shout "King Me" until he is blue in the face, it is Fleta.

Images via Blizzard Entertainment, Seoul Dynasty and Shanghai Dragons