Popular League of Legends streamer IWillDominate has been removed from the League Partner Program for 12 months, making him unable to co-stream the LCS. His appeal to Riot has been denied.
21:00, 25 Jul 2020
Christian "IWillDominate" Rivera has always been a controversial personality in the League of Legends scene. While many enjoy his honest and often 'toxic' personality, just as many believe that his 'unprofessional' behaviour doesn't belong in the growing community.
Since his retirement from professional play in 2015, IWDominate has built himself up as a popular streamer and content creator. While he used to enjoy playing solo queue and climbing the ranked ladder, he recently became tired of grinding the game and instead turned to the competitive scene once again; this time as a co-streamer and analyst rather than a player.
Using his experience as a former pro player and analyst, IWDominate's co-streams of the LCS delivered both an entertaining and highly educational package that many viewers felt the official broadcast lacked. Combined with his regular flaming of various aspects of the LCS and appearances from players like C9 Nisqy, his co-streams were ideal for both the viewers looking for complex analysis and those just there for his 'toxic' personality. Feeling reinvigorated and passionate about the game for the first time in years, IWD saw an explosion in viewership that often exceeded 20k viewers. He recently passed 8000 subscribers on Twitch, a milestone that he never previously thought possible.
Thank you for all the support recently, never thought we would hit numbers like this without any massive sub gifts. Actually ridiculous to see this in my dashboard....

His edited co-streams also proved to be a success on Youtube, and IWDominate now sits at 430k subscribers. Alongside his regular podcasts 'Facecheck' and 'CrackDown,' many fans believe that IWD's analytical and educational content is among the best the community has to offer. His show 'Facecheck' is also now co-hosted by LS, possibly the premier analyst in the scene and a caster for the LCK.
Seeing such huge growth and feeling confident about his growing brand, IWD decided to try and go it alone. After being part of Team Liquid for nearly 8 years, IWD ended his partnership with the organisation to become a free agent. His decision may have been motivated by the current trend of Twitch and other streaming platforms signing exclusivity deals with streamers for large amounts of money. Regardless, the future of IWDominate's co-streams and career looked bright.
Spent almost 8 years with the org but its time to move on to flying solo for a bit. Thanks for the immense support and allowing me to grow my channels during this time!
Now, just days after announcing his departure from Team Liquid, IWD has been stripped of his co-streaming privileges. His removal from the LPP also loses him access to other benefits like League Unlocked and any official promotion by Riot. Clearly upset and emotional, IWDominate took to Twitch to announce this bad news before addressing it on Twitter.
"Our system flagged statements made on your social media account that violated our policies and desire to foster a safe and inclusive community," reads the email IWD received from Riot.
"After taking time to review these statements and taking into consideration you're currently on probation from the League Partner Program, we've determined that your recent comments online are not aligned with the current values of the LPP."
Therefore, effective immediately, you've been removed from the League Partner Program . . . and will no longer be able to co-stream the LCS and Academy games.
According to IWDominate, the decision was made without any warning or consultation from Riot, effectively blindsiding him.
"I don't know why this happened. They didn't tell me a reason, or what I said. I tried to stay within the lines. I sometimes criticise players and stuff like that, but I don't think I ever crossed lines with anything homophobic, racist, or not fostering a safe and inclusive community," IWD said in his brief stream.
"I'm trying to talk to them, I'm going to try to explain that this is something I've changed all my content around. This is something I love doing. It's what I'm passionate about going forward."
After contacting Riot for more information, IWD apparently still did not receive a clear reason for his ban. He was informed though, that the decision is final and won't be changed until the next review period of June 2021.
Still don't know what I did though...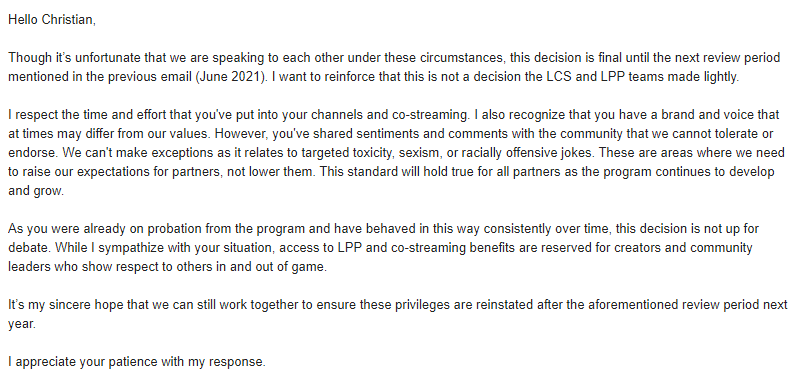 While some believe Riot should have communicated better and provided clear evidence of his toxicity, he knew he was on thin ice. IWD was already on probation from the LPP, and just recently multiple streamers considered toxic like Tyler1 and Yassuo were also removed from the LPP. While he wasn't informed that his social media was being monitored, Rivera didn't make much effort to change his online attitude or appear less toxic than usual. Just last month Rivera made comments in-game about nail polish which were perceived as sexist and misogynistic, which he then addressed on Twitter and in a Youtube video. He seems to believe that this is the most likely reason for his ban.
Within the larger League of Legends community, opinion is split. While IWDominate does create some of the best analytical content out there, it's impossible to deny that he often acts immaturely and is overly critical of certain pro players. He recently came under fire for his repeated negative comments about two LCS mid laners, IMT's Eika and 100T's Ryoma. While criticism of play is fine, the extent of his and his fans' flaming even caused Eika to compare it to bullying. Other pro players like 'Closer' and Misfits coach 'Amazing' stepped in to support Eika, arguing that pro players are affected more than people think by negative comments.
I think memeing is fun and all guys, but at this point it's close to bullying..
IWDominate was also one of the loudest voices against fellow League streamer Hashinshin after proof came out of his misconduct online with minors.
Despite all this, many other figures have spoken out in support of IWD, including streamers VoyBoy and Yassuo.
What did
@IWDominateLoL
even specifically do to get kicked out of the League Partner Program and not be able to costream LCS anymore? Dom invested everything into costreaming and to have that ripped away is just heart breaking man... This isn't right.
MonteCristo called for more transparency from Riot, tweeting "how are you supposed to know how to change your behaviour if they won't tell you how you get banned?"
Even Dignitas jungler Akaadian subtly supported IWD in a reply to Travis Gafford.
With no more co-streams for IWD, his numbers will certainly take a big hit, but he has stated that he will continue to do live viewings and create his regular content. Commenting on the ban, IWD said "all I can do going forward is to attempt to keep making good content."
Images via IWD