Leaks suggest Travis Scott could be the latest cosmetic skin added to the Icon Series
10:35, 27 Feb 2020
Fortnite is no stranger to collaborating with celebrities to create in-game skins; it's happened with Marshmello and Major Lazer, and now with its recently announced 'Icon Series' of skins, Epic Games have promised that "gaming, music, film, and fashion [will] collide". It seems Travis Scott will be included as one of the 'Icons as a leak from Twitter-user and leaker Lucas7yoshi appears to show.
BREAKING
A Travis Scott cosmetic set was added in v12.00
This confirms some form of collaboration between him and Fortnite. Exact details are not clear but its safe to say its probably a skin and some other stuff (as it is a set)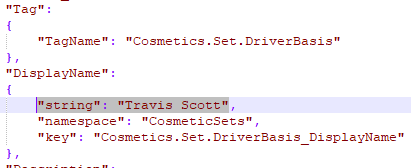 It's possible there will be other cosmetic items available to purchase in the Fortnite in-game store for Travis Scott, as we can see from the above tweet by Lucas7yoshi, the game files include the term "CosmeticSets" – meaning a Travis Scott-themed pickaxe and glider could be on the cards.
As yet there are no details on the date of this release, but keep an eye out on Lucas' Twitter as well as the official Fortnite Twitter for more info on this latest addition to the Icon Series.

Images via PAImages and Epic Games.