This is not the first time that Natus Vincere have fallen to a reverse sweep during the Grand Finals.
19:00, 23 Nov 2020
This wasn't the first time that Natus Vincere had made their way to the Grand Finals of an important event during this pandemic - and it wasn't the first time that they lost to a reverse sweep by a team that should not have stood a chance.
Vitality were down and out. They had lost two maps in a row; not even Mathieu "ZywOo" Herbaut was performing well. Oleksandr "s1mple" Kostyliev had just secured two consecutive ratings above 2.0, a monumental achievement and a reason for celebration on its own. Even Vitality's sixth man, Nabil "Nivera" Benrlitom, who had become somewhat of a lucky charm for the team recently, could do nothing to help. They were on the brink of defeat, one map away from conceding the Grand Finals in stunning fashion. But somehow, Vitality recovered.
In fact, they didn't just recover - they were completely reborn from the third map onwards. Suddenly, everything clicked; all the star players were firing from all cylinders. Natus Vincere didn't even get enough time to get comfortable on Overpass before Vitality had already secured the win on a 16-6 scoreline.
The same thing happened on the fourth map. Nivera was brought in as the resident Inferno fragger and absolutely delivered on that front. He was joined by ZywOo and Kévin "misutaaa" Rabier on the top of the scoreboard, who absolutely decimated the NaVi players for a 16-9 win. Now Vitality carried the momentum. From being down two maps, they brought everything back and tied the overall score. Even worse for NaVi, they were now in the hot seat. Having lost two straight maps in a row and not even looking competitive most of the time, they somehow had to find a way to redeem themselves on the deciding map.
But they didn't. Vitality made quick work of them, and as ZywOo delivered a ridiculous pistol ace in the first round, he took all of NaVi's hopes down with them. The eight rounds they scraped together were a product of s1mple and Denis "electronic" Sharipov trying their best to stay in the fight, but it was ultimately a hopeless effort. ZywOo even managed to post a second ace on the last map, basically humouring Natus Vincere as he and his team completed the perfect reverse sweep. On a 3-2 score, Vitality were crowned winners of IEM Beijing EU.
LEGENDARY! OUR 6 PLAYERS COMPLETE THE REVERSE SWEEP AND FINALLY TAKE THE TITLE THEY WORKED SO HARD FOR!!
#VforVictory
#IEMBeijing
🏆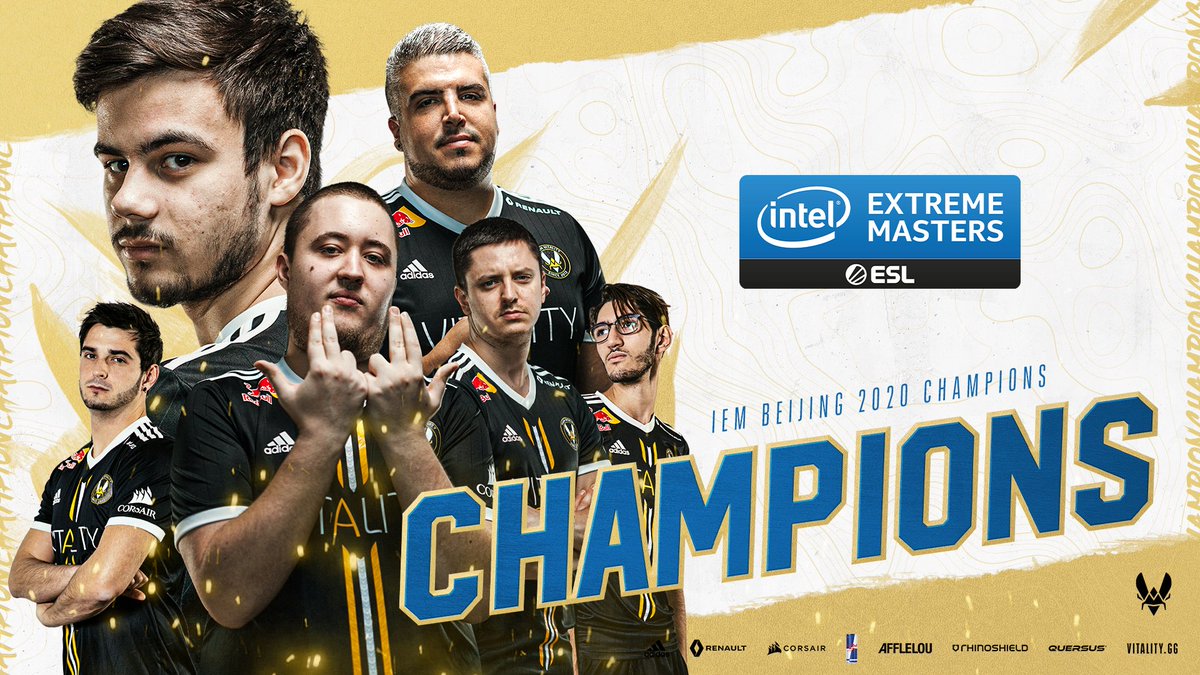 WHY DID NATUS VINCERE LOSE AGAIN?
Back during the ESL Pro League Finals, NaVi had a two-map lead over Astralis. Within an hour, most of that was gone, and the CIS team quickly fell to a perfectly executed reverse sweep. The blame, as so often, can be put on anyone who isn't s1mple. From the first second onwards, he has been the centrepiece of almost every round that went in favour of Natus Vincere. He has clutched and aced in this Best-of-Five, swinging entire rounds around by himself. The Ukrainian has played an incredible match, probably setting a few records along the way. But the rest of his team hasn't.
Counted together, Kirill "Boombl4" Mikhailov and Egor "flamie" Vasilyev have recorded six kills fewer than s1mple during the IEM Beijing EU Grand Finals. Let that sink in for a moment - s1mple has basically done the work of two players. Alternatively, one could argue that Boombl4 and flamie have put up half a player's performance each. In any case, the output of those players wasn't enough, and Ilya "Perfecto" Zalutskiy wasn't much better either.
In the lead-up to this match, we discussed how the increased output from Perfecto and Cédric "RpK" Guipouy has helped their respective teams unlock the next level at this event. Discounting the first two maps, where none of the Vitality players really stepped up to the plate, RpK was definitely present and doing the heavy lifting. However, Perfecto wasn't. On Overpass, Inferno and Mirage, he recorded abysmal ratings and was virtually absent from the fight. Unfortunately, s1mple can only do so much on his lonesome.
Move to the very end, dont give up, devote time to what you dream about and don't listen to those who will try to hinder your success, see you soon
So why did Vitality win in the end? One explanation is resilience; the other is that they have a much wider talent pool. Most crucially, if they feel like one of their players is unable to do his share in any given moment, they can bring in a total beast of a substitute. While Nivera obviously didn't get as much screen time as his colleagues, his average performance is right up there with ZywOo's.
This unpredictability is what might help Vitality secure a long-lasting spot at the top. When will they bring in Nivera? Who will they sub out? How will this affect their approach on any given map? The mere existence of such a sixth player makes counter-stratting them infinitely more complicated and adds so many layers to their game plan. He doesn't even need to be good, but he actually is great - which makes Vitality all the more exciting to watch.
WHAT ABOUT THE REST OF THE PLAYING FIELD?
Unfortunately, IEM Beijing EU has felt like step-down on the part of many teams. Olof "olofmeister" Kajbjer is still miles away from his past performance level and definitely not the type of player that FaZe need to replace Nikola "NiKo" Kovac with. Where were Fnatic? Where were OG and mousesports?
Most crucially, Astralis are so much worse off without Patrick "es3tag" Hansen. It is striking to see how much consistency this guy brought to the roster during his small stint with the team. Now that he's back, Andreas "Xyp9x" Højsleth actually put up a solid show, but the team felt disjointed, and the Danes were obviously not as strong as they used to be. Maybe this is the right time to finally bring in Lucas "Bubzkji" Andersen and deliver on this promise of a rotating roster. Vitality have certainly proven that this approach is worth considering.

Images via Starladder