Dun announced that he will be looking for a new team.
13:59, 07 Oct 2020
Head of Coaching Staff at MAD Lions Peter Dun has announced that he's exploring options outside of MAD Lions. The British coach will be looking for a new team within the League of Legends pro scene.
Over the last three years, Dun had coached for the organisation first under the Splyce brand which later rebranded to MAD Lions in November 2019. During his career, Dun lead the organisation to the World Championship in 2019 and 2020 counting largely on rookies while also guiding the team to a second-place in the LEC Summer regular season. During the Play-Ins of the League of Legends World Championship had fallen short of qualifying for the main event, losing to SuperMassive Esports in a close 3-2 best of five series in the first knockout stage.
My contract with MAD Lions expires on October 20th and I have been given permission to explore options for next year. RTs very much appreciated. Contact via twitter DM, petercdun@hotmail.com, or through my agent jae@seg.gg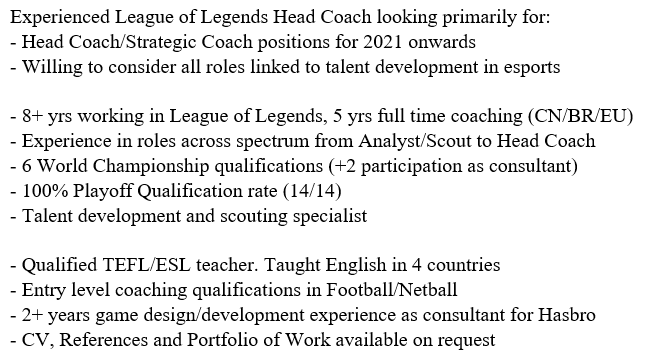 Previously, Dun had worked with the Brazilian organisation INTZ between 2015 and 2017. Given his experience and success in several regions, Dun could be a sought after free agent coming into the post-Worlds off-season.
Both Splyce and MAD Lions are owned by OverActive media, a global esports and entertainment company with franchised teams in the Overwatch League and Call of Duty League as well as the LEC.

Stay up to date with all the latest esports and gaming news by checking out our social channels here: Twitter | Facebook
Image via Blizzard Entertainment