Will their latest roster rise or fall?
18:30, 27 Jan 2021
FunPlus Phoenix has recently undergone a change of branding following the arrival of their new Counter-Strike: Global Offensive (CS:GO) roster. The Chinese org will now go by the name of FPX Esports but is often referred to as FunPlus X. Last year they spent a ton of money competing in a single event after a roster deal fell through due to player complications. This was a huge setback for the team, which is why it's taken nearly eight months for a comeback.
Their newest roster has a handful of up and coming events which have the possibility of putting FPX Esports on the map. They've also recently acquired Chris "chrisJ" de Jong from mousesports - but only as a loan. This way, the org can figure out what players bond well together before making a risky buyout heading into their future events.
ROSTER DEAL
Three years after the company was founded, FPX Esports began their CS:GO run in 2020. While the team seen competing was made up of North American players, the original roster was completely different. FPX Esports set their eyes on a group of talented young pros who were looking for a new team at the time to call home.
They were a contract away from signing Heroic's all-Danish roster until Astralis came into play. The team had staked out Patrick "es3tag" Hansen for a brand new project. Astralis was looking to create a seven-man roster while some of their permanent players were on vacation. FPX Esports clearly pulled the short straw on this deal, which is why the whole roster was sent back to Heroic.
FLASHPOINT SEASON 1
After a ton of drama in the media began to hit the fan, FPX Esports was able to secure a roster for their first event of the year. The team consisted of Peter "ptr" Gurney, Mitch "mitch" Semago, Austin "crashies" Roberts, Jonathan "Jonji" Carey, and Michael "dapr" Gulino. Due to a lack of practice, the team didn't have the best placement, but it also wasn't the worst. FPX Esports finished ahead of five different teams earning the final cash prize and some BLAST points.
Once FPX Esports saw the amount of time and money they had invested in the company, they realised their best chance at success was backing away. The team had everything at the time - except for a consistent roster which was worth entering in competitions. Their sponsorships with BMW and PUMA helped put the team back on their feet and form a killer roster for 2021.
NEW FACES ON THE SCENE
Near the end of 2020, FPX Esports signed a young and energetic manager to rebuild the team. Petar "peca" Markovic was responsible for acquiring a new series of players better than any other roster in Europe. The team currently consists of Jesse "zehN" Linjala, Martin "STYKO" Styk, Pavle "maden" Boskovic, Asger "farlig" Jensen, and chrisJ.
The team will be coached by Jonatan "Devilwalk" Lundberg who's been an active member in CS:GO since 2012. Except for the likes of chrisJ, the rest of the roster was acquired from GODSENT. FPX Esports will begin their journey starting out at the DreamHack January Open against eight different teams. With seventy-thousand dollars on the line, FPX Esports has a lot of work ahead of them.
The first tournament of FPX CS:GO is right at the corner🙌
Today at 15:00 CET, facing
@EvilGeniuses
on the stage of the 2021 DreamHack Open.
LET'S MAKE IT COUNT BOYS🔥
📺Stream👉
#FPX
#FPXCSGO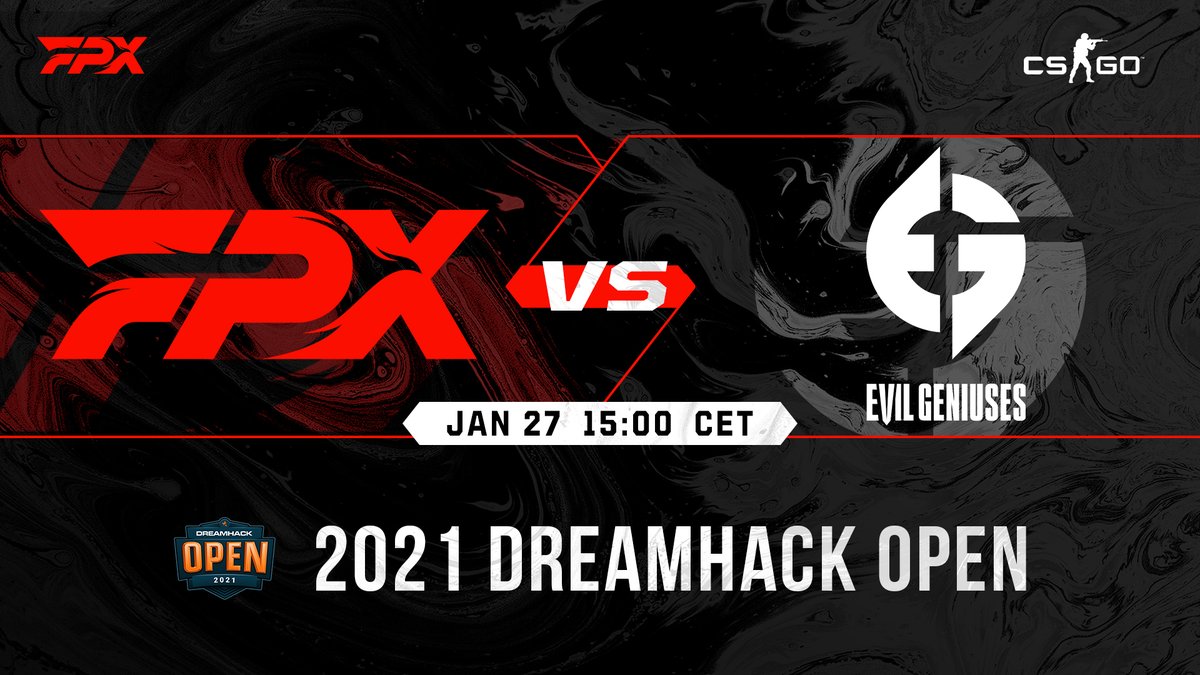 MEET THE TEAM OF FPX ESPORTS
Since the team is fairly new, none of the players have been listed as the team captain. The first player competing for FPX Esports is the one and only zehN. Some rounds he acts as a support rifler while on others he slays out under the role as a lurker. Since zehN is just around the corner at turning thirty, he's definitely considered a veteran in competitive CS:GO.
His teammate STYKO, on the other hand, has many more years to come as a support player throughout each round. STYKO was mostly known for his time with mousesports but also had a great run with HellRaisers in 2016. Hopefully, FPX Esports will be the next milestone for STYKO in his seven-year career.
Maden has a pretty open portfolio considering his skill sets, including both entry fragging and AWPing. He's great with any weapon in the game which is why he's often able to work around requests made by his teammates. Since he only began competing in 2016, Maden is only known for his run with GODSENT in 2019.
CHRISJ MAKES THE CUT
Now for chrisJ, the glue of FPX Esports who has the most experience on the entire team. chrisJ has been with mousesports for the longest time, which is why his switch to FPX Esports was a shock. Now he'll have another chance to receive the praise he deserves as an AWPer competing with the best in the world. His new coach Devilwalk will help keep the team together while finding the best possible events for the new and improved FunPlus Phoenix.
Images via FPX Esports