The positive reception of this new cosmetic proves that Star Wars crossovers can work.
18:00, 16 Sep 2020
In the midst of their massive collaboration with Marvel, Epic Games have decided to crossover with yet another popular franchise. Fortnite and Star Wars are getting yet another crossover, as a promotional tie-in with the new Star Wars: Squadrons game. In update 14.10, many of the Star Wars cosmetics were updated, but data miners uncovered new items that would be rolled out near the new game's release.
Recently Decrypted: Pakchunk1000
Vanguard Squadron X-wing
Stay fearless to the finish.
Internal Rarity: Epic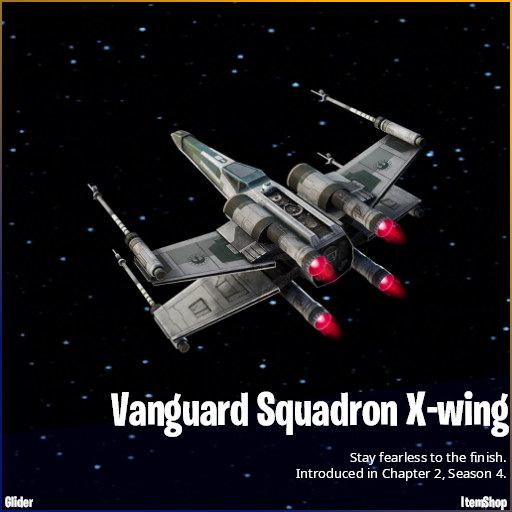 This update was later announced on both the official Epic Games and Fortnite Twitter accounts.
Take on anything the Island has to throw at you with the trusty Vanguard Squadron X-wing Glider.
Available in the Shop now!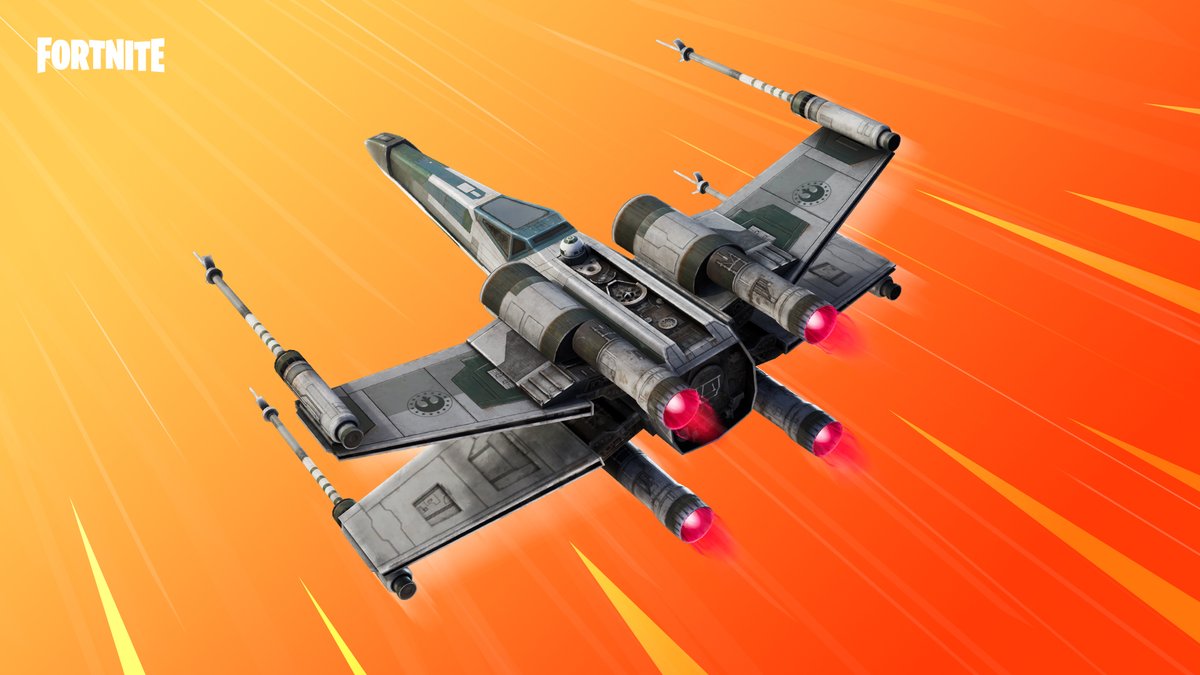 This new glider was given a rarity of Epic, which has made it quite sought after by collectors. Players looking to get an even better value for this glider can receive one for free if they pre-order Star Wars: Squadrons through the Epic Games Store.
📣 PILOTS WANTED 📣
Buy
#StarWarsSquadrons
on the Epic Games Store and receive the Vanguard Squadron X-wing Glider in Fortnite!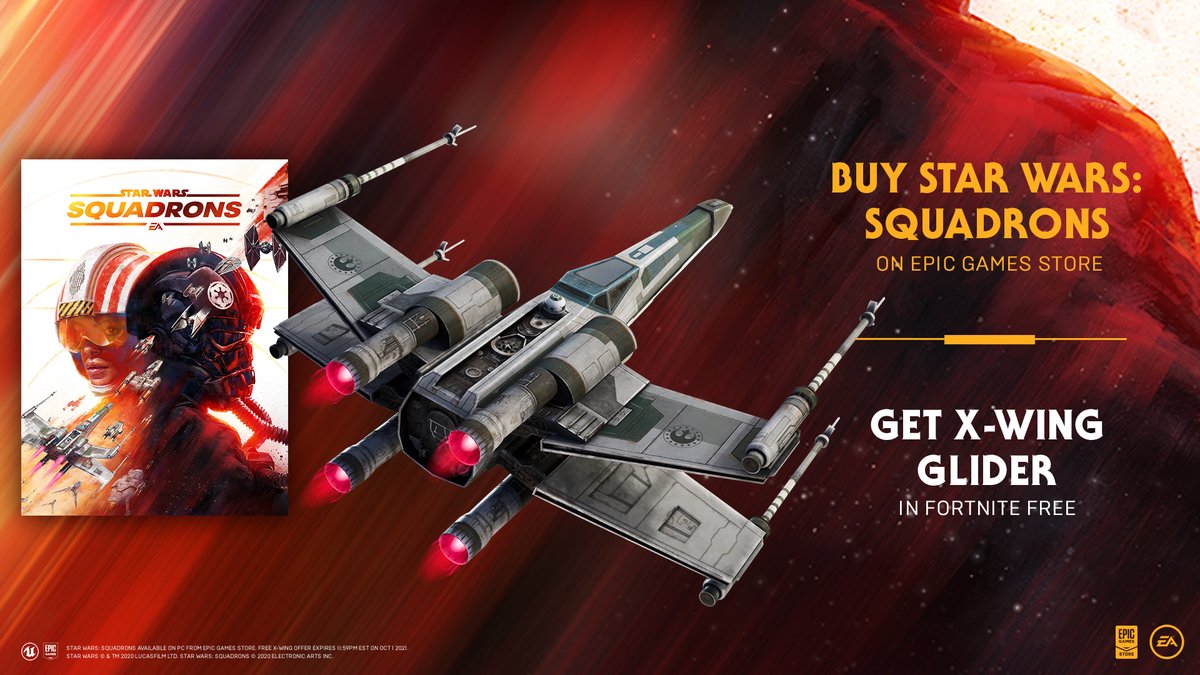 This offer is available until October 2, 2021, over a year after the October 1, 2020 release of the game. This gives both Fortnite and Star Wars fans plenty of time to save up for this awesome new glider.
This isn't the only time that Fortnite has crossed over with Star Wars. Last December, Epic Games launched an extremely popular crossover with the movie franchise. This collaboration even boasted a live kickoff event featuring JJ Abrams, director of the new Star Wars movies.
Also, during this massive collaboration, players could participate in a total of five challenges. Upon the completion of these challenges, players could win Star Wars Fortnite swag, including First Order Back Bling, the Jedi Training Emote, and even a glider. Players that were logged in during a certain period of time were given the Tie Whisper glider, which was very popular with fans.
Aside from the challenges and items that players could unlock, cosmetics from the Star Wars franchise were also available. In the cosmetics shop, players could opt to purchase Rey, Fin, Sith Trooper, Kylo Ren, and Zorii Bliss skins for their in-game avatars.
The success of the Fortnite and Star Wars collaborations proves that Star Wars crossovers in video games can indeed work. Despite the fact that many gamers aren't as fond of the ubiquitous nature of the movie franchise as they used to be, they can still enjoy new interpretations of the world of Star Wars in their favourite video games.
Both Lego Star Wars and Fortnite x Star Wars have proven that, if used properly, Star Wars and the game it is collaborating with can both build off one another. Brand recognition of the Star Wars franchise can lead fans of the movie to discover new video games. Additionally, video game fans can find themselves interested in the Star Wars movies after exploring their worlds in their favourite games.
When pulled off correctly, these crossovers are mutually beneficial for all parties involved. Fortnite knows this, which is why all of its Star Wars crossovers (and its crossovers in general) are well-received by fans.
This is a direct contrast to the Sims 4 collaboration with Star Wars, which was universally panned. Instead of merging two franchises seamlessly and successfully, like Fortnite did with its Star Wars collaborations, Sims 4 just took its users on a bare-bones tour of the Galaxy's Edge ride in Disney.
Players could tell that the Sims 4 developers over at Maxis and EA really had a love for the Disney attraction and the franchise's lore, but not much was done with that love. The DLC featured Star Wars items and even RPG-style quests, but each of these features was extremely limited compared to what players were expecting.
Fans of the franchise were upset with how little the DLC pack delved into the rich Star Wars lore, whereas fans of the Sims were left confused if they were out of the loop on Star Wars. Both sides could agree that the crossover was misguided, serving as a virtual tour of Galaxy's Edge at both Disneyland and Disney World, but not much else.
I can't even look at Star Wars the same after sims 4 mess
Fortnite's newest crossover with Star Wars came on the heels of the controversial Sims 4 DLC release, occurring just over a week afterwards. Players would think that this proximity to such a poorly-received DLC involving the same overarching franchise would have doomed the Fortnite release, but it only seemed to have strengthened it.
With both its Marvel Nexus and Star Wars crossovers, Epic Games have proven that they know how to meld the Fortnite world with other properties, making players feel invested in the characters and lore of the worlds they are representing in their game. They create iconic characters and items used in these franchises have an even deeper meaning in Fortnite, as players are able to don their favourite Star Wars spacecraft as a glider and represent their favourite faction as a Back Bling or outfit.
Unlike the Sims 4 interpretation of Star Wars, which is a beautiful, but hollow backdrop, Epic Games puts its players in the centre of the action, with new Star Wars gear and cosmetics to help them along the way. That's the magic of Fortnite crossovers- they allow their players to merge the worlds of two giant franchises together, letting imaginations run wild.
The new glider could be the sign of another big Star Wars x Fortnite crossover, which is entirely plausible, given that Star Wars: Squadrons is dropping on October 1. Epic Games could have more Star Wars-themed surprises in store for its players. The hype is real for both Fortnite and the new Star Wars game, and only time will tell if another legendary crossover is in the works.
Images via Epic Games