Epic Games is trying to improve its Fortnite Crew subscription service by adding free access to Save the World in the month of May and beyond.
15:41, 27 Apr 2021
If you've been left a little disappointed by your Fortnite Crew Membership, you aren't alone in your grumblings. While the idea of a Fortnite subscription service started off strong in December 2020 thanks to the mesmerising Galaxia skin and the Battle Pass, things quickly went south. Following months dished up a lacklustre Green Lantern skin (seriously, out of all the DC characters?), a reasonably cute Llambro, and two skins of Vi and Alli that looked suspiciously similar.
We can only imagine Epic Games is haemorrhaging Fortnite Crew subscriptions thanks to the service's cancel anytime clause. The developer clearly doesn't want you to cancel your FC in May, meaning it's added another bonus to your monthly cost.
Although Fortnite Crew's £9.99/$11.99 is tempting at the start of a season thanks to the fact it includes the Battle Pass, the idea of paying that each month for a pretty average skin and some back bling isn't exactly a reason to stick around. Thankfully, Epic has listened to your critiques and just added access to Save the World to your Fortnite Crew.
Is Fortnite Save the World free?
May Fortnite Crew is 🤯
🡒 Deimos Outfit + alt styles and full Set
🡒 Loading Screen
🡒 1,000 V-Bucks
🡒 CH2 S6 Battle Pass
🡒 Plus Save the World + Deimos as a Ninja-class Hero
🡒 First 3 months
@Spotify
Premium Free for new Spotify members
More info: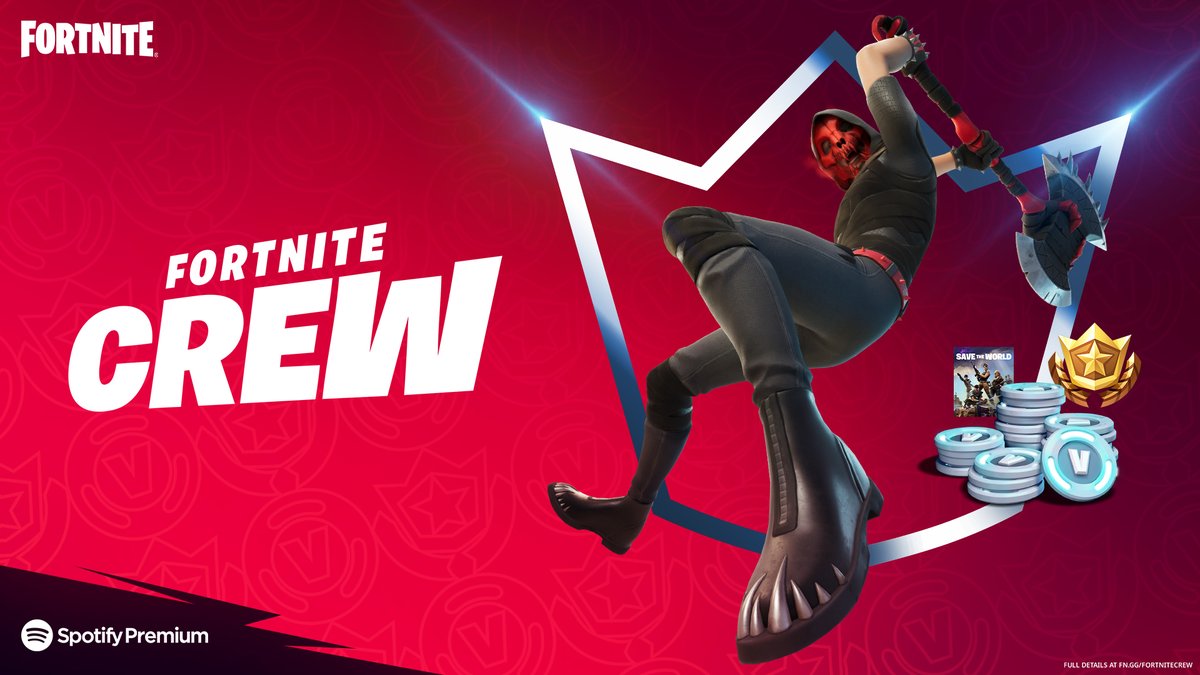 The official Epic Games Twitter announced that Save the World will be permanently free to anyone who has Fortnite Crew in May. The full rundown of what's included in next month's pack includes a Red Skull-inspired Deimos skin, the usual 1000 V-Bucks, a three-month subscription to Spotify Premium (for new subscribers), and Save the World. Considering Save the World is usually £12.99 on its own, it's at least worth it for one month. Be warned though, Save the World isn't available on Nintendo Switch - meaning Switch players will be locked out of the reward.
Importantly, Epic promises that Save the World will be permanently added to your library, even if you decide to cancel Fornite Crew. Despite some players loving Save the World and its PvE campaign effectively adding single player to Fortnite, it'll never be able to top the popularity of Battle Royale securing itself as the main mode of play. Typically, Fortnite Crew has a massive uptick in players at the start of a new season, so Epic luring players back before June's Chapter 2 Season 7 is a smart move. Is it worth it though?
Is a free Save the World worth it through Fortnite Crew?
On the surface, bundling Save the World with FC is a clever move. Then again, Epic still faces the dropoff of subscribers once the month comes to an end. May promises to be a big one for Fortnite Crew, with a new reward teased for every week of the month. Interestingly, the weekly rewards start on May 4, suggesting it could be something related to Star Wars. Previously, we've seen Disney+ membership as an added extra if you made an in-game purchase, however, most of us had already signed up to the Netflix rival.
Adding Save the World to Fortnite Crew is also a clever way to ensure the sometimes dormant mode has an active player base. Still, chances are you've bought Save the World by now if you're interested. It's also important to remember Epic has said it was going to "slow down" development on the mode that first started it all - confirming the end is nigh for Save the World. The big question is, how long can Epic keep coming up with new collaborations with services? There are only so many on offer, and as Spotify shows, it's only a short-lived advantage. Even if Fortnite Crew is eventually destined to go the way of Save the World, why not enjoy them both while you can?
Stay up to date with all the latest esports and gaming news by checking out our social channels here: Twitter | Facebook | Discord
Images vis Epic Games