Here is a guide for completing all the Operation Snowdown Challenges and earning free rewards in Fortnite.
18:00, 21 Dec 2020
It's that time of the year again when reindeers dance across the shimmering sky and Santa Claus rains down presents for everyone. It seems like Winterfest is also officially upon us now in Fortnite and players are in for a treat in the form of freebies from the game.

In the past, Winterfest has been one of the most popular festivals in Fortnite as the whole island is covered with snow and beautiful Christmas themed décor to celebrate the occasion in-game. Moreover, many players wait for this occasion patiently as the developers give out free cosmetics, emotes, sprays, and other in-game collectables for free to celebrate the occasion.

This year is no different, and Fortnite is back with some snowy goodness and giving away some very exclusive Christmas themed cosmetics such as Snowmando and Frost Guard to the players. Operation Snowdown has commenced in the game, and the players have a golden opportunity to earn all the rewards by completing some simple challenges.

FORTNITE OPERATION SNOWDOWN CHALLENGES
Operation Snowdown challenges are out, and players will be completing challenges to earn various rewards in the game. The snowy festival has begun, however, players cannot do the challenges in a single day as they will be unlocking throughout the event. Therefore, gamers need to wait and complete these winter-themed quests as they come out.
❄️Operation Snowdown | Starts At 9 AM Eastern Time❄️
Also, a event flag simply titled "TopSecret" gets enabled as well.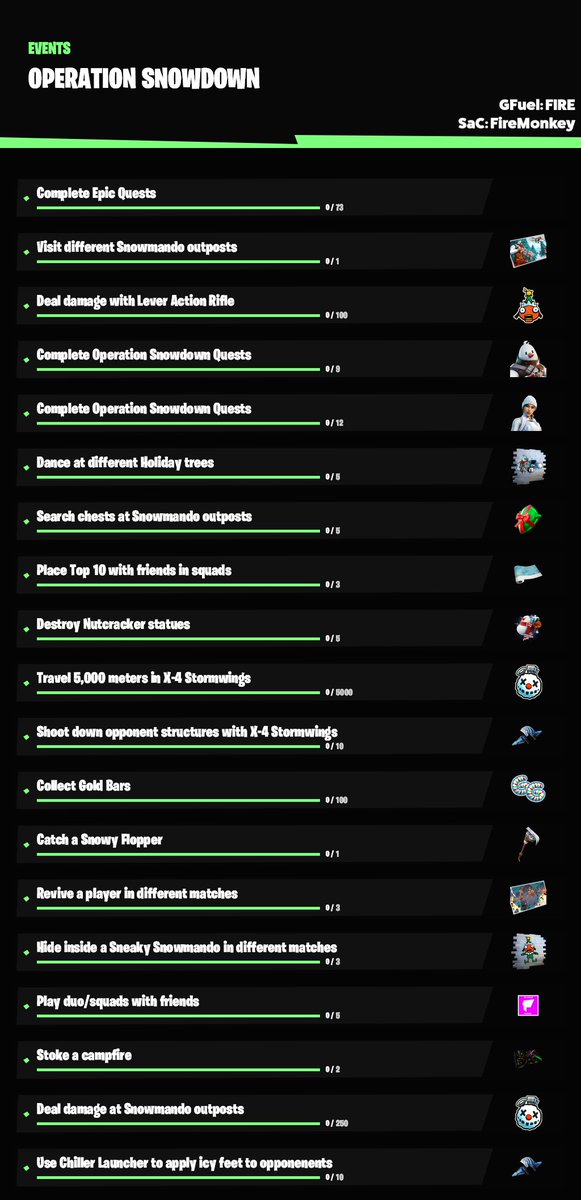 To make things easier, FireMonkey, a prominent leaker in the Fortnite community, revealed all the possible upcoming Winterfest Operation Snowdown quests. It should make it easier to anticipate these challenges for the players and prepare for them accordingly when they are out in the game.

Here are all the Fortnite Showdown Quests and their rewards based on the leak by FireMonkey:

1. Complete Operation Showdown Quests (9) - Snowmando Cosmetic
2. Complete Operation Showdown Quests (12) - Frost Guard Cosmetic
3. Visit different Snowmando outposts (5) - Christmas Loading Screen
4. Deal damage with Lever Action Rifle (100) - Christmas Spray
5. Dance at different Holiday trees (5) - Christmas Spray
6. Search Chests at Snowmando outposts (5) – Christmas Backbling
7. Place Top 10 with friends in squads- Christmas Wrap
8. Destroy Nutcracker statues- Christmas Backbling
9. Travel 5,000 m in X-4 Stormwings- Christmas Spray
10. Shoot down opponents structures with X-4 Stormwings- Christmas Glider
11. Collect Gold Bars- Christmas Spray
12. Catch a Snowy Flopper- Christmas Pickaxe
13. Revive a player in different matches- Christmas Loading Screen
14. Hide inside a sneaky Snowmando in different matches- Christmas Spray
15. Play Duo/Squads with Friends- (Placeholder)
16. Stoke a campfire- Christmas Spray
17. Deal Damage at Snowmando outposts- Christmas Spray
18. Use Chiller Launcher to apply ice feet to opponents- Christmas Glider

However, do keep in mind that all of these challenges are not live in the game, therefore do not attempt to complete the unreleased challenges. That being said, certain challenges might get changed along the line, and players might receive other Fortnite challenges as well.
FORTNITE WINTERFEST BRINGS PLANES AND OTHER VAULTED ITEMS BACK
Fortnite Winterfest 2020 brings in the highly anticipated X-4 Stormwing planes, which should be the highlight of this year's Operation Snowdown. The planes have been a great offensive vehicle which is loved by many players. The Choppas last season helped people mobilise and reach locations quicker. With the inclusion of these X-4 Stormwing planes, players can destroy enemy builds, and travel great distances at the same time.

Other than that, players received the Snowmando NPC recently who gives out a mythic weapon on the snowy hills near Catty Corner. The newest Mythic weapon is known as the 'Big Chiller' which shoots chiller grenades and makes opponents' feet completely frozen. As a result, they slide down the mountains and become an easy shooting target for the players. The player could also use it to gain icy feet, and the enhanced speed could be used to outrun storms in the matches.

Moreover, Snowmando-wrapped Presents and Sneaky Snowmando are back as well. These presents can be found as floor loot, and it can be dropped anywhere to get some quality loot such as the mythic weapon. The snowman was an old addition to the game, which takes up the same principles of the bush and help players turn into a snowman to hide. These items aren't overpowered as one would assume; however, they have the potential to be annoying and funny when used correctly in the matches to catch enemies off-guard.

WHEN IS OPERATION SNOWDOWN ENDING IN FORTNITE?

Operation Snowdown will end on January 5. Therefore, players should make sure to earn all the rewards in the game before that time.


Images via Epic Games