A new Fortnite live concert series will bring musical acts onto the Fortnite stage in-game.
00:30, 12 Sep 2020
While Epic Games might be known for all the battle royale madness of Fortnite, the company is introducing a new Fortnite live concert series and hopes it will make the game a one-stop-shop for artists wanting to make the most of our esports obsession.
Music is already a growing part of Fortnite thanks to the likes of Diplo Presents: Higher Ground and performances from DeadMau5. Also, who could forget when Travis Scott broke the Fortnite record and pulled in 12.3 million concurrent viewers as part of his "Astronomical" virtual performance?
Now, a new crop of talent is set to make its mark on Fortnite with a three-week event that will start on September 12. First up, Dominic Fike will kick-start the Fortnite live concert series (known as Spotlight) and perform from a brand new Los Angeles studio that's been specifically been designed for in-game broadcasts. The whole event is part of Epic's larger plan to grow Fortnite's musical potential.
From Los Angeles to Party Royale, the Fortnite Presents: Spotlight concert series is here!
Catch
@dominicfike
kick off the series live on the Main Stage on September 12 at 5 PM ET.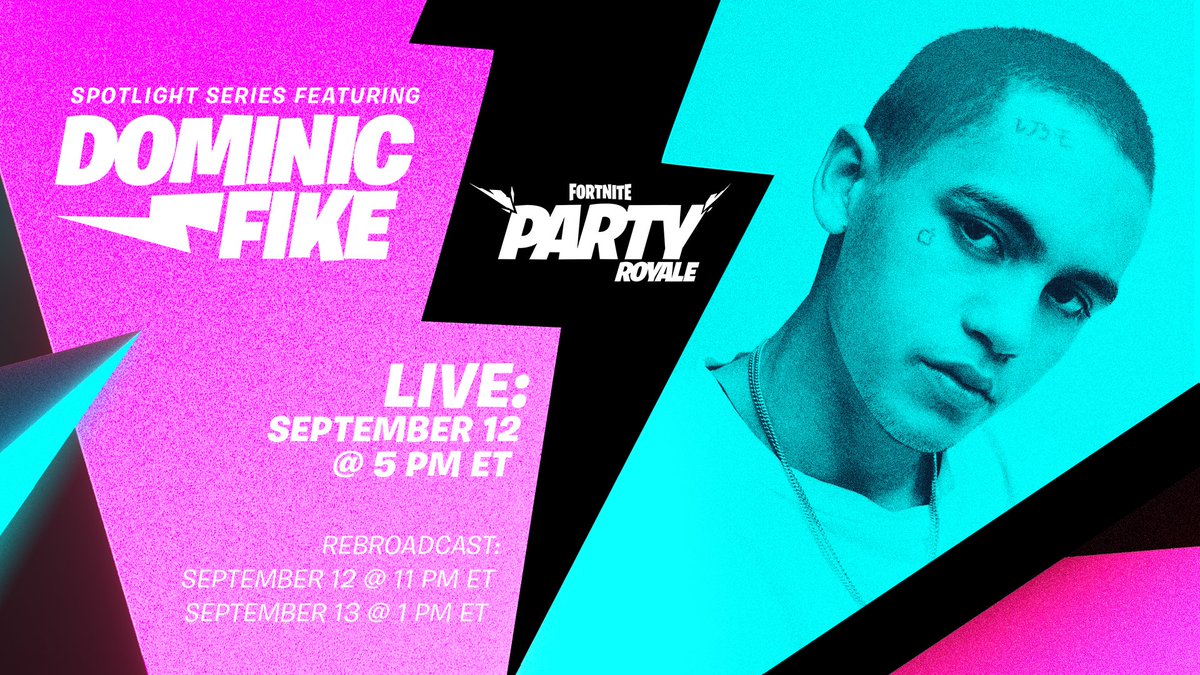 The young rapper-songwriter will perform songs from his debut LP, "What Could Possibly Go Wrong". Fike is the first of three performers, with the second (undisclosed) two being set to take over the Party Royale space on Stepember 19 and September 26. Discussing Fortnite Spotlight, Nate Nanzer, Epic Games head of global partnerships, said, "Given the state of the world, artists are having trouble connecting with fans.
"We're creating this platform to work with artists — big artists and up-and-coming artists". He explained that the concert will be produced in the Glendale studio and use Epic's Unreal Engine to add augmented reality effects. Nanzer added, "This is not a bedroom show. It's not a DJ from their living room". Better yet, the Fortnite live concerts will be free to watch and Epic doesn't plan to sell ads or sponsorship.
Epic is clearly onto a winner here - proving people come to Fortnite for more than just kill shots and Marvel-themed seasons. During lockdown, fans flocked to the game for the Christopher Nolan event that showed some of the acclaimed director's best-loved movies. Either way, Fortnite is growing beyond the boundaries of what it was originally designed for. Sadly, an ongoing legal battle between Epic and Apple means the game's Party Royale island won't be available for anyone playing on iOS or Mac.
When it comes to Party Royale events, it's a case of a trend on the rise. Although early ones were limited to 10-15 minutes, Nanzer hopes to see them grow to anywhere between 45 minutes to an hour. Either way, the future's bright, the future's Fortnite.
Stay up to date with all the latest esports and gaming news by checking out our social channels here: Twitter | Facebook
Images via Epic Games