The time is nearly upon us as the first Cyberpunk 2077 console footage has been released by CD Projekt Red and we get ready to jump into this futuristic world.
10:25, 18 Nov 2020
Roll out the neon-splashed carpet because Cyberpunk 2077 is finally just around the corner. It's hard to believe CD Projekt Red first announced the open-world goliath back in 2012.
As something very different to the developer's tried and tested Witcher franchise, Cyberpunk 2077 is Blade Runner meets Dredd meets The Fifth Element. To say we're pumped for the game's release would be an understatement, and keen to keep the hype going, we've got our first look at Cyberpunk 2077 playing on a console.
In the game, you play as the completely customisable V - who is a mercenary for hire in the sprawling Night City. Although we've had glimpses of Night City's six distinct districts, we finally get to understand a little more of what's going on as we head under its blaring lights and into its seedy underbelly. CD Projekt Red has shown V in action, which only makes the game's imminent release even more tantalising.
First Cyberpunk 2077 Console Footage: What was shown?
In the 10-minute video, the footage flips between the Xbox One X and Xbox Series X, showing off the visual improvements of the next-gen console. Either way, Cyberpunk 2077 looks glossy on both. Even if you can see the differences between the generations of Xbox, it's reassuring that the Xbox One X version of the game still stacks up to its younger sibling.
We've previously seen snippets of how Cyberpunk 2077 runs on PC, but here, we get a closer look at its console counterpart. As well as seeing detailed shots of car interiors as we drive across Night City, there's a much-anticipated look at how combat will handle. After driving around, we meet Keanu Reeves' Johnny Silverhand, who his tipped as a central character and definitely captures the likeness of The Matrix star.
First Cyberpunk 2077 Console Footage: Will there be more?
Ive watched this Cyberpunk 2077 Xbox footage a few (dozen) times now and yes the visual are fantastic but even better is our relationship with Johnny Silverhand
He clearly has his own agenda and how much we trust him is going to be so good for tough decisions during the story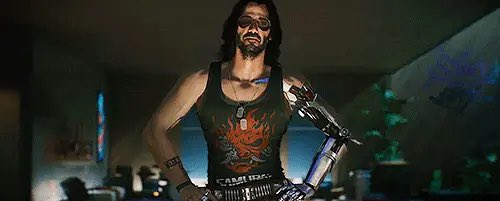 The first Cyberpunk 2077 console footage continues as we meet the shady Woodman and then (finally) dive into V's impressive arsenal. Even though it's only a small section of gunplay, fans get to see V putting enemies in their crosshairs and taking them out. From pistols to swords, the video quickly whips through a variety of different weapons.
The only downside is the fact we haven't seen Cyberpunk 2077 running on PlayStation 4, suggesting we might not until its full release on December 10. When it comes to next-gen consoles, Cyberpunk 2077 for Xbox Series X and PlayStation 5 is expected to drop early next year. Added to this, an expansive multiplayer is also coming in 2021. All in all, CD Projekt Red is attempting to show off the game's full potential ahead of its supersized debut.
Stay up to date with all the latest esports and gaming news by checking out our social channels here: Twitter | Facebook | Discord
Images via CD Projekt Red