First Strike is here, and with it comes the best competition to date.
20:00, 27 Nov 2020
Riot Game's first step into VALORANT esports is finally upon us. First Strike has collected eight of North America's best teams and coalesced them into the biggest tournament in the game's early history. First Strike is the harbinger of things to come and will set the tone for Riot Game's involvement in the space moving forward. With that said, this is pivotal for young talent looking to carve out a space for themselves in VALORANT's turbulent landscape.
So, whether you're looking to understand the hierarchy of the North American VALORANT ecosystem or in the market for a plucky underdog story to rally behind, here is your North American First Strike survival guide.
Introducing the official global circuit for professional
@PlayVALORANT
competition // Welcome to the 2021 VALORANT Champions Tour.
The Nerd Street Gamers (NSG) Tournament was the first battleground where teams began to qualify for their First Strike seeds. While many names were expected, there were a few who surprised experts and pundits alike.
Expected to topple through Group C, Sentinels quickly made their way to the playoffs, business as usual. This is a team with both positive marks from the community and an impressive track record of success. However, there was a standout team that took the event by storm, and that was Team Envy. Riding the momentum from their second-place finish at Pop Flash, Team Envy takes a methodical approach to the game that feels ahead of their time, or at least alongside those who are pushing the game forward. While their track record is short and the team is fairly new when compared to their peers, Team Envy looks to be one of the most dangerous teams in First Strike—one that might even be an odds on favourite to see another grand final appearance. Alongside them stands an equal, if not greater, narratives coming into the event—one that few saw coming.
Renegades broke ahead of the pack at the NSG tournament. They were victorious over many staple North American teams with an aggressive style and a fist full of flash. Catching a team like Cloud9 Blue off guard while still managing to take TSM and Team Envy close, Renegades has a track record that might surprise you, but pack enough of a punch to make it to First Strike. The team that no one saw coming is not only dangerously good but feeds on the ultimate underdog mentality. They have everything to gain from VALORANT's First Strike, while their peers are all considered favourites over them.
The squad is taking on Envy in a Bo5 Grand Final of the VALORANT
#FirstStrike
Closed Qualifier starting NOW! Let's bring it home, boys!
#100T
Watch:
Chat:
Updates: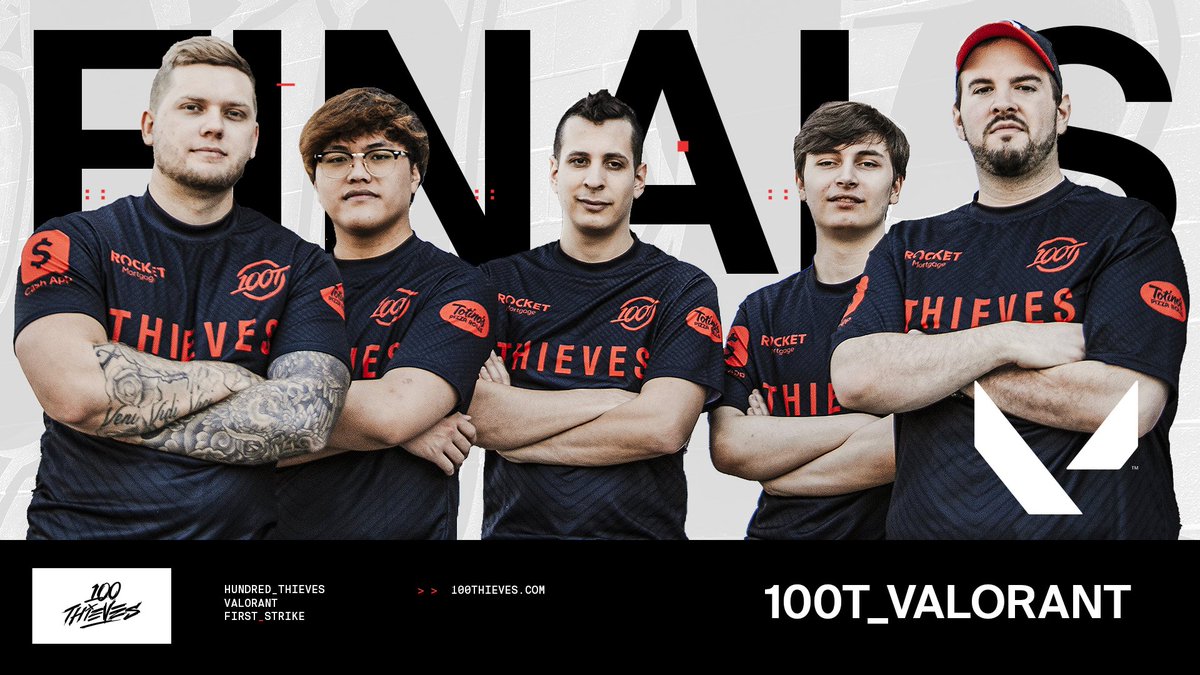 After waiting for the initial build, after pondering what the re-build could bring, 100 Thieves has finally arrived in a big way. For a moment, ignore their resume of inconsistency—again they've rebuilt and retooled their roster—with a seat at the First Strike table and with minds like Spencer "Hiko" Martin, Nicholas "nitr0" Cannella, and Joshua "steel" Nissan, there is nothing this roster can't do. Alongside them sits two rising talents that, ideally under veteran guidance, can become weapons for 100 Thieves in the bright future of VALORANT. This is a roster that doesn't crumble under pressure, one that has firepower for days, and one that has nearly limitless potential. They arrived at the NSG tournament playoffs besting TSM and Sentinels—whose to say that same team that beat two of North America's best won't show up at First Strike and take home the first major title?
Those who performed well at the NSG qualifier would find themselves playing against another wave of hopefuls at the UMG tournament. Barring down against them was a sea of hopefuls chomping at the bit to reach the VALORANT's First Strike.
While the NSG qualifiers seemed chaotic and upset prone, the UMG tournament somehow trumped them with teams like Cloud9 Blue and Complexity Gaming having a difficult time against their group stage opponents. While Complexity failed to make it out of their group, losing to both Team Serenity and Moon Raccoons. However, Cloud9 were not too far off the mark; their group stage woes would only foreshadow their eventual quarterfinal loss to T1, 0-2. These upsets opened up positions in the quarterfinals for teams like Moon Raccoons, Gen.G Esports, and Luminosity Gaming to come within striking distance of a First Strike seed. However, none of them advanced.
✔️ Win a map 4v5
✔️ Pull a dope sub (shoutout
@Shanks_TTV
)
✔️ Qualify for the biggest tournament in 2020
▢ Win VALORANT First Strike
Our work isn't done yet.
#WeAreIMT
Without question, Immortals was the highlight of the event. Having their young star, Andrew "ShoT_UP" Orlowski, out with a personal emergency during the group stage, the team brought in a last-minute substitution. Former Dignitas star, Ryan "Shanks" Ngo, someone who looked like a promising young talent when last we saw him at Pop Flash alongside Dignitas. Battling through one of the toughest groups at the event with teams like Dignitas, T1, and Pittsburgh Knights, Immortals—against the odds—secured a second-place seed coming out of the group stage. In the quarterfinals took their blessings in stride and handily toppled Luminosity Gaming to clear their path to First Strike. With multiple alternate realities where Immortals don't make it, they are undoubtedly coming into the event with new-found momentum after nearly losing it all—and that is going to make them incredibly scary for any of these top teams. However, Immortals wasn't the only team to make a statement at the UMG qualifier.
Both TSM and FaZe Clan in different ways made their presence known in the grand final. With some questions marks around them after being usurped by Sentinels as North America's best VALORANT team, TSM returned with a newfound vigour this past weekend facing little in the way of competition. On the flip side of that coin, FaZe Clan, a team that had looked despondent throughout the initial qualifiers, was a brand new team. One with the firepower, to rival nearly any team in the region as it stands now. With aces like Overwatch veterans Corey "corey" Nigra and Andrej "babybay" Francisty finding their footing, FaZe Clan is one punchy threat that could force an upset come First Strike.
When it comes to predictions, it feels like we're destined for a showstopper of a grand final. Team Envy and Sentinels come into the event as heavy favourites, while their peers all have points where recently they looked mortal. 100 Thieves still looks to need time to further come together, and they seem to still be ramping up, so their chances at advancing past semifinals don't seem too terribly strong. Renegades is unique but fairly one-dimensional, once their tendencies are realised and halted, can they break out of quarterfinals?
While they've shown to have hot-hands, FaZe Clan has got to catch fire first, and they've drawn a tough round-one opponent. T1 has looked chaotic for a while, struggling with Gen.G Esports and Complexity Gaming. Immortals have a massive amount of promise as a team, but can their potential be realised in time for a deep playoff run? Both Envy and Sentinels not only have a clear path to the grand finals but seem to be peaking at the right time to capture the first major VALORANT title.
Regardless of predictions, First Strike North America is the first edition in what looks to be an esports epic. Riot Games is sowing seeds of success with VALORANT, and this is only the start of amazing things to come.
Images via Riot Games