Resident Evil Village fans have won, as Capcom caves to pressure and extends the final demo for a full week of playability.
09:17, 27 Apr 2021
The Duke's wagon is rolling into town, and it looks like Capcom is keeping him in business a little longer. After fans complained the final Resident Evil Village demo was over before it has even started, the developer of the long-running zombie series has caved to pressure and extended it for all to enjoy. In the run-up to the release of the eighth main game in the RE franchise, Capcom has been on the marketing assault.
With a new precedent set by 2017's Resident Evil 7, and the first reveal of Lady Dimitrescu last year setting pulses racing, it's been a relatively easy sell for Village pre-orders. PlayStation 5 owners also got a next-gen treat in the form of the Maiden demo that took us into the bowels of Castle Dimitrescu itself. Before current-gen, PC, and Xbox Series X/S fans could complain, Capcom also promised a second demo that would actually feature combat. Our appetites were whet, however, the first two weekends (out of three) were exclusive to PlayStation owners and only gave you an eight-hour window to play 30 minutes of the game.
How can you play the final Resident Evil Village demo?
We've heard your feedback and are extending the availability period for the final 60-minute multi-platform
#REVillage
demo.
The original 24-hour window starting 5PM PDT May 1 (1AM BST May 2) has been increased by a week, and now ends at the same times on May 9 PDT (May 10 BST).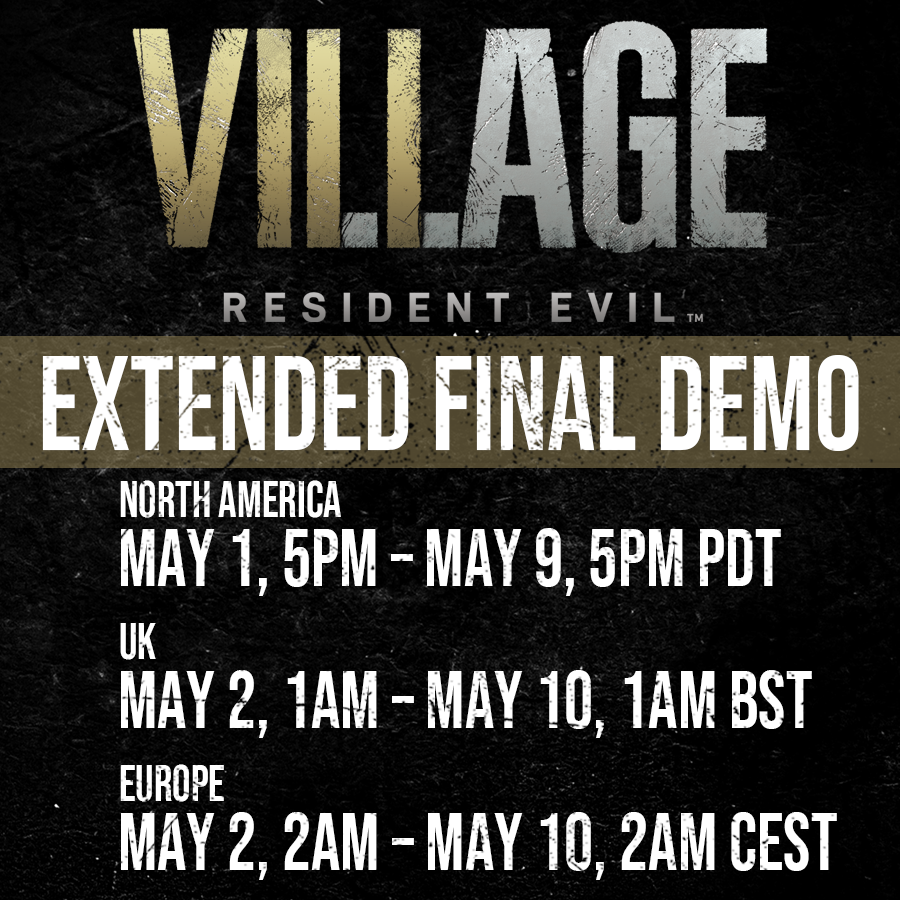 A third weekend of demos was planned, that would open up to all platforms and give you a 24-hour window to get your gunfights in. Responding to criticisms, the game's official Twitter confirmed the final Resident Evil Village demo will run for a full week and take the title through to launch day. Now, the final demo will have an extended window from May 1 in North America and May 2 in the UK and Europe. All these regions will let you play until at least May 9 - which is two days after the game's full launch.
If you aren't completely sold on the idea of Resident Evil Village, the demo gives you a taster of what's to come. Even if you haven't got a Day One pre-order, you'll be able to try out different sections of the game before committing to that final purchase. Although it all sounds great, be warned that you'll still have just 60 minutes to play. You'd better tool up as Ethan Winters and jump straight into the action. You don't want to get pinned down by a werewolf in the Village section and waste your hour fumbling around in the snow-capped forests.
What are players saying about the final Resident Evil Village demo?
@RE_Games
Me trying to explain the demo timings to you all:
The final Resident Evil Village demo gives you the option to play two different sections of the full game. Whether it's taking on a murderous brood of Lycans in the doomed Village level, or running away from Lady Dimitrescu and her vampiric daughters in the Castle section, it's still only a snippet of a much bigger world. So far, the various trailers and teases have largely focussed on these two areas. It's important to remember there are four houses it looks like Ethan will have to face off against before taking out Mother Miranda. If this is the case, Lady D is just a small piece of a massive puzzle.
Even though everyone seems happy that the demo has been extended, there's A LOT of confusion about the various demo times, who can play, and how long for. Hopefully, extending the demo makes things a little simpler. On the whole, PlayStation players have been loving the final Resident Evil demo. While the Village section echoes Resident Evil 4, the stealth elements of the Castle homage RE7. Elsewhere, running away from the unkillable Lady Dimitrescu is said to be like hiding from Mr. X in Resident Evil 2. If you weren't already excited, the final demo is sure to have you shooting up ghouls in no time and then hiding behind the cushion in the blood-soaked dungeons of the crumbling castle.
Stay up to date with all the latest esports and gaming news by checking out our social channels here: Twitter | Facebook | Discord
Images via Capcom