Despite great viewership numbers, there's a debate about the health of the CS:GO ecosystem.
12:50, 11 Sep 2020
With a rich two-decade-long history, Counter-Strike: Global Offensive (CS:GO) sits on top of the esports world. Huge events hosted by third-party tournament organisers before COVID-19, top salaries in the space for the players and hundreds of thousands of viewers tuning into the big events. Outwardly the scene is in solid shape, though of course also suffering from a world in lockdown for an esports that excels at bringing live entertainment to sold-out arenas around the global.
However, the industry giants in the space are sending mixed signals about the economic feasibility and sustainability of the esport, with some teams investing a lot in CS:GO while others pulled out of it completely. Nothing illustrates the divide more than the different opinions of CS:GO than how the esports organisations Cloud9 and NRG have moved respectively.
Just this week, Cloud9 announced their new general manager Henry "HenryG" Gree, the signing of head coach Aleksandar "kassad" Trifunović and the recruitment of player Alex "ALEX" McMeekin, disclosing the large sum of $1,650,000 for the deal value of the latter. With this Cloud9 communicated a sizeable vote of confidence in the space, continuing to allocate a lot of resources for the esport with investments like organisation-owned Flashpoint league.
Cloud9 Unleash the Colossus ☄
🔹Player: Alex 'ALEX' McMeekin
🔹Role: Captain / IGL / Rifler
🔹Contract length: 3 year deal (Starting 09/09/2020)
🔹Deal Value: $1,650,000
🔹Press: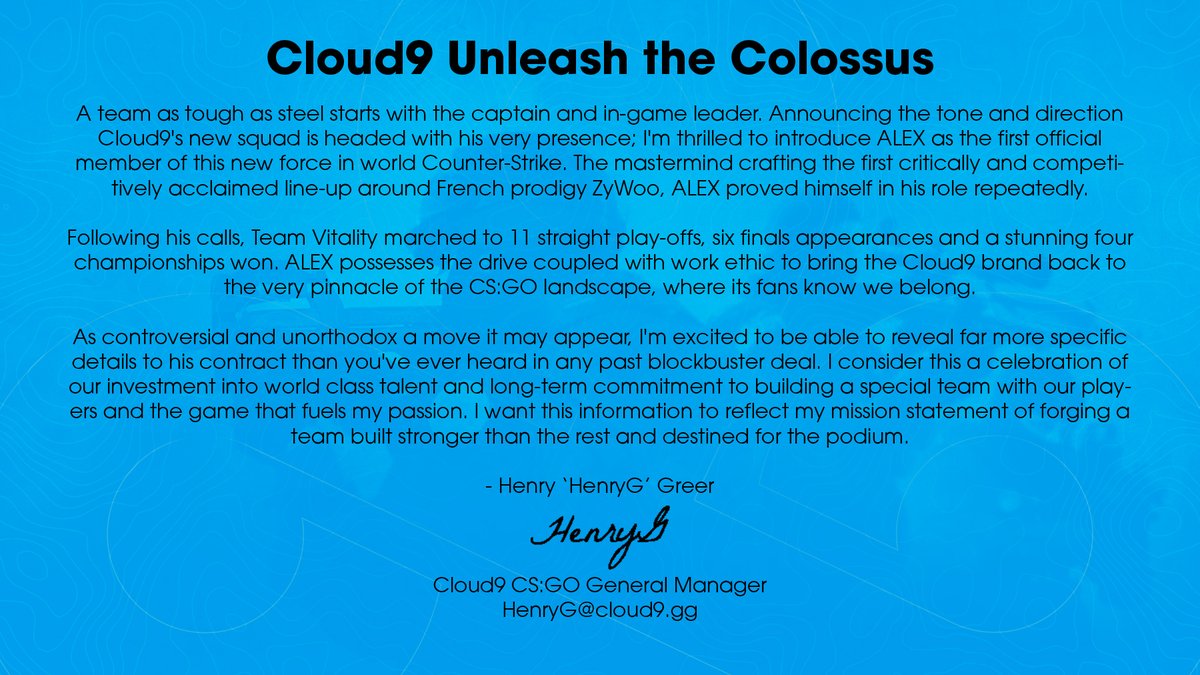 Not everyone seems to be on board with that vote of confidence. In a recent AMA, CEO of NRG Esports Andrew Miller talked sceptically about the economics of the space despite being high on the viewer-friendliness of the esport. When asked if NRG was planning to re-enter the CS:GO scene with a team of their, Miller shot straight: "Honestly no. We love it. You all know that. But the space is going through a lot and somehow the salaries keep going up. We got a lot on our plate. Much more likely to do Valorant before CS again."
Almost a year ago, NRG had parted ways with their CS:GO roster and left the space entirely. Their players found a new home at the esports organisation Evil Geniuses.
Other than the aforementioned difficulties due to the global pandemic, CS:GO recently went through a cheating scandal which saw several professional coaches abuse an exploit within the observing client to gain an unfair competitive advantage. Moreover, voices from within the industry had repeatedly criticised the lack of developer support from CS:GO's publisher Valve.


Stay up to date with all the latest esports and gaming news by checking out our social channels here: Twitter | Facebook

Image via ESL, Cloud9, NRG