FaZe Clan have shown us their potential. Now it's time for them to face Astralis.
18:00, 12 Oct 2020
Sixteen European teams will compete for Major qualification points in the upcoming DreamHack Open Fall event. This will be their last chance of the year to accrue RMR points, so the teams will surely bring their A-game to this competition.
Some big news! The groups for
#DHOpen
Fall! Group A is stacked! 🤯😱
Which teams will make it to the playoffs? 🤔
Check out all full line-ups ⤵️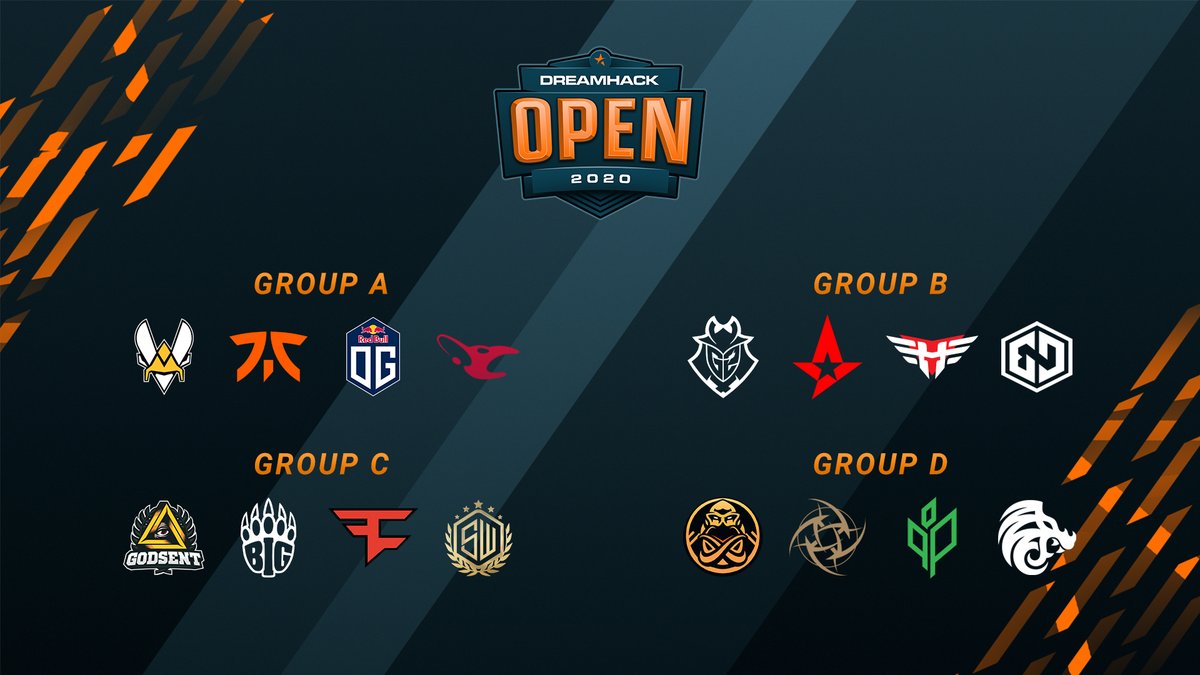 Out of all the groups, Group A is perhaps the most stacked. Team Vitality, Fnatic, and OG all made the playoffs of IEM New York EU just a few days ago and mousesports were the fourth placed team of ESL Pro League. On paper, OG should be the strongest team, simply because of their Grand Finals appearance at IEM, but their performance versus FaZe Clan was at times so weak that their run feels more like a fluke than something that they can reliably repeat. Mathieu "ZywOo" Herbaut plays great CS as usual. Vitality's performance relies less on him stepping up - because he always does - and more on other teammates joining him at the top of the scoreboard. Right now, Fnatic are similarly shaky and don't inspire a lot of confidence in their abilities.
The dark horse of this group is definitely mousesports. While they have finished in a much higher position at EPL than the rest of their direct competitors, they've also only narrowly qualified for this event. During the Closed Qualifier, they finished behind the likes of Endpoint, sAw and North. Maybe they were fatigued and had their focus on ESL Pro League, but they should have won these matches with ease nonetheless. With this much inconsistency, it wouldn't be a shocker to see them exit the event in last place - but they could also sweep the group off its feet just as well.
Group B's Endpoint rank amongst the weakest teams on the list. Having qualified for the event via the Closed Qualifier, they boast significantly fewer RMR points than the rest. But their journey to DreamHack Open Fall involved two convincing take-downs of mousesports, which proves that they're capable of at least delivering upset victories. Moreover, G2 Esports and Heroic exited IEM New York in last place of their respective groups, which is obviously a bad sign going into this event. Astralis are the only consistent team in this constellation, having recently won ESL Pro League with an incredible reverse-sweep against Natus Vincere. They have opted to keep the same successful roster for this tournament, which is going to cost them a couple of points. They started their Major journey off with Andreas "Xyp9x" Højsleth on board and Valve deduct RMR points for every roster change. But as their in-game-leader, Lukas "gla1ve" Rossander, and their new gun, Patrick "es3tag" Hansen, have performed so beautifully throughout the last month, it might be worth the point deduction. After all, we haven't seen a roster iteration that features Lucas "Bubzkji" Andersen yet, so why should they stray from the winning formula?
Just a week ago, we would have made the point that FaZe Clan might not even advance from Group C. Competing against GODSENT, BIG, and sAw in their upcoming group, FaZe's recent outings at ESL One Cologne and ESL Pro League simply didn't inspire enough trust in them. Now, they're the winners of IEM New York EU, which totally came out of the blue. But from Day One of the event, they managed to impress with solid teamwork and great individual performances from all their players. Most importantly, Markus "Kjaerbye" Kjærbye has finally shown up! Ranking amongst the Top 10 players of the tournament, he has definitely stepped up his game and FaZe are better for it. They took their Group Stage defeat against OG and converted it into a decisive 3-0 beating in the Grand Finals. So many mistakes they had made earlier on were rectified just a few days later, which bodes incredibly well going into DreamHack Open Fall. But Astralis are playing on an entirely different level compared to the teams that took part in IEM. In a match versus the Danes, every single misstep is going to cost them, and they'll also be contested skill-wise by one of the sharpest rosters to ever touch CS:GO. While they can likely make it out of Group C over the likes of BIG, GODSENT and sAw, they're not at all guaranteed to make another Grand Finals appearance.
The Ninjas can finally attack again after Tim "nawwk" Jonasson has re-joined their ranks. Being put on medical leave, the youngster was absent for a number of their EPL matches. This absolutely crushed their ability to perform in the league, and they finished at the bottom of their group - even below FaZe Clan. For DreamHack Open Fall, they have been given a comparatively easy set of opponents in Group D. ENCE showed none of their EPL Group Stage prowess during the playoffs and were amongst the first to exit. Due to his VAC ban, Elias "Jamppi" Olkkonen is ineligible to compete in this Valve-sanctioned event. So in the meantime, they have loaned Sami "⁠xseveN⁠" Laasanen out from HAVU. The player was just recently removed from ENCE in favour of Jamppi, which at least means that they won't have to start from scratch again.
North and Sprout are dark horses in this event. This will be the Danes' first opportunity to debut Jonas "Lekr0" Olofsson at a high-profile tournament. They have done okay in several online leagues so far, but their opponents weren't exactly top brass. Sprout's campaign through ESEA MDL has seen them lose to SKADE, with all players but Josef "faveN" Baumann performing abysmally. Of course, one defeat doesn't invalidate their results, but it's been over a month since they have taken down a top team. Even if they manage to advance over the likes of NiP and ENCE, they still won't stand a chance against the rest of the playing field.
Rain
NiKo
Coldzera
Broky
Kjaerbye
2020 IEM New York CHAMPIONS. 🏆
#FaZeUp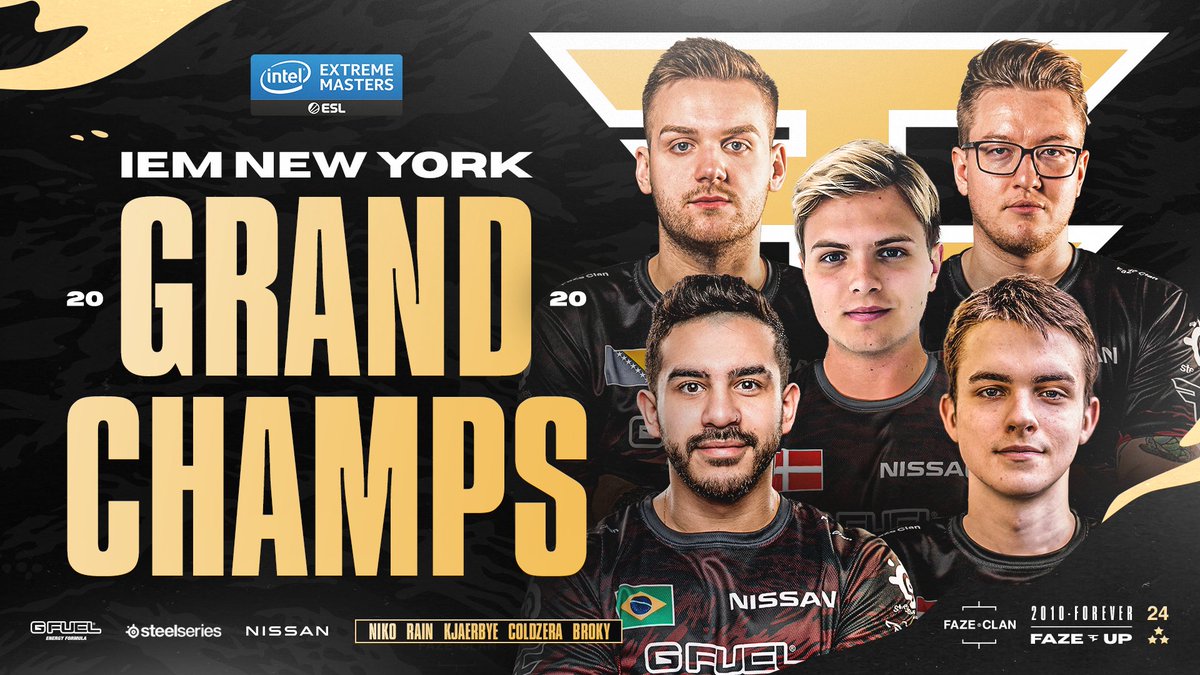 The biggest storyline of this event is the development of FaZe Clan. Most top teams have found their place in the rankings either as title contenders or as inconsistent rosters that can or cannot take down other Top 10 teams depending on the day. But we don't know yet where FaZe stand. Granted, they have put up a fantastic show at IEM New York. But that was one event, which was preceded by weak outings during ESL One Cologne and EPL. Most crucially, their opponents didn't expect them to perform - but now they know what FaZe are capable of. The likes of Vitality and Heroic will not underestimate them again, so their success depends entirely on whether they have built a lasting foundation that can withstand counter-stratting by the best teams in the world.
Images via ESL | DreamHack