The latest Cyberpunk 2007 reveals suggest the open world game's first DLC will be based on CD Project Red's other big series, The Witcher.
00:15, 22 Nov 2020
While CD Projekt Red is known for its work on the Witcher games, the developer is about to tackle a very different world with Cyberpunk 2077. Swapping the Continent for Night City, you might struggle to see how The Witcher and Cyberpunk could ever cross paths. Determined to marry these two worlds, the latest reveals confirm CD Projekt Red's first content will be based on The Witcher. You might not be seeing Geralt of Rivia himself popping up, but still, Cyberpunk 2077 is homaging its predecessor.
The developers are already working on a mix of free and more substantial paid-for DLCs to make sure Cyberpunk 2077 will keep on going for years to come. We know anyone that orders a copy of the game will be rewarded with some exclusive cosmetics and weaponry for V, alongside an in-game plushie that is an adorable version of a Cyborg Dragon.i
Anyone who gets
#Cyberpunk2077
, no matter the platform or edition, will be able to claim a set of digital goodies. If you connect your game to
@GOGcom
– you can also get some in-game rewards! 👇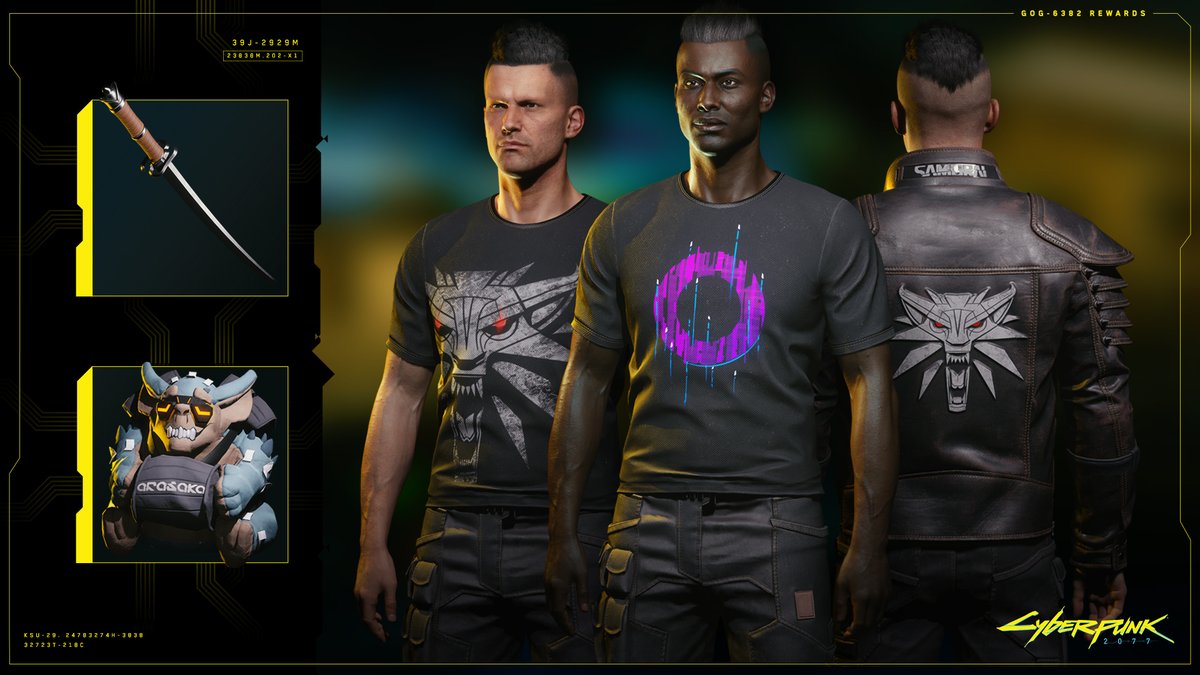 You don't need a pre-order to unlock these exclusive goodies. To find them, simply connect your game to GOG.com and enjoy your spoils. In the first Cyberpunk 2077 pack, everything is inspired by The Witcher 3: Wild Hunt. A particular highlight is the black tee with Geralt's wolf medallion and a Wolf School jacket with a similar design. You can also get the aforementioned plushie and a Witcher-inspired weapon, but let's be honest, the outfit is something we'd probably wear in real-life.
Considering this is only the first peek at what CD Projekt Red has planned, we should keep our eyes peeled for even more Witcher-themed treats further down the line. It's interesting to note that just like Wild Hunt, the developers have promised a free DLC is on the way to Cyberpunk 2077. It's a refreshing change to how most modern games will make you pay on top of the base price for even the slightest hint of a DLC.
This isn't the only nod to The Witcher we've already seen in Cyberpunk 2077. Earlier this month, someone noticed that one of the many game magazines was called Milfgaard - this is a clear reference to the antagonistic kingdom of Nilfgaard. Considering there's so much love for The Witcher games - and in particular Wild Hunt - using it as a jumping-off point for Cyberpunk 2077 isn't a bad place to start.
Cyberpunk 2077 isn't even out yet, but there's plenty of hype surrounding the sprawling title. With Keanu Reeves and a homage to The Witcher, what more could you want? Oh yeah, we'd like December 10 to be a little closer!
Stay up to date with all the latest esports and gaming news by checking out our social channels here: Twitter | Facebook | Discord
Images via CD Projekt Red