With teams such as the new OG Esports & meyern's debut in MIBR, what a great tournament it'll be.
14:00, 12 Dec 2019
The CS Summit Season 5 is right around the corner. With the newly formed OG Esports debuting in Los Angeles - it's sure to be a particularly fun watch. There's already the excitement for all the content, talent and stories coming out as they always do with each Summit - it's going to be even better when you consider the lineup of team that's coming by soon.
With $150,000 on the line, even though the Summit is less of a serious tournament by most standards - it's still got some big names who will feature. The six participants in the event will be:
Virtus. Pro: MICHU, Snatchie, Snax, Vegi, Phr

OG: NBK-, Aleksib, Valde, ISSAA, Mantuu

Mousesports: ChrisJ, Ropz, Frozen, Karrigan, NaToSaphiX

MiBr: FalleN, Fer, TACO, kNgV, meyern

G2 Esports: kennyS, JaCKz, AmaNEk, Nexa, Hunter

FURIA: yuurih, art, VINI, KSCERATO, Guerri
Mousesports and Furia each feature a stand-in, with w0xic citing visa issues as being the reason he can't attend the event, and HEN1 supposedly having the same issue. MIBR will also be debuting their new roster - with recent announcements confirming the removal of LUCAS1 for new Argentinian star Meyern.
The tournament is ripe with storylines, and will have a round robin format between the six teams initially, with two game series being held between each team. The top four teams from the event will go on to participate in a single elimination best-of-three bracket on the final day. The full detailed schedule can be found below:
ALERT: CS Summit 5 is this week! 🎉
Six teams will battle it out across four days to bring you one unforgettable tournament. We go live this Thursday 12/12 @ 8:45 AM PST over on our twitch! Link below.
📺:
#cs_summit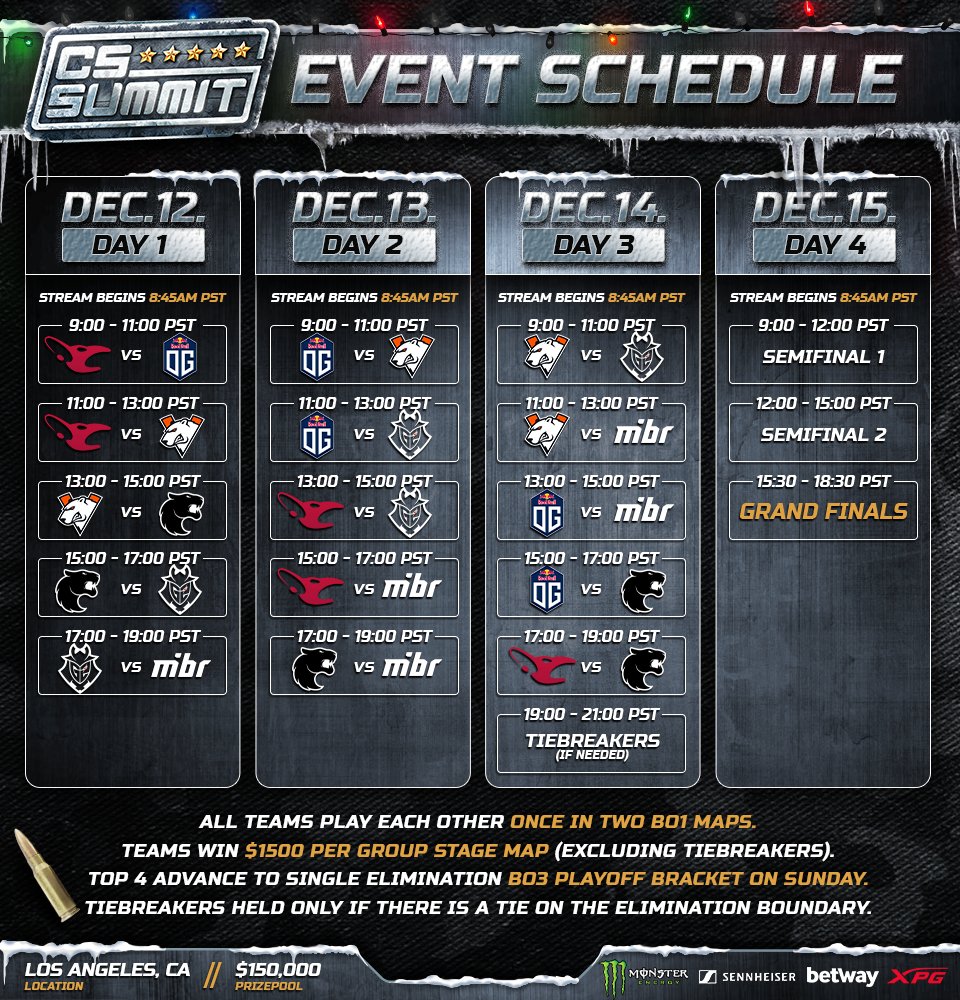 Each team has something to prove. OG's debut into CS:GO after their utter domination of the DOTA circuit with two of the most sought after agents is something we're particularly excited about. Beyond that, G2 have something to prove with recent results having shown them to plateau as a team - with there being several teams in the top 15 HLTV, but none of them particularly elite (Mousesports playing with a stand-in), this would be the perfect tournament to make a splash. Finally, our favorite storyline to watch out for will be MiBr, as they have yet another tournament to tell us what the hell to think about where they stand as a team.
Of course, the Summit has its own charm, so be sure to tune in to listen to stories from the pros, excellent gags and the very best skits. We'll leave you with one of the best moments the Summit has given, and remind you that TACO and the gang will still be there for more hilarity:
Image via BTS | Todd Gutirrez