Toronto Defiant's General Manager Jaesun Won shares an inside look into the inner workings of the team.
21:00, 19 Feb 2020
Before their match against the Paris Eternal on the opening day of the 2020 season, I got the opportunity to talk shop with Toronto Defiant General Manager, Jaesun "Jae" Won. A veteran of the United States Army, Jaesun has spent the last four of years performing various tasks and positions for Splyce Incorporated, most notably being their original Overwatch team's General Manager. Taking the time during a busy match day, the two of us headed to the player-practice area, just 20 minutes away from the Hammerstein Ballroom in North Bergen, New Jersey.
Learning and growing
Through the car ride, Jae discussed his role on the team and provided some insight into the lessons learned from the previous season.
"In traditional sports, GM's tend to be the people that figure out who they're signing. Which doesn't always necessarily translate into esports. In Defiant, I do have a big say, but last season I chose not to. It was my first season in the OWL and I chose to have our former head coach [Beom-joon "Bishop" Lee] pretty much have the majority's say, as long as the players he picked were vetted by the org and Overwatch League."
The Defiant started 2019 with an all-Korean roster with a mix of veterans and rookies. After a strong 5-2 start to Stage 1, the team quickly began to "implode" afterwards, never finding a positive stage record again, and even going 0-7 in Stage 3
"This season, I took a bigger role in it. However, at the same time, my philosophy is, a Head Coach and a GM need to have a positive working relationship. You also don't ever want to make the head coach feel like his opinion doesn't count. His role is obviously there to create a team that wins. You don't ever want to undermine a head coach ever. So, for this year's roster, there was a strong consensus between me and Féfé."
Félix "Féfé" Münch, joined the Defiant from a year on staff with the Paris Eternal, another expansion team which could never find its footing in the League. Perhaps critics could find that to be a questionable decision, as he had been the head coach of a very visibly struggling team.
"When I interviewed Féfé for the head coach position, I admired his approach to the game, his approach to team building. A lot of people gave him flack for last season on Paris Eternal, but he had zero input on that roster. He got asked to be head coach mid-season, and at the same time he wasn't happy with the dynamics of how things were going on there."
Jae's comments echo some sentiments made by other Eternal players, including Nicolas "NiCOgdh" Moret and Damien "HyP" Souville in their post-match interviews. NiCO and HyP highlighted a different focus in coaching than maybe what was necessary for Paris at the time.
"If we looked at two players for a position, one player was say mechanically better than the other but not much, but we knew the one that was better was known to have issues with his personality and how he functions with his teammates, we would go for the guy that was maybe not as stellar as him, but we knew that could work in a team environment."
The ideal melting pot
"The philosophy of the team going forward, was it was not going to be a Korean speaking team. Not that there wouldn't be any Koreans at all, but it was going to be a mixed roster, mainly because diversity reflects our home market. Toronto is a very diverse city, so we wanted to reflect that. At the same time, we wanted to have some actual roots. A lot of the times when you have a city-based team, I feel like the fans appreciate it when they see hometown heroes. It wasn't a requirement, but if there was a way for us to incorporate Canadians we would."
Fortunately for the Defiant, the team managed to sign three Canadian players for the 2020 season, snagging DPS players Lane "Surefour" Roberts from the LA Gladiators, Brady "Agilities" Girardi from the LA Valiant, and Liam "Mangachu" Campbell who was signed to the Defiant in the previous season. "We were able to hit the diversity points that we wanted, but the biggest philosophy before anything else, was creating a team that we knew, in the long run, could have a lot of synergy."
"It wasn't necessarily that they needed to be friends with each other, a lot of them never played on the same team, outside of Team Canada. I think it was very important that these guys had personalities that were very open and that they were very hard working. All these guys we knew had reputations for grinding and putting in the work. I think that's what we wanted, we wanted to make a big team family unit, not just people who are forced to work together."
You could tell the Defiant were already off to a good start with this goal. As soon as everyone walked through the door of the PPA, the team immediately began asking for their coffee and setting up to scrim. The whole team moved with a purpose to their computers, and there was no shortage of happy faces that morning. Even the players who seemed nervous were comfortable enough to share how they felt with the staff, who in turn gave them pep-talks on how they had the ability to beat Paris.
"After we developed the team and brought them together, we feel like we've lucked out. Now that they've been playing for a while, they've started to trust each other in-game. That's a good reason why Runaway and last season's Vancouver Titans were so good because they trusted each other. If Bumper went in, he knew everyone was going to support him. They wouldn't even question him; they would just go in."
The pieces on the board
For some fans, the goal of well-oiled team chemistry might come with good intentions, but is there a ratio in which individual skill outshines personality? Jae gave rather precise numbers.
"A big factor when we look at a player, 60% is whether they can be a good team player. 35% is pure raw mechanics, 5% is how much they want it."
Jae had a lot to say on each individual member of the team. The common denominator? Everyone on the team is hungry to win. But for players like Surefour, Kariv, and Agilities many in the community already know their skill and worth. What about the players who many see as question marks as to whether they can perform well on-stage?
Beast
Adam "Beast" Denton is a player a lot of Toronto fans might be unfamiliar with. Formerly Beasthalo, Beast was the main tank for the Fusion University during their incredible NA Contenders dominance in 2018. During 2019, Chang-sik "ChangSik" Moon replaced him as a starter and with barely any playtime last year, many people are left wondering what compelled them to pick up such a, presumably, unproven main tank?
"This year our only rookie is Beast, who a lot of people have questions about. It's interesting because when we looked at Beast, we knew, mechanically, he was very talented. Now people are like 'Oh he didn't play last season'. He didn't play last season because the majority of that team [Fusion University] was mostly all Korean. Communication is very important for your main tank. It was different before last season but it in GOATS, comms are very important. It doesn't mean he didn't scrim, he still scrimmed, he just didn't play 'on stage'."
"We talked to him, his former coaches, and even some of his former teammates. We watched his POVs to see his mechanics, and we felt that 'this guy is great'. He's also young, people forget how young he is, because he's been in Contenders for two years. We felt if we paired him up with a veteran like Nevix, he could enhance Beast."
Nevix
Andreas "Nevix" Karlsson, formerly of the San Francisco Shock, is another player who many fans did not see play often last season. While his former team won the 2019 Season, Nevix barely ever saw playtime. Many have begun to question whether he's even as good as his coaches and peers say he is.
"Nevix is incredibly patient, incredibly hard working. In the OWL scene, everyone knew Nevix was good. Outside the OWL scene, people had doubts, because they only saw him infrequently. So, people can be like 'Well he was just on the bench the whole time', no he was in scrims the whole time. When you're one of the best players in your position, and your teammate is arguably the best player in your role, it's hard."
"To his credit, he never took that to heart. He used that to be what he's always been, someone who is extremely hard working. He's there very early in the morning, making his coffee, spends the whole day, and leaves later than anyone."… "We knew he wanted to prove to everyone that he was more than just a benchwarmer. That he was a key part of Shock's success."
The Staff
Reviewing a lot of pre-season content, many analysts and fans seemed to weight the individual talent of the players more than the staff working around them. Even if the staffs were acknowledged, nobody can really tell how well a system is working from the outside looking in. Jae reassured that the staff around the players on the Defiant, were doing an excellent job.
"What people don't see outside, is that our coaching staff has set up a great structure for our team. Ask anyone on our team, they'll tell you it's good, I'll make that bet. It's necessary for them, especially with all the travel. A lot of things have to be considered before you can start just booking stuff."
Specifically, on the members of the staff, Jae highlighted that there's more to them than just their Liquipedia pages.
"Féfé, used to be the French National Basketball team Athletic Trainer and Performance Coach. He also has a master's in physiotherapy. He's very focused on player well-being, player health. This morning, for instance, they can only have one cup of coffee, we don't want to crash before the match. All these little things we're very mindful of."
When a head coach comes into a team, Jae reiterated its good practice to let them pick their staff. "A head coach should feel comfortable with the people he works with."
"Albess is a very important member of our team. He's an assistant coach, and he helps me with player management. He's the nicest Frenchmen I've ever met. He has a long history of managing Overwatch in Europe. Extremely well-rounded, tons of interpersonal skills. Never negative, he's always uplifting.
"One staff I insisted we keep from last year is Barroi. He's probably one of the biggest brains when it comes to stats and numbers in the Overwatch League. He's not just an analyst, he's also heavily involved with strategy. They have a very good working structure together; they all get along."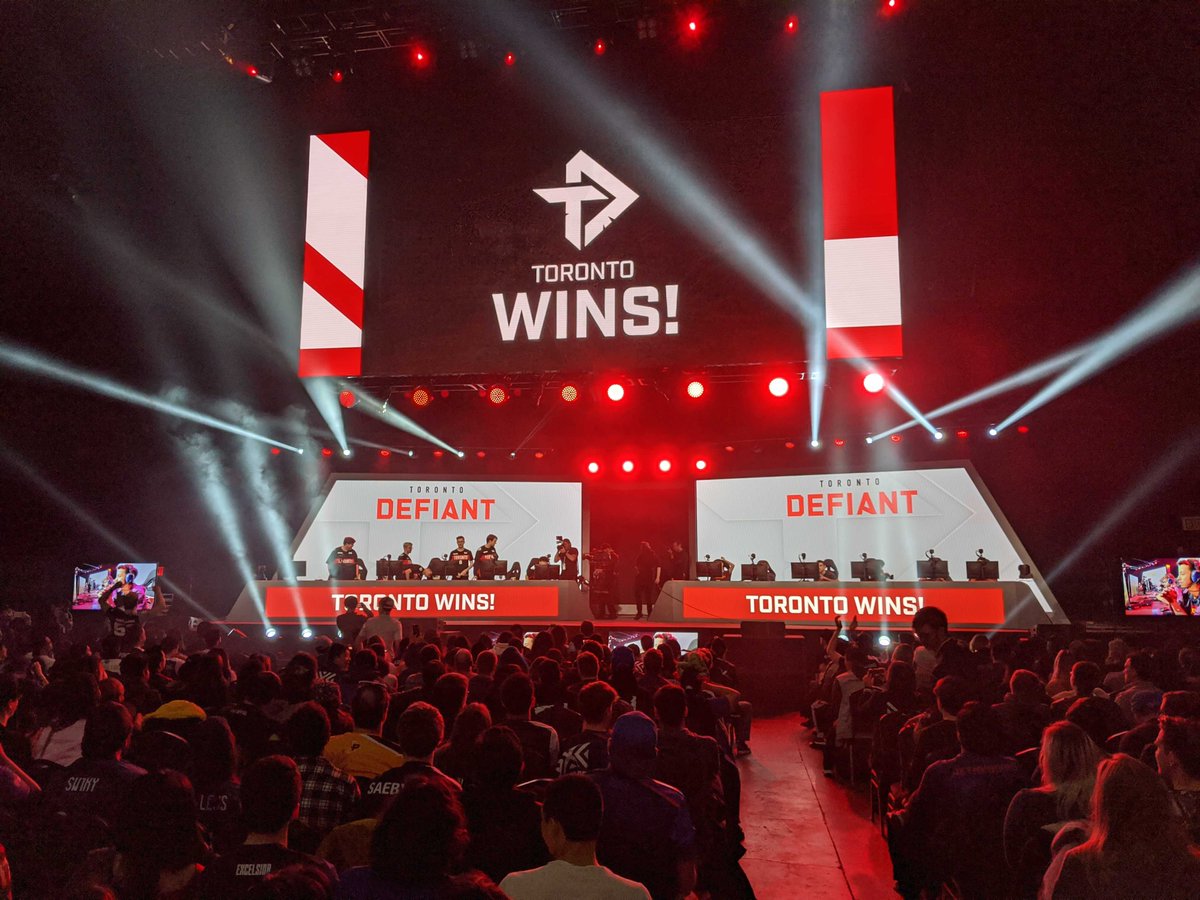 BRINGING IT ALL TOGETHER
At the end of the day, what's the philosophy that guides the Toronto Defiant throughout a season of constant travel and an ever-changing meta?
"We went to win, but at the same time, we want the players to have fun. They trust each other, they enjoy doing what they do and they're happy to do it. They've been working so hard and we want them to win, not for us but for them. They put in so much effort, they're grinding every day, they take so much feedback... If we retain all that, we should see results."
With a win over Paris this past weekend, the Defiant need only eight more wins to beat their 8-20 record from 2019, which is an incredibly low bar to overcome. But regardless, for the Defiant, it's the journey that matters more than the ending. This roster really seems like one that come together, and surprise people with their synergy and determination. There are a lot of people who aren't high on the Defiant, but their players are more than ready to defy those expectations.

Images courtesy of Blizzard Entertainment