'All of us are as motivated as ever to fight for that World Championship spot.'
19:30, 18 Nov 2020
Ah, Rogue. To say their journey in Rocket League has been anything less than a rollercoaster is an understatement. Relegations, World Championship Semi-Finals, and anything you can think of in between, you name it, Rogue's Rocket League team has experienced it.
However heading into RLCS X, it seemed they were primed for their best season yet. Their unlikely rise had them second in our preseason power rankings for North America, but an underwhelming Fall Split has left them at eighth place in points and has resulted in a much talked about roster move.
GGRecon interviewed their coach Gabriel "CorruptedG" Vallozzi about his new coaching endeavour, Rogue's season thus far, and their aspirations going forward.

You've had quite the eventful few months for your first foray into coaching. How has the transition been from competing on the pitch to off it?
It's definitely been an interesting transition for sure. I was expecting to be playing competitive for longer, but I couldn't pass up the opportunity to join such a great team and org with Rogue. I was planning on becoming a coach eventually, so I thought, why not now. Compared to playing, it's much different, but I still get to have that adrenaline rush when we are in an intense series as I'm trying to figure out how we can adapt game to game. Overall, I've been enjoying coaching so far, and I'm excited about the future as well.

What made you choose Rogue as your new home, and how did you end up there?
After two seasons in the RLRS with Chaos, I decided that now might be the time to transition into coaching since I gave it my all for two seasons and wasn't able to make it back into the RLCS. So after season 9 ended I approached Firstkiller about the possibility of becoming Rogues coach, since they were one of the only RLCS teams currently without one and a team that I believed had a lot of potential. He and the rest of the team were excited about the possibility of working together, so from there I talked with the manager SoLoh, and here we are!
After Turinturo's return from vacation, you guys rounded off an impressive off-season by coming third in BTS Summer Shuffle and second in the ESPN $25K Invitational. What were the hopes and expectations for Rogue going into RLCS X that would have made it a successful split?
We had high hopes and expectations coming into RLCS X since we had been doing so well in the off-season with many top four finishes. We wanted to place top four or at least top six to start out our season but we unfortunately came up short. I think once we didn't make top eight in the first Regional, it hit us with a reality check that we needed to be working harder than we already were. So that's when we started scrimming for longer periods of time and also doing more replay reviews which helped us finish the split a bit stronger than we started, but still had room for improvement.
Yet during RLCS X regional events, Rogue could only make the playoffs two out of four times. Was there any standout issue(s) that prevented Rogue from replicating their pre-season form?
Our roster had everything we can hope for, but it still felt like something was missing. There were always bad habits that came back from the past to haunt us even if we had fixed them before. If a few games here and there had gone differently, we would have been in a much better spot than we are now, but going into split two as eighth seed isn't the worst spot either.
We still have some room to break into the top six, which ultimately is the goal so that we can qualify for the World Championship.
Do you think the new RLCS format had a drastic effect on the performance of your team and many others? Would standings have been majorly different in the old league play system?
I think the new RLCS format did have an effect on many teams since it is so different from previous RLCS seasons, but I don't think that the standings would be drastically different. I think the current top eight teams are deserving of their spots in the league and we are just going to have to step it up if we want to break into the top six.
Do you feel better results would have kept this roster together or was change inevitable given the alleged feeling that team personnel wanted Kronov replaced even before the trade window?
I wouldn't say the change was inevitable for this roster, however when you're looking to be in the top six, or even top four conversations, disappointing results have a big impact on the future. We all want to make the World Championship as much as any other top team, if not more, and all parties felt that something needed to change.
Now having experienced one, how do you feel about the trade windows in between splits? Anything you'd like to see changed for the window next Spring?
In my opinion, the trade windows in between splits are way too short with them only being a week long. It doesn't give teams enough time to tryout out all their options or make offers to other orgs for buy-out opportunities. We feel comfortable with Alexandre "Taroco" Reis Pedrogam, but some teams may not have gotten their first or even second choice that they wanted, and felt forced to make a change anyway due to results or other situations. For next season I want to see the trade window increase to a minimum of two weeks long to give teams more time to properly evaluate all their options.
It's Taroco time 🔥
Rogue Nation, give a big welcome/bienvenue/bem-vinda to our new third,
@TarocoRL1
!
#GoRogue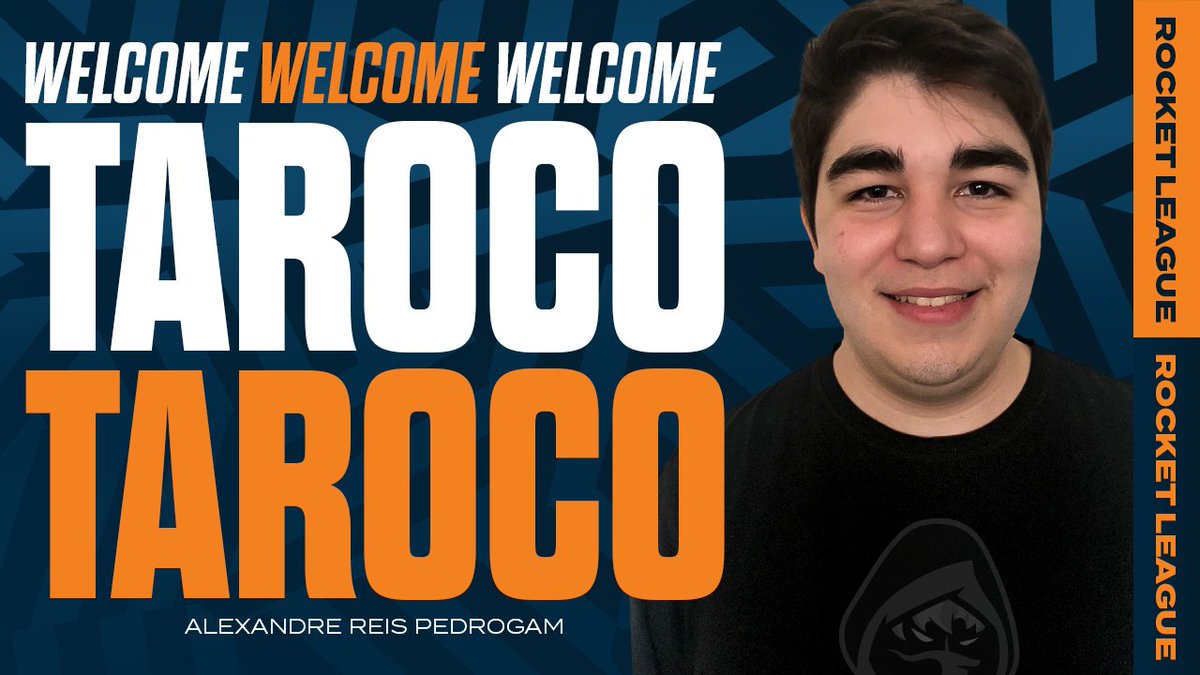 As a coach, how big a role do you play in scouting or even deciding potential new players compared to First and Turin?
We all have a pretty equal say on deciding a new player, along with some other Rogue staff members. Everyone has to feel comfortable when deciding on a new player or else more problems could arise in the future if there are disagreements on who we should pick up. We came up with a list together once the split ended to assess all our options and ultimately ended up choosing Taroco.
Moving forward, you've added Taroco to the roster, a player you're is very familiar with. What made him the player you landed on and what will he bring to Rogue to help take them to the next level?
We decided on adding Taroco to the roster because he fit in well with the playstyle we are trying to achieve for the future. We've always been missing a defensive-minded player on Rogue which has cost us a lot of goals and series in the past. We feel like Taroco will provide the opportunity for Leonardo "Turinturo" Wilson and Jason "firstkiller" Corral to be more free to use their mechanics and offensive prowess if they know they always have a defensive presence to back them up when needed.
Now being the sole veteran presence on a roster with players still relatively new to the RLCS, how has the team dynamic changed, both between you and the players and the players themselves?
The team dynamic is relatively similar – we all want to win, and that's our main focus, but we also have some fun at the same time when we want to. Having a veteran presence is definitely important, but I don't think that the full impact has been seen just yet with how much online play we are doing this year and probably next year. I think that my veteran presence will kick in even stronger whenever we go to a LAN where I can make our players feel as comfortable and prepared as possible with my past experience.
Are there any other rosters that recently made a change that you feel might be challenging for a world championship spot next year?
We were the only roster to make a roster change from the Top Eight NA RLCS X teams so I don't think any other team that made a change this split will have as strong of a chance at the World Championship. I think that Version1 with Comm could start making some waves, but with their poor placement from the first split, it will be very difficult for them to fight for a World's spot going into next year.
What is the end goal for Rogue RL, for this split, this season, and beyond?
The end goal for Rogue will always be to be competitive enough to qualify for Worlds. None of the current players on the roster have ever qualified for worlds, and most of them have barely played at a LAN in general. All of us are as motivated as ever to fight for that World Championship spot going into the rest of the season, and hopefully, surprise some people with high placements.
Images via ZeeboDesigns