Woxic has officially left the Cloud9 Colossus roster.
17:56, 18 Jan 2021
After a bumpy start to life at Cloud9's Colossus Counter-Strike: Global Offensive (CS:GO) roster, Özgür "woxic" Eker has officially left the organisation, with the announcement coming as a mutual decision.
Manager of the team, Henry "HenryG" Greer announced the departure via Twitter, wishing the young Turkish star the best in his future endeavours.
In Greer's statement, he labelled Woxic as having "explosive world-class potential in CS:GO", but due to a number of unsolvable problems, such as an "unreliable high ping" and "compromising time zone", the 22-year-old could not come up with the answers to the insurmountable dilemmas.
Statement regarding Cloud9 CS:GO & Woxic.
Wishing him the very best of luck in the future.
More to come in the next couple of days..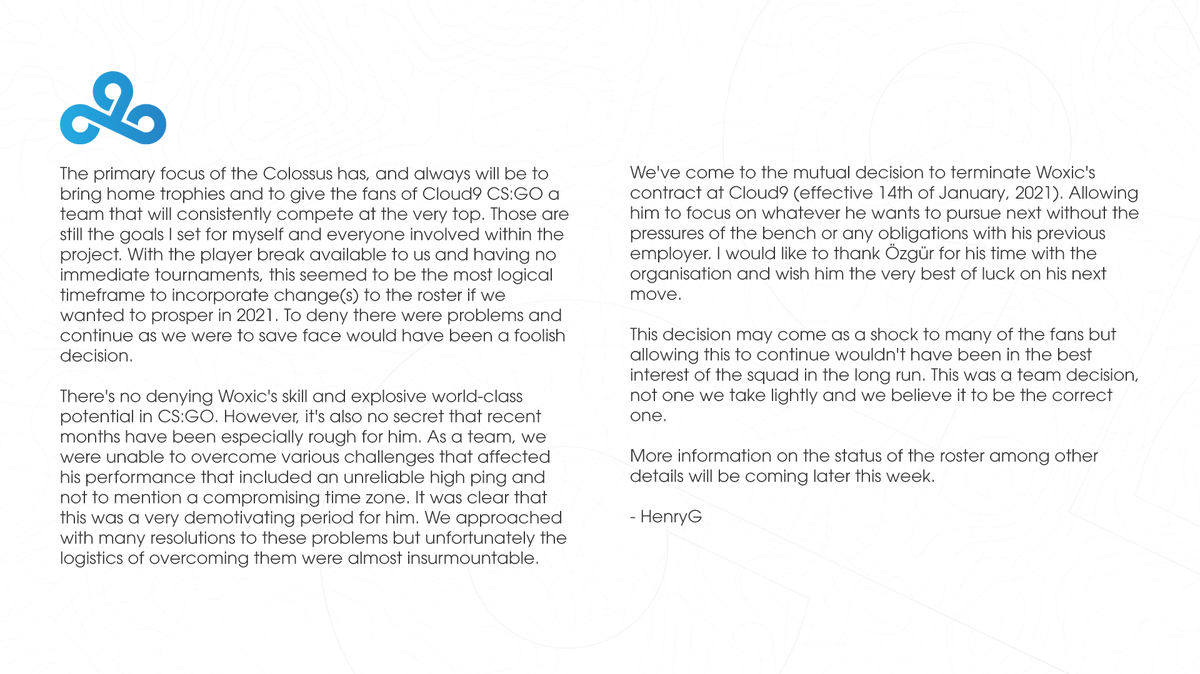 Woxic joined the Colossus team just four months ago as their AWP and "star player" on a 3-year contract worth $1,365,000. Often referred to as one of the scenes shining youngsters, once peaking at 15th in HLTV's player rankings.
Already racking up a whopping $305,000 in winnings during stints at Mousesports and Hellraisers prior to Cloud9, woxic's future remains bright. HenryG added that his contract was terminated as of January 14, "allowing him to focus on whatever he wants to pursue next without the pressures of the bench or any obligations with his previous employer".
What's next for Cloud9 Colossus is yet to be seen. HenryG concluded the statement by adding "this decision may come as a shock for many of the fans but allowing this to continue wouldn't have been in the best interest of the squad in the long run. This was a team decision, not one we take lightly and we believe it to be the correct one.
"More information on the status of the roster among other details will be coming later this week".
With many of Europe's top talent, such as Timothy "Autimatic" Ta, Robin "Flusha" Ronnquist, and Miikka "suNny" Kemppi being up for grabs, could C9 have their answers looming underneath their noses?
Stay up to date with all the latest esports and gaming news by checking out our social channels here: Twitter | Facebook | Discord
Image via ESL