The CDL has moved to an online format and it seems to have the matches even more exciting.
14:45, 11 Apr 2020
The Call of Duty League is officially back as the new online format started up today with the Dallas Empire homestand. Of course, this isn't really a home series for Dallas but the CDL wants to keep some normality in place. The eight teams in action for the event were given over a month to practice their online play, and it showed. Each match was exciting to watch and we even had two game fives. Let's see how the day unfolded for the CDL in its first day back.
Recapping the day one games
Competing at the Dallas homestand are the following: Chicago, Dallas, L.A. Guerrillas, Paris, Florida, Toronto, Minnesota, and Seattle. As is customary, all eight teams played one other squad in their group. To start, we had Seattle v. Paris, then Florida v. Toronto, Chicago v. Minnesota, and L.A. v. Dallas.
The first match back for the CDL was an exhilarating one, as Seattle and Paris went to a game five as the Surge failed to close out the game four Hardpoint. Though many expected Paris to secure the victory, some were wondering how a month of practice would benefit Seattle after their rocky start. While it wasn't the finish they wanted, Seattle did look stronger than they did previously.
Next up we had Florida against Toronto, which also went to a game five. The Mutineers seemed like they had the match in the bag after game three but also choked the game four Hardpoint. This gave Toronto the momentum they needed to take the game five Search and Destroy with ease. In Florida's first game since the controversial decision to bench Preston "Prestinni" Sanderson, they didn't look so great
For the final two matches, nothing as exciting happened compared to the first two matches. Chicago went up against the Rokkr, which some experts believe could be near the top of the power rankings after the switch to online play. However, Dylan "Envoy" Hannon and the Huntsmen didn't think too much of that after a 3-0 sweep. Envoy dominated all three games and looks stronger than ever.
As for the home team, Dallas took care of the L.A. Guerrillas with a convincing 3-1 victory. Nothing too noteworthy occurred except the Guerrillas taking the S&D off the Empire. Rasim "Blazt" Ogresevic dealt 1,548 damage in that win but L.A. faltered in the other three games. It appears Dallas is still on top of their game after their win in Los Angeles.
After an exciting Friday, here's how our bracket is shaping out.👀
We've got plenty of more games coming your way tomorrow!
#CDL2020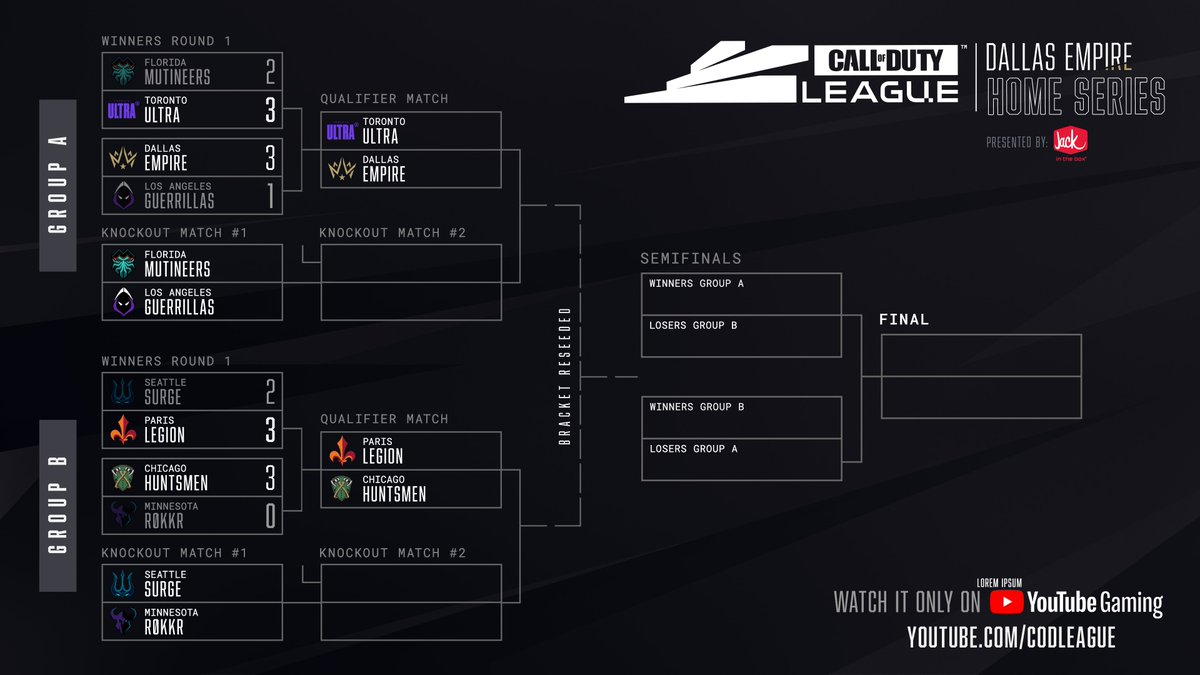 Day two begins tomorrow at 1 P.M. EST.
Images via CODLeague.