Build-A-Bear Reveals Gengar As Latest Pokemon Plushie
Build-A-Bear
Build-A-Bear Workshop has been releasing an array of Pokemon plushies for the last few months, from Eeveeloutions to some of the fan's most beloved starter 'mons.
However, they're ready to bring another fan-favourite species to the world, with ghost/poison-type Pokemon Gengar stepping up to the plate as the next featured pocket monster to be immortalised into a loveable plush toy.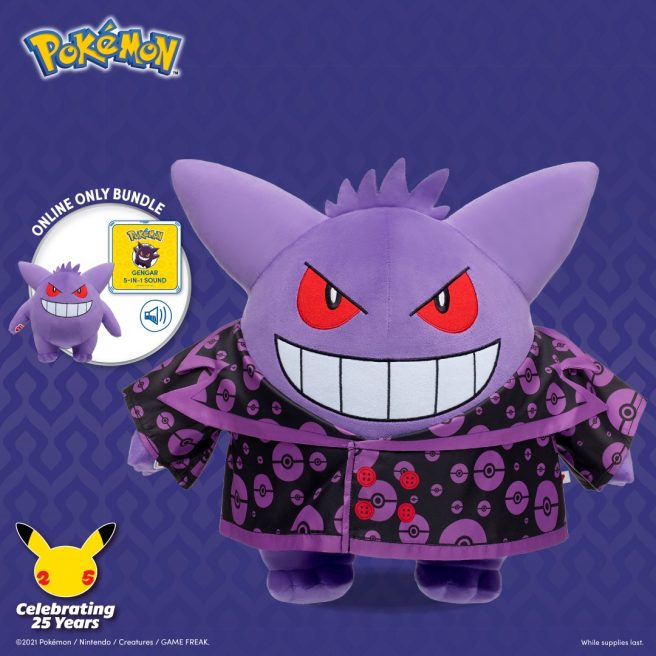 Click to enlarge
The Gengar soft toy comes with an oversized coat and 5-in-1 sound chip as part of the exclusive bundle, which can be either bought on the Build-A-Bear website or in stores. However, it's important to note that there's been no official release date for the ghost/poison-type Pokemon's arrival, but if you're based in the US you can pre-order your Gengar for $53 on the official website.
If you're based in the UK or other locations, it looks like we may have to wait a little while longer, and judging by the price of the other Pokemon plush bears on site, it looks like it may be priced around £49.
Gengar's announcement comes not long after Umbreon was revealed to be August's latest Build-A-Bear Pokemon series offering, completing the list of Eeveeloutions that are available to buy in-store and online. You can get Espeon, Eevee, Vaporeon, Flareon, and Jolteon, as well as Pikachu, Scorbunny, Snubbull, and many more.
There's currently less than 30 Pokemon to choose from in the Build-A-Bear collection, but over 900 pocket monsters in the entire series, so if your favourite hasn't been released yet no doubt it will be in due course!
After all, we're still missing some important additions to the list - especially legendaries! Who wouldn't love an Articuno plush, or even a Zamazenta on their shelves? The cute plush toys are just another way in which Pokemon players can truly catch them all, and the partnership with Build-A-Bear is showing no signs of slowing down!