Have these players fulfilled expectations after switching teams?
18:30, 17 Dec 2020
After only one split, RLCS X saw a handful of big-name transfers in both North America and Europe. Some have been a resounding success, while others have yet to produce convincing results. After two regionals in both regions, it is a fitting time to break down how these transfers have developed. These players have had an ample amount of time to prove themselves on their new teams. Perhaps some of them are simply taking longer to gel with their teammates, but their recent results could be indicative of how their teams will perform in the near future.
Team Queso
This team's transfer has been a major jumpstart for an underperforming roster. Team Queso, under the name Magnifico, finished in thirteenth place. It wasn't a very noteworthy split, and didn't garner much attention. Heading into the Winter Split, they picked up Diego Isla "VK-Sailen" Serrano in replacement of Marius "gReazymeister" Ranheim.
Under their new banner, the team showed promise in the first Regional, eventually finishing fifth-sixth. The next time they would take the field in RLCS would shock the scene as they swept Renault Vitality. This would be a sign of things to come as they made a run to the tournament's finals. They swept Giants Gaming and even took down Team BDS. They fell short of taking the tournament by a single goal, but signs are bright for this roster. They currently hold third place in Europe and have already proven that they can put up impressive performances against the best in the region. Team Queso is a team to watch moving forward as the region looks to be hotly contested heading into the third Regional next month.
Fadeaway
The pickup of Maurice "Yukeo" Weihs was one of the bigger names involved in Europe, but it has yet to pay dividends for a team that finished top ten in the Fall Split. Yukeo was moving from Dignitas, who finished one spot behind Fadeaway, but the results have dropped significantly so far. In the Grid, they have only won two series and sit with a mere twenty points in the Grid standings. The Regionals haven't been much better as they currently sit at sixteenth. With only one Regional to go, this team will have to make significant improvements to make any noise at the Major. These results have definitely been disappointing, but it might still be too early to deem this transfer a failure. However, one more poor Regional might make this team consider another roster move after a promising Fall Split led to this.
Here are the NA
#RLCS
Leaderboards. You've got Winter-only on the left and overall on the right.
What are your thoughts? 💭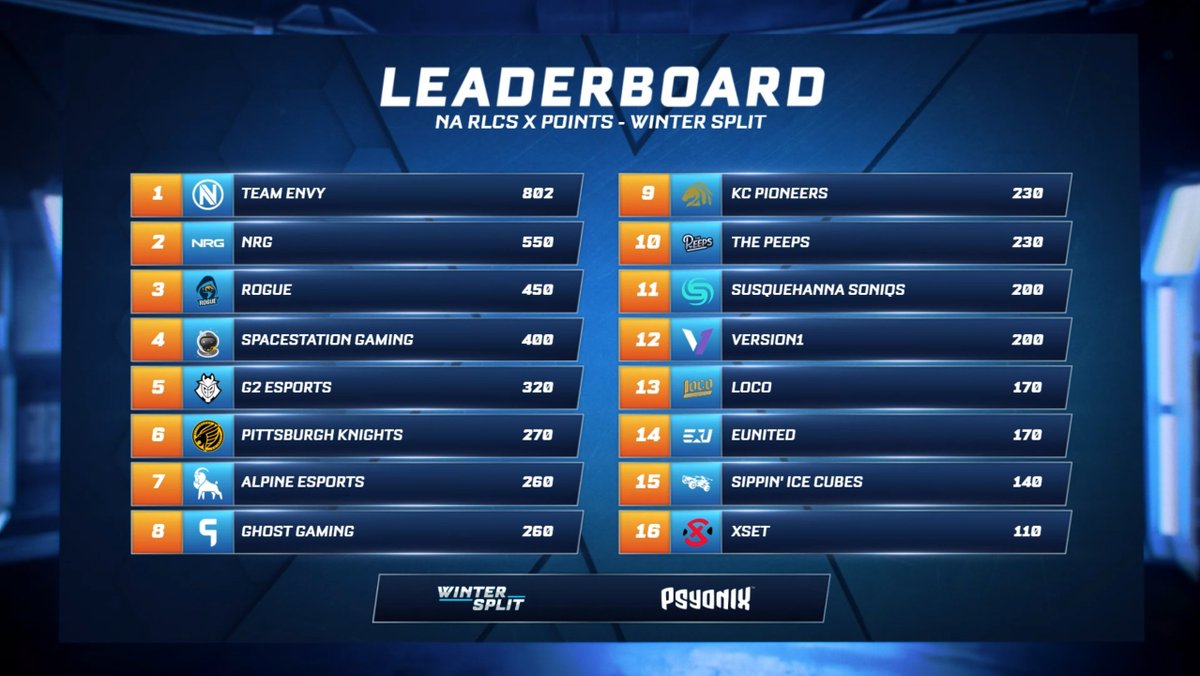 Version1
This team has had mixed results since bringing in Robert "Comm" Kyser. Their results have definitely been an improvement, but it hasn't shown up in the standings as much as they would like. They finished the Fall Split in eighteenth, and a change was necessary. This far into the Winter Split, the team is definitely moving in the right direction, but it remains to be seen if this team can convincingly compete at the top. They currently sit at eleventh, which is a notable improvement, but have been a non-factor in the Grid. This team certainly has the potential to be a top ten team, but they haven't been able to consistently take down the top teams... yet. In the first Winter Regional, they took down Spacestation Gaming in five games, but that has been their only convincing win. That doesn't mean they haven't been competitive, though.
Despite their eleventh place spot in the standings, they have taken SSG, NRG, and G2 Esports to Game 5. The success of this transfer is still up in the air. They have definitely improved from the Fall Split, but is it enough to become a top team? They've been so close, but they haven't performed well enough to secure top ten quite yet.
Rogue
This has been North America's most significant transfer this far into the Winter Split. There were questions posed about if Rogue would improve after replacing Cameron "Kronovi" Bills by bringing in Alexandre Reis "Taroco" Pedrogram. There were mixed feelings about the Plot Twist roster he was coming from. Plot Twist finished fifteenth in the Fall Split, so would any player from that roster really make a big impact on a team looking to push for top five? In an interesting note, his former Plot Twist teammates in Jack "mectos" Privitera and Gianluca "sosa" Petrozza have both seen their teams rise in the standings significantly this split.
Rogue has always been a fan favourite, but they haven't put up the results expected of them. In a region with such a competitive pool of teams at the top including Team Envy, NRG, Spacestation Gaming, and G2; it is impressive that Rogue has been able to climb to third place in Circuit Points for the Winter Split. This far into the Split, Rogue has shown they are capable of consistently defeating teams lower than them in the table, even teams consistently in the top ten like the Pioneers and the Peeps. Although sometimes they still have a disappointing series like the recent 0-4 loss to Spacestation Gaming, they have been getting better at facing these top teams. They took down G2 4-1 in the first Regional, and in the second Regional, they took the eventual champions in Team Envy to Game 7. The optimism around Rogue is higher than it has been in a long time.

Images via Liquipedia | @RLEsports